The California Rodeo Celebrates Culture with Cowboys, Cocktails, Rhythm & Rhymes
Event to take place Saturday, April 27th at the Fox Theater in Old Town Salinas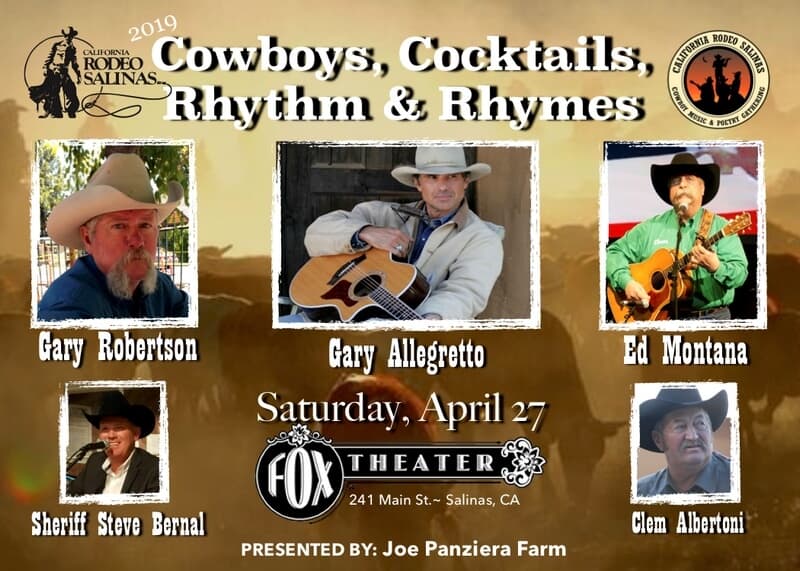 SALINAS, CA – For the second year, the California Rodeo's celebration of cowboy culture, now deemed Cowboys, Cocktails, Rhythm & Rhymes, will head downtown Saturday, April 27th to the Fox Theater at 241 Main Street in Old Town Salinas. Doors open at 4:30pm, there will be an open mic session from 5:30pm-6:30pm and the show will start at 6:30pm.
The event, presented by Joe Panziera Farm, will be headlined by cowboy poet, Gary Robertson, with tales full of western folklore and the time-honored cowboy spirit. Gary's unique and poignant storytelling ability has made him a popular performer at gatherings throughout the west. Also featured, will be award-winning singer/songwriter/musician, Gary Allegretto, who, along with his harmonica, offer a one-of-a-kind performance. Other entertainers include Texas native Ed Montana, best known in Salinas for writing the California Rodeo's signature song, 'Saddle Up Salinas.' Joining the list will also be the 31st elected Monterey County Sheriff Steve Bernal and Clem Albertoni who will emcee the event while mixing in some of his colorful cowboy poetry. Full biographies of the entertainers can be found online along with ticket purchase links and other information: https://www.carodeo.com/events/2019/cowboypoetry2019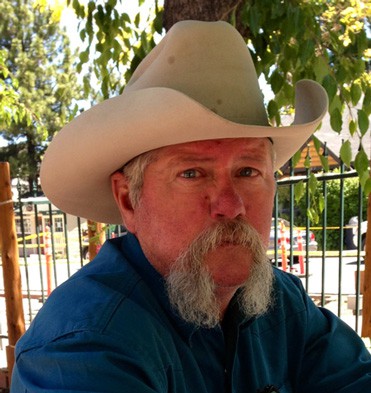 Enjoy dinner and a show by purchasing a Main Floor ticket that includes a meal by the Grower's Pub for just $55 per person before April 18th. There are limited dinner tickets available. Balcony tickets are also available for $25 before April 18th and $30 after or at the door; balcony tickets do not include a dinner. Tickets for Cowboys, Cocktails, Rhythm & Rhymes are available online at www.carodeo.com or in person at the Salinas Sports Complex Box Office which is open Monday through Thursday, 10am to 4pm.
Part of the proceeds benefit the Foundation for Monterey County Free Libraries. The evening will also showcase three young poets demonstrating their creative writing skills.
About California Rodeo Salinas
The 109th California Rodeo Salinas will take place July 18th-21st, 2019. The California Rodeo Association is a not-for-profit organization that strives to preserve and promote the traditions of the California Rodeo Salinas and the West. We support the community and other non-profit organizations through the staging of the annual California Rodeo Salinas and other year round operations of the Salinas Sports Complex. Through donation of our facility, vending and fundraising opportunities during Rodeo and other events, the California Rodeo Association returns almost $500,000 annually to local non-profits. For more information about the California Rodeo Salinas, log on to www.CARodeo.com or call the California Rodeo Office at 831-775.3100. 'Like' the California Rodeo on Facebook at www.facebook.com/CARodeoSalinas or follow us on twitter @CaliforniaRodeo for updates, photos and more.