The California Rodeo's Cowboy Poetry Event has a New Date and Venue
Cowboys, Cocktails, Rhythm & Rhymes to take place Friday, March 16th at the Fox Theater in Old Town Salinas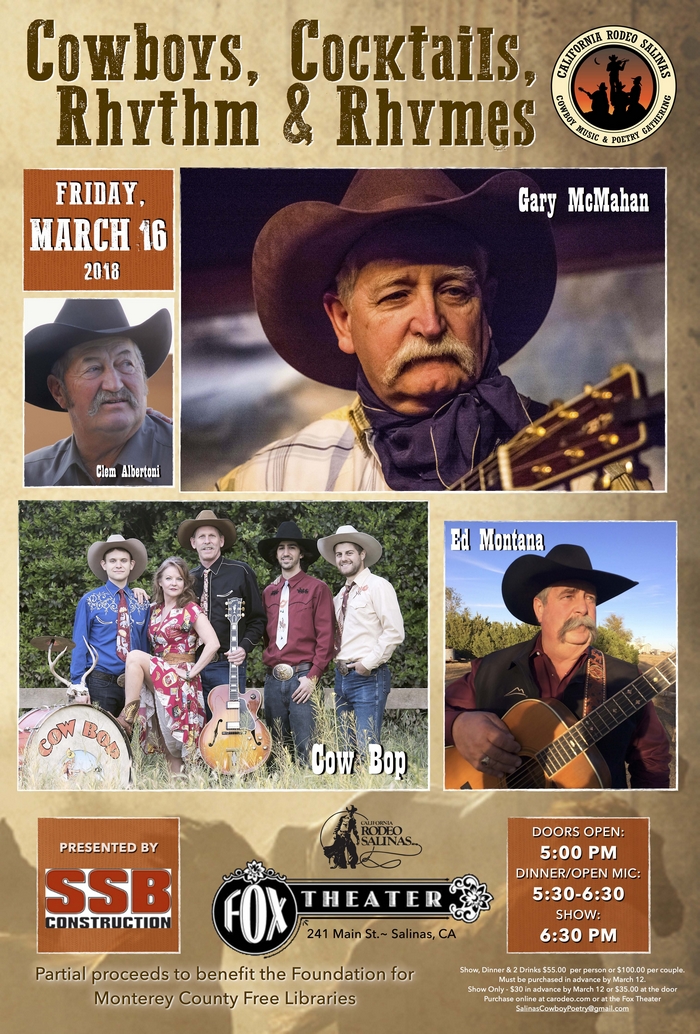 SALINAS, CA, January 19, 2018 – After 30 years of being a part of the Big Week festivities, the California Rodeo's annual cowboy poetry gathering is spicing things up by changing the date and venue. Friday, March 16th Cowboys, Cocktails, Rhythm & Rhymes, formerly titled the Cowboy Music & Poetry Gathering, will take over the Fox Theater at 241 Main Street in Old Town Salinas. The event, presented by SSB Construction, will include top notch western entertainment by Gary McMahan, the band Cow Bop, Texas Musician Ed Montana and local cowboy poet Clem Albertoni.
Gary McMahan is a nationally recognized cowboy poet, singer, songwriter, national-champion yodeler and humorist. Mix swingin' grooves, thrilling riffs, sweet and hot vocals, western sensibilities and tons of fun and you have only begun to describe Cow Bop. Ed Montana wrote the signature song of the California Rodeo, 'Saddle Up Salinas' and joins us annually in July to perform at various Big Week events; this year he will entertain the crowd on March 16th as well. Clem Albertoni will emcee the event while mixing in some of his colorful cowboy poetry as well. Full biographies of the entertainers can be found online along with ticket purchase links and other information: www.carodeo.com.
Tickets will be offered for the show only, $30 in advance or $35 after March 12th, and a dinner package that includes the show, dinner and 2 beverages will cost $55 per person or $100 per couple (must be purchased by March 12th). Purchase tickets online or at the Fox Theater at 241 Main Street in Salinas, CA Tuesday through Friday 11am to 6pm.
Part of the proceeds benefit the Foundation for Monterey County Free Libraries.
About California Rodeo Salinas
The 108th California Rodeo Salinas will take place July 19th-22nd, 2018. The California Rodeo Association is a not-for-profit organization that strives to preserve and promote the traditions of the California Rodeo Salinas and the West. We support the community and other non-profit organizations through the staging of the annual California Rodeo Salinas and other year round operations of the Salinas Sports Complex. Through donation of our facility, vending and fundraising opportunities during Rodeo and other events, the California Rodeo Association returns over $400,000 annually to local non-profits. For more information about the California Rodeo Salinas, log on to www.CARodeo.com or call the California Rodeo Office at 831-775.3100. 'Like' the California Rodeo on Facebook at www.facebook.com/CARodeoSalinas or follow us on twitter @CaliforniaRodeo for updates, photos and more.