The Cowboy Channel to Re-air CBR World Championship Broadcasts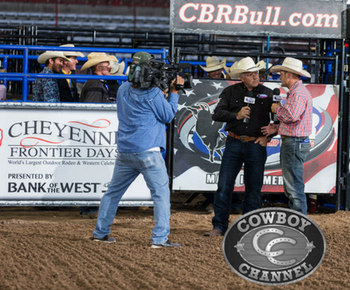 Championship Bull Riding (CBR) is pleased to announce a new partnership with The Cowboy Channel to re-air the past six (6) years of CBR World Championship broadcasts (2012-2017) from the "Daddy of 'em All" Cheyenne Frontier Days.
Viewers will experience the CBR Road to Cheyenne World Championship events from the beginning, with each sixty minute program providing the very best bull riders and bulls in the world. The broadcasts begin tonight, Tuesday March 6, 2018 at 7PM CST.
The Cowboy Channel was launched in July of 2017 with the purpose of providing the very best in western lifestyle programming. CBR Chairman and CEO Wes Bruce stated, "We are excited to join The Cowboy Channel lineup and give our great fans another chance to experience the amazing bull riding action from Cheyenne."
The Cowboy Channel reaches over 30 million homes on cable and satellite systems including DIRECTV channel 603, DISH Network channel 232, AT&T U-Verse channel 566, Charter Spectrum channel 468, and selected Cox, Comcast, Mediacom, and many rural cable systems.
Don't forget to set your reminders and DVR to The Cowboy Channel. Check out your local listings for weekly and repeat airings.
Courtesy of CBR