The Legend of Cowboy Chris
by Kendra Santos, PRCA Director of Communications | Dec 14, 2016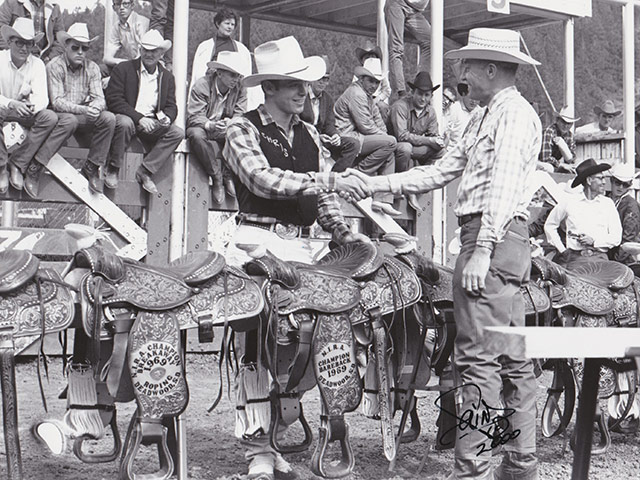 I'm about to work my 30th National Finals Rodeo, and would not trade the friendships I've made these last three decades for much of anything. I've treasured the times I've had with so many of this sport's cowboy greats—hall of famers and weekend warriors alike—and how they've treated me like family. Ironically, one of the first guys I really got close to when I was a ProRodeo rookie has given me perspective on one of our iconic figures I never had the chance to know.
All these years after we lost Lane Frost at Cheyenne on July 30, 1989, people of all ages have been intrigued by the fact that I knew him, and to this day ask me all the time what Lane was like. Even his parents, Clyde and Elsie, are amazed by the fact that no one—not even kids born long after Lane left us—can get enough of him. When it hit me that this is the 40th anniversary of Chris LeDoux winning the world bareback riding title, that same feeling of interest and intrigue came over me. The guy got a gold buckle in the arena and gold records on stage while telling that guitar what to do with his riding hand. But what was he really like?
I got my first glimpse into his world beneath those "Western Skies" when I was treated to a spur-of-the-moment day trip to the LeDoux family's Haywire Ranch outside of their tiny one-horse hometown of Kaycee, Wyo., when I was in Casper watching my sons, Lane and Taylor, compete at the College National Finals Rodeo. From the banks of the Powder River that runs through it, it was easy to see the ranch-cowboy side of his song-writing inspiration that so perfectly complemented the rodeo cowboy that also was Chris. He didn't imagine that life he sang about. He lived it.
What a pleasure to get to visit with the love of Chris' life—a beautiful blonde named Peggy, who continues to be his biggest cheerleader in her kind, quiet way—out on the porch that afternoon. The spotlight was never Peggy's bag, and she still steers clear of it. She traveled the rodeo road with Chris in their younger years, then five kids later held down the fort, handled ranch chores like a man and made sure there was a home-cooked meal on the table every night. Peggy still mows the grass at Chris LeDoux Park—where it touched me to see CL + PR (Peggy's maiden name was Rhoads) carved into that wooden bench. I also loved the welcoming touch of Chris' bootprints set in the concrete that leads visitors into the park.
Chris Lee LeDoux was born Oct. 2, 1948, in Biloxi, Miss., where his dad was stationed at Keesler Air Force Base. His family moved to Texas before landing in the Cowboy State to stay. Chris died March 9, 2005, in Casper. He'd suffered from the same rare liver disease which led to cholangiocarcinoma—bile duct cancer—that took down football great Walter Payton. Chris had a liver transplant about five years before he died. Like Lane, Chris died way too young. But he sure did a lot of living in his 56 years here on this earth.
In the rodeo arena, Chris' first major title was the 1964 National Little Britches Rodeo Association bareback riding buckle. As a high school senior at Cheyenne Central, Chris was the Wyoming High School Rodeo Association state champion bareback rider in 1967. Chris brought Sheridan College a National Intercollegiate Rodeo Association bareback riding title in 1969. His ProRodeo career included five trips to the NFR and the ultimate cowboy crown—the gold buckle—in 1976. Chris has been inducted into the ProRodeo Hall of Fame in Colorado Springs, the National Cowboy & Western Heritage Museum Hall of Fame in Oklahoma City, the Cheyenne Frontier Days Hall of Fame and the Wyoming Sports Hall of Fame.
Chris' love of music—for writing songs and singing them—completely crossed over with his cowboy side. He sang about life on the road, and sold eight-track tapes out of his trunk and basement. When Chris recorded his first album in 1971, it was a literal mom and pop shop, as Chris and his parents, Al and Bonnie, created an independent record label they called American Cowboy Songs.
Chris retired from the rodeo arena in 1984, and by the time 1989 rolled around had recorded 22 albums worth $4 million cowboy-style—on his own. His following was loyal and cowboy-cult-like, with ranch and rodeo people at its core. Then came an unexpected twist and turning point that about ran him off the road when, without warning, he heard his name on the radio that same year.
There was a line in Garth Brooks' first hit song, "Much Too Young (To Feel This Damn Old)," that included "a worn-out tape of Chris LeDoux." Garth—who just rocked country music yet again by taking Entertainer of the Year honors at the Country Music Awards this fall—got the attention of country music fans, who in turn clamored for more and brought Capitol Records knocking on Chris and Peggy's door.
Chris signed with Capitol in 1990, and released another 18 albums on that label, which sold more than 6 million records worldwide. Rodeo's golden boy was no longer this sport's best-kept secret. There were three gold records and a platinum one. Chris took the Academy of Country Music Pioneer Award the year he died, along with that year's Country Music Awards' Award of Merit. After watching Chris go cowboy crazy using everything from fireworks to a bucking machine on stage, Garth was quoted as saying, "Everything I know about performing live I learned from Chris LeDoux."
Chris had it all. A gold buckle. A golden musical career. His art—be it songs he wrote, sketches he drew or bronzes he sculpted—was admired and adored. And yet—second only to his cowboy friends—it was his family that mattered most to him. "What I want to be known for, on top of everything else, is that I was a good husband and family man," Chris said. And he lived it.
Chris and Peggy's five kids are all grown up now. Clay's 44, Ned's 39, Will's 37, Cindi's 35 and Beau's 34. Each is his or her own Western-original spinoff of Chris and Peggy, and all were raised to respect the Golden Rule (do unto others). Clay works for the Wyoming Department of Transportation. Ned, who played drums in Chris' Chris LeDoux and Western Underground band, is following his dad's musical lead. Will runs the Rusty Spur store in downtown Kaycee, hub and home base of the Chris LeDoux merchandise featured on ChrisLeDoux.com. Cindi's a wife, mom and "cowboy," just like Peggy, and Beau's working alongside Peggy in running the ranch, raising cows and a few bucking horses.
Those who were around Chris and Peggy most confirmed that their fairytale love story was for real. "Mom and Dad were definitely meant for each other," Ned said. "They were side by side on everything they did. That little spot of land there (the ranch) was Dad's slice of Heaven. He really was at home on the range."
That place is Peggy's paradise now, just as The Daddy holds a special spot in every LeDoux's heart. Ned performed alongside Chris several years at Cheyenne, then last July returned to open for Billy Currington.
"If Cheyenne was the only show scheduled for the year, I'd be OK with that," Ned continued. "Cheyenne just means so much to the LeDoux family and the state of Wyoming. It's kind of like our Grand Ole Opry.
"The first time I remember watching my dad play was in a bus barn out behind the high school in the early '80s. The crowd was enjoying it, and it was fun. I got a drum kit when I was 5 or 6, and was in my first local band around Kaycee at 14 or 15. We had seven shows our busiest year, because one guy was a rancher, another a truck driver, and I was still in school and playing sports."
Ned, who was 28 when his dad died, still plays with some of Chris' Western Underground bandmates. He sings about 80 percent Chris songs, and the rest are his own. "If you're a rodeo fan, you know Chris LeDoux was a high school champion, a college champion and the 1976 champ of the world—he was a cowboy from day one and forever," Ned said. "If you're a music fan, you know he was one of the greatest entertainers in the business. If you're me or one of my siblings, you just knew him as Dad. His family came above everything. He wanted to be known as a great husband and father, and he was that, for sure. My mom and dad are my heroes."
Baby Boy Beau, who was just 23 when his dad died, followed in Chris' bareback riding footsteps. He was hurt in 2005 and '06, but when Cheyenne rolled around in the summer of 2007, Beau took his dad for one more ride at The Daddy.
"I actually packed his ashes in my pocket on my first horse, but he was a hunk of junk, so Dad just rode along on that one," Beau said with a laugh. "I was fortunate enough to have a good horse the next day, and that was good enough. I got off on the pickup man and scattered 'em out there. We'd talked about it as a family. Dad grew up there, rode there, sold cassette tapes underneath the grandstands and eventually headlined the night shows there. I didn't advertise it, so nobody really knew about it. It was definitely special and sentimental for me.
"The bond my parents had was one in a million. Dad was a man's man, and they shared a lot of things, like being honest as the day is long and having very high morals. If Dad had one day off he would get on a plane and fly home to see us. He was definitely an awesome dad and family man. If they were to make a movie about my dad, nobody would believe it. Hollywood looks for dirt on people, but they couldn't have found any on him. He kind of laid out a perfect blueprint on how to live your life."
Cindi was the only LeDoux girl, but it didn't get her any special treatment or out of doing chores. She was 24 when she had to say goodbye to her dear dad, and when she has her third baby next month it'll be Chris and Peggy's eighth grandchild.
"I was just one of the boys, until I finally got my own room and the boys all got thrown in the basement," Cindi chuckled while hauling a load of cows with her mom and kids. "Mom and Dad let us make mistakes, and gave us as much rein as we wanted until we pulled back a little bit. If you needed help, they were always there for advice. Ninety-eight percent of the time if we were doing something we were all together. We were raised to have manners and respect our elders. There's not a lot of yes ma'am, no ma'am around anymore, but that's how we grew up.
"Mom's the backbone of the family. Dad always said, 'If anything ever happened to your mother, I don't know where I'd be.' Dad had a good sense of humor, too. He was always joking with us. We were barbecuing at the house one time, and he had one of those little wooden airplanes, where you twist a rubber band to make it fly. Dad lit it on fire, and said, 'Kids, watch this.' It landed on top of the lower roof of the house on the wood shingles. The next thing he said was, 'Don't tell your mom about this.'"
I got to know one of Chris' boyhood buddies and longtime traveling partners, John Holman, a little because his grandkids grew up junior and high school rodeoing with my boys. In fact, when Taylor found himself afoot riding into his first CNFR in Casper, it was Billie and Lefty Holman who lent him Pancho, the big-hearted little gray horse that helped Taylor win the national title. And as we just lost Tom Marvel—patriarch of the bronc riding dynasty from Battle Mountain, Nev.—I'll mention that Tom was Billie and Lefty's great grandpa.
NFR saddle bronc rider Holman drove many a mile with Chris in the gargantuan red eyesore on wheels that they lovingly dubbed Rodeo Rose. I got to see Rodeo Rose when I visited the Haywire, complete with Chris' Sharpied notes on her side to explain things, such as a dent caused by a drunk driver, and a sketch of an engine with a slash through it each time they had to get a new one.
"Chris and I basically lived together 20 years," said Holman, who also answers to "Witch." "We hung out when we were in school, then traveled in the late '60s and '70s. We partnered on Rodeo Rose, and we blew the motor up three times. Chris had drawn three motors on the fender when we retired her."
Their bucking-horse-riding buddy group also often included Holman's cousin and fellow NFR saddle bronc rider John Forbes, NFR saddle bronc rider Darryl Kong and NFR bareback rider T.R. Wilson. Those Rodeo Rosers were Chris' toughest critics.
"Chris wrote a lot of those songs in the back of that old car driving down the road," Witch said. "We listened to him so much that we used to make him sing in the bathroom at the (hotel) room."
Holman says Chris excelled by outworking everyone else, and never thought twice about doing that. "He sure wasn't a natural-born bareback rider," according to Witch. "He had to work at it really hard, just like he did his music business. Chris was willing to do whatever it took to make it. Once he did make it, fame never bothered Chris or changed him. The world title never changed him, and singing with Garth Brooks never changed him. And like I said the day he died, 'Chris won't have to change to get where he's going today (Heaven), either.' He was just a great man.
"And Chris was a great friend. He saved my neck a lot of times when I was in a bind. Chris would step in for a friend, and he was really tough. Chris wouldn't lie to you for anything, even if it hurt your feelings. Chris was the best guy I ever knew."
Yes, I wish I'd had the chance to know Chris LeDoux. Lucky those who did, including his cowboy friend on the music side—Brooks—who honored Chris yet again with the words in "Good Ride Cowboy."
Life's a highway
There's only one way
You're gonna get through it
When she starts to twist
Be more like Chris
Pull your hat down tight
And just LeDoux it
Good ride cowboy, good ride.
Courtesy of PRCA