The Morning Line: Albuquerque, Day 3
By: Slade Long
March 20, 2016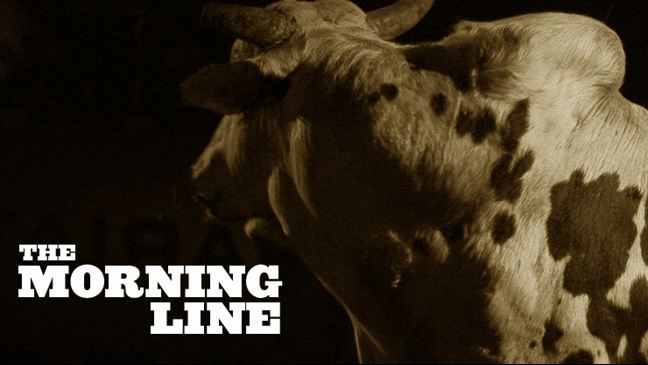 Morning Line – Albuquerque Round 3:
The riders have definitely hard a hard time in Albuquerque so far, with only 18 qualified rides in 73 outs. Three of those are low scores from turning down a re-ride option, which doesn't make much sense unless you are going to stay on more than one. Four riders have two scores, and the short round roster is still within reach of every rider getting on today. Once they get to the short go, it's going to get harder, because the final round is loaded with heavy hitters.
Eduardo Aparecido on 078 Grandpa Joe:
This is really one of the best long round draws around, because he's very honest and has good timing. He goes to the left, and he's had incredible luck this season in drawing right-handed riders and throwing them off. This will be his seventh out of the season and his fifth right-hander. Aparecido is more than capable of riding him because this bull isn't that hard to handle away from the rider's hand, but he's been good enough to get Ben Jones, Valdiron de Oliveira and Cooper Davis twice over the past couple of months. Had they drawn a similar random selection of left-handed guys instead, they would have won a few rounds on him.
J.B. Mauney on 011 Told Ya So:
Mauney won the first two rounds here so far, and he's drawn up to win this one too. This bull is fairly new, and doesn't have a lot of history, but he's been to two events this year and has earned over 43 points each time. That's what you need to win a round at this level, and they are relatively scarce in the long rounds. Mike Lee has been on 36 bulls this year and has had just two long round bulls that scored 43 or more with him. Told Ya So also goes to the left, and he carried Joao Ricardo Vieira to an 88 point score in the short round in Kansas City. He had an off day at THE AMERICAN with Fabiano Vieira, but few bulls have an off day with Mauney.
Joao Ricardo Vieira on Z3 Swamp Wreck:
This bull is a chance for Vieira to get right up close to the lead despite bucking off in the first round. Swamp Wreck is an ABBI Classic bull, and he's been ridden once this year by Mike Lee. He did go to the right with Lee, and Vieira will have to get it done going away from his hand. His bull last night did reverse the spin and go away from his hand, and he looked pretty solid.
Mason Lowe on 193 Mister Mean:
Lowe has two scores on the board already, and to get another one he will have to be the first man to ride this bull. Mister Mean only has five outs on record, so we don't know much about him, but to this point he hasn't faced any right-handed riders, so he may be the kind of bull that fits a right-handed guy better.
Guilherme Marchi on 058 American Sniper:
Ben Jones rode American Sniper in the opening round, but for just 83.25 points. Any score will help Marchi here, though, because he already has one good score on the board. American Sniper has been ridden more often by right-handed riders, but he typically goes to the left. Marchi is less comfortable going away from his hand, but he needs this.
Stetson Lawrence on 500 Red Dirt Traditions:
Lawrence has bucked the trend of bucking off so far this weekend by going 2-for-2 so far. This bull is a complete unknown, but Mauney won the round on an unknown bull last night. Lawrence has looked pretty impressive so far, and having two rides when so many guys have none gives him a chance to pick up major points at this event.
Silvano Alves C12 Rebel Yell:
Alves has bucked off eight bulls in a row now, and there was a time when he would never get bucked off two in a row. I think he will ride his way out of the slump at least for today because this bull could not fit him any better. In fact, there's no other bull in this round that could be more in his wheelhouse. Rebel Yell goes to the right, and he's been ridden a lot by right handed riders. Alves has been on him twice before, and rode him both times, most recently in January of this year.
Tanner Byrne on 125 Catfish John:
If you aren't aware, Catfish John is a character in an old song that your mother would warn you to not to hang around with. But, right-handed guys have had pretty good luck hanging around with this bull. Byrne will probably find him easier than the bull he had last night so look for him to pick up a second score here.
Mike Lee on 904 Fire & Smoke:
Lee is sitting second in the event so far, and he's got a great chance to place in this round as well. Fire & Smoke is a veteran bull that all the riders are very familiar with. He's well established as a bull that left-handed guys get along with and right handed guys don't. He's 14-10 against lefties in his career, and 23-0 against righties. He's not an easy bull because he does have some speed, and we see him in a lot of championship rounds. He's always among the top bulls in any long round he's in, including this one.
Shane Proctor on 110 Yahoo:
This bull, along with his hauling buddy 204 Deep Water looked really good last night. He threw off Reese Cates in round 2. He has given up a couple of rides to right-handed riders, though, and if he has the same trip again he's good enough for Proctor to win the round on here.
Robson Aragao on 204 Deep Water:
I don't know that Aragao has a shot against this bull, but the bull is one to keep an eye on. He was outstanding last night with Kasey Hayes, and he's the highest marked bull at this event so far. In his career, he's 10-0 and he's turned in several 44+ point bull scores.
© 2016 PBR Inc. All rights reserved.