The Morning Line: Anaheim, Day 1
By: Slade Long
February 03, 2017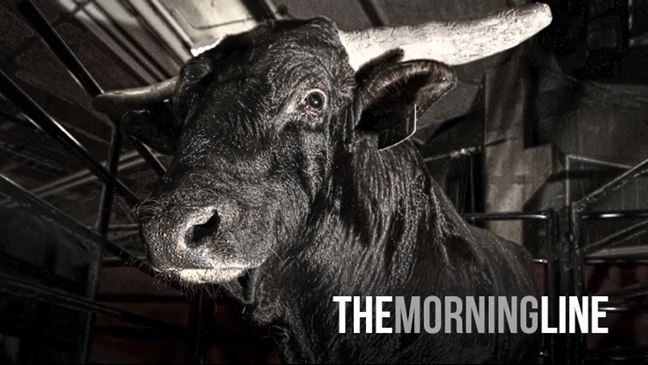 ANAHEIM, Calif. – The Frontier Communications Showdown starts Friday night at Honda Center.
Round 1 Matchups
Dakota Buttar on -915 Hammer Down:
This is a quality bull, especially in a long round. He can deliver a round winning score if Buttar can stay on. Hammer Down goes the right, and he will be away from Buttar's hand, but this is a rider with a lot of talent, and you should expect him to be a force at this level at some point.
Jess Lockwood on 1110 Off the Tracks:
This is a relatively inexperienced bull. He's been ridden twice in eight outs, and one of those was by Lockwood in October of 2015. For Lockwood, it was just his second PBR event of any kind. Lockwood is riding high right now, and he should keep it going with this bull.
Joao Ricardo Vieira on X18 More Big Bucks:
Vieira was 2-for-5 in Sacramento, California, but he rode the two bulls he was absolutely supposed to ride. This is another such matchup for him. More Big Bucks is 11-9 against left-handed riders, and he's pretty much tailor made for Vieira's style
Matt Triplett on F6 Baton Rouge:
Jess Lockwood made this bull look easy in the opening round in Sacramento last week, but he wasn't easy. He had a big move forward just before he turned back, and that will be hard for Triplett to deal with going away from his hand. If Triplett can get to the three second mark in good shape he should see this bull get a little smoother and easier.
Mason Lowe on Z8-9 Little Man:
This bull has two Built Ford Tough Series outs and has given up two rides, both the right-handed riders. Lowe has a good chance to get a score here. It may not be a round-winning score, but any score is far better than a zero.
J.B. Mauney on 255 Organized Crime:
J.W. Hart got it right when he singled out this matchup on Twitter earlier this week. This has the potential to be a big Mauney highlight. Organized Crime was an ABBI Classic bull last year, so he's just five years old. He has had issues with inconsistency, and he's fairly unpredictable, but he has the talent to outscore the contenders for World Champion bull on any given day. Mauney has a lot of big rides against bulls like this.
Tyler Harr on 2739 Flat Top Pete:
Harr rode this bull at the World Finals for 83.75 points, and it was a pretty easy ride for him. Pete is a good draw for any left-handed rider, although Harr will need him to have a better trip here to help him place in the round.
Stormy Wing on 143 Bad Moon Rising:
These two met in Sacramento last week and Wing bucked off, but he shouldn't have. This is one of the best draws in the round for a left-handed rider, and Wing should ride him nine times out of 10. This pairing could result in a big score for Wing, who usually makes bulls look their best.
Stetson Lawrence on 232 Sic 'Em on a Chicken:
Joao Ricardo Vieira rode this bull last week in Sacramento, and Zane Cook scored 86 points on him at the Velocity Tour Finals in Las Vegas last fall. Those are the only two outs this bull has on record, so he's looking for his first PBR buckoff tonight. He may not get it. Sic 'Em on a Chicken has great timing, no horns, and he's about as nice a bull as there is at this level. Lawrence should handle him easily.
© 2017 PBR Inc. All rights reserved.