The Morning Line: Big Sky, Day 2
By: Slade Long
July 30, 2016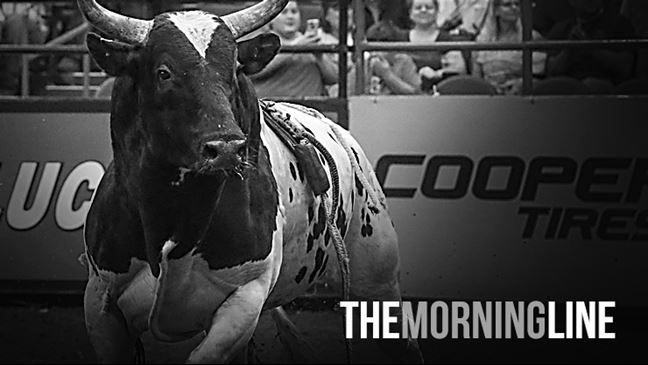 The Morning Line – Big Sky Round 2
Cooper Davis on 716 Sunday Funday:
This is a good bull that can spin both ways and should be as good as the bull Davis had last night. Brant Atwood was 88 points on him in Bismarck, North Dakota, to win second in the round. Davis has a great chance to pick up a second straight score tonight.
Jay Miller on 118 Dirty Deeds:
We don't know much about this bull, but Wallace de Oliveira was 90 points on him in Thief River Falls, Minnesota, just a couple of weeks ago. Miller didn't get a score last night, but he has more talent than most riders. He just needs to capitalize on it.
Nevada Newman on 667 Pops:
This is a rematch from Bismarck where Newman came down in 5.19 seconds. Pops is 1-2 against right-handed riders, which indicates he's probably going to go away from Newman's hand here, and Newman will have to deal with that to get a second score.
Marco Eguchi on 172 Snitch:
These two met in Deadwood, South Dakota, in June and Eguchi came out on top with an 85 point score. Eguchi had a good score last night, and has a chance to add to it here.
Luis Blanco on 794 Sully:
Blacno rode a bull I didn't think he would be able to ride last night. Shepherd Hills Trapper has long been one of the more difficult bulls in the PBR. This one looks a lot easier, on paper at least. He threw Valdiron de Oliveira last night, but he's 1-2 against left-handed riders and Blanco has a shot.
Chase Outlaw on 103 Strong Heart:
Outlaw drew well last night, but came down at 7.99 seconds. He's got a good chance to redeem himself here. This is one of the best draws at this event, especially for a left-handed rider. Outlaw should do well here.
Zac Peterson on 915 Pistol Whip:
Peterson turned in an 86-point score last night, and he's got a chance to follow it up with a bigger one tonight. This is the bull that carried Nathan Schaper to 90 points and a round win last night. This isn't the easiest bull to ride here, but he's a big opportunity for Peterson.
Wallace de Oliveira on 025 The Kraken:
Oliveira came down last night, but he's got a chance at a big score here. The Kraken is one of the stronger bulls out in this round, but he's also ridden fairly often. He's got big, showy jumps, and good timing. He's been ridden twice this summer at the Touring Pro Division level for 89 points each time.
Tyler Harr on 309 Devil in a Bottle:
Devil in a Bottle likes to go to the left, and his record is pretty weak against left-handed riders. He doesn't have perfect rhythm, and he can move around in the spin, but Harr should be able to handle him and pick up a second score here.
Matt Werries on 908 Americana:
With this draw, Werries is in the driver's seat to win this event. He's been on this bull before and bucked off, but Americana is one of the nicer to ride bulls in the PBR. Just about every rider should be favored against him, especially left-handed guys.
Nathan Schaper on 691 Spartacus:
This bull doesn't have much history. He was ridden in Thief River Falls for 80.5 points. Any kind of score will put Schaper in a great position to win the event. He won the opening round, but lost some of that momentum coming down in the bonus ride against Cowtown Slinger, a bull that is arguably easier to ride than the one he was 90 points on in Round 1.
© 2016 PBR Inc. All rights reserved.