The Morning Line: Billings Day One
By: Slade Long
April 20, 2018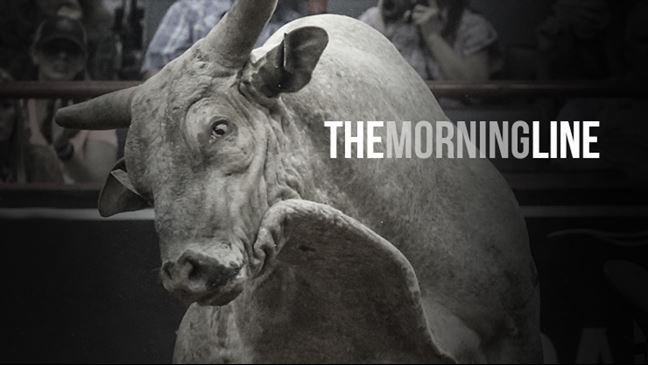 Billings features a slightly different competition format than we are used to seeing. Round one will be split into two performances. We'll see 35 riders tonight, and 25 tomorrow along with a 15/15 round. This prevents the 15/15 riders from having to face two bulls in one night, and that is an improvement that should save wear and tear on the top riders, which we've seen a lot of this year.
Eduardo Aparecido on 519 Sid's Wish:
This bull has only three outs on record, but he gave up solid scores to Dakota Buttar and Brady Oleson in Glendale, AZ a few weeks ago. Aparecido will be the highest ranked rider he's faced. Aparecido has been fairly consistent all season, while most other riders have not.
Kaique Pacheco on 436 Devour:
Pacheco really looked to be off his game earlier in the season, but over the past five events his riding percentage is up to 64.7, which is about where we expect him to be. This is a debut bull who is unridden in six PBR Canada outs, but Pacheco at full strength should have the advantage over any untested bull. You can never assume Pacheco will buck off of any bull, much less an inexperienced one.
Ryan Dirteater on 3530 Whiskey:
Dirteater has been on this bull twice and ridden him once, and that is the only time the bull has been ridden at all in ten career outs. Whiskey hasn't faced many top tier riders. In fact, Dirteater is the only one.
Luciano de Castro on W403 Freckles:
Freckles made his debut last week in Tacoma where he was ridden by Marco Eguchi for 87.25 points. Castro has been off a little since winning Little Rock, and he's been banged up a little. He's only riding at 33.3 percent over the past five events. He looks to have a good chance to get started on the right foot here.
Ramon de Lima on 1-417 Muddy Water:
This is a Canadian bull who isn't ridden very often in PBR Canada events. Muddy Water is 7-1 in his career, but he likes to spin to the left, and he has solid timing. That doesn't speak well for his chance at bucking off the left-handed World Standings leader.
Jess Lockwood on W57 Blackberry Smoke:
This matchup is one of the safest bets for a qualified ride in tonight's portion of round one. This is a quality bull who can produce a big score, but his style makes him almost a day off for Lockwood. If the bull wins here it would be a huge upset.
Lonnie West on 37Z Udder Lover:
In any round, the best bulls out can't be overlooked because one of them is likely to deliver a big score. Udder Lover is not an easy bull to ride, especially for a left-handed rider, but he's carried four riders of the nine riders who have ridden him to round wins. West won't get much help from the bull here but if he can get the job done he should get a good score.
Claudio Montanha on -915 Hammer Down
This is an even matchup. Montanha bucked off this bull last season, but Hammer Down is one of the best draws available in the first round. He isn't the easiest bull to ride. He has a lot of action and he can generate a lot of centrifugal force, but he has a performance edge on most of the bulls in the round, and his scores reflect that. If Montanha can get him ridden he could challenge for a round win.
© 2018 PBR Inc. All rights reserved.