The Morning Line: BlueDEF Finals, Day 1
By: Slade Long
October 29, 2016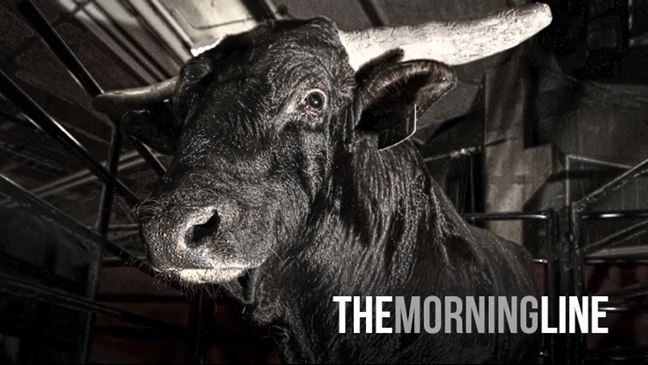 Morning Line – BluDEF Finals Round 1
Although this is the first year that the BluDEF Tour Finals has been an event in and of itself, the best young ABBI bulls do buck in the South Point Arena every year.
The ABBI typically holds a number of bull competitions in Las Vegas during PBR Finals Week. The oldest and experienced Classic age bulls have already punched their ticket for next Wednesday, and what we will see here is largely 3-year-old Derby bulls and some young 4-year-olds trying to get into the Built Ford Tough World Finals at the last minute.
What this means is that the opening round here will be the most unpredictable round of bull riding we've seen at all year. There are 41 bulls tonight, and 32 of them have fewer than five career outs recorded. The riders won't know a thing about them, and neither does anyone else.
We won't get much out of looking at specific matchups in the Morning Line for Round 1, but that doesn't mean nothing interesting is happening. The set of riders we will see tonight are worth a second glance. This event is in part a finale for the BluDEF Tour, and an invitational extension of the PBR World Finals. There are international invites, special invites, and a couple of injury exemptions in addition to the BluDEF Tour leaders, and those invites and exemptions are almost sure to play a big role here.
Dener Barbosa vs. 61Z Simon Says
The Brazilian invite, is a legitimate talent. He hasn't been to the U.S. before, but video from Brazil shows he certainly has the talent to compete here. His Round 1 bull, Simon Says, is actually a bull that we've seen once on the Built Ford Tough Series. He threw Tanner Byrne off in Charlotte this year. Barbosa won't go down easy.
J.W. Harris vs. 313 Trump Train
Harris needs no introduction, and is competing this weekend with an injury exemption. He's been to the past two World Finals, and finished third in 2014. We all know what he can do. The bull he has here, though, is a complete unknown. Either way, it's good to see Harris back.
Dakota Buttar vs. 22 El Guerro
Buttar is in this weekend as the Canadian invite. He's actually taking the place of Ty Pozzobon, who is sitting this one out with a sore wrist. Buttar is no slouch as a rider. We mainly know him from PBR Canada events, where he rides a respectable percentage of his bull. El Guerro is another bull with at least a little history. He's been ridden a few times as well.
Sage Kimzey vs. A61 Switch Hitter
Kimzey is a special invite, and he'll have a lot of eyes on him tonight. He is hands down the best bull rider outside the PBR over the past couple of years. Kimzey is a two-time PRCA World Champion, and he will probably win it for a third year in a row in December. It's true that guys who rodeo full time don't necessarily get on BFTS caliber bulls consistently, but a lot of riders do go to rodeos and none of them ride 70+ percent of their bulls. Kimzey does. He's got an easy style that works and he rarely makes mistakes. Switch Hitter will serve as his introduction to the PBR and is a 3-year-old derby bull with no prior history. Kimzey should be the favorite here, and it will be interesting to see if he can pocket some real money as Finals Week goes on. Don't make the mistake of thinking he's a babe in the woods coming into the PBR. He could well be a big bad wolf.
Matt Triplett vs. 98A Hurricane Hustler
Triplett has been at the last few BFTS events and is coming here as an injury exemption in a last ditch effort to get into the World Finals next week. He also has a little known bull who has, in fact, spent most of this year going to PRCA rodeos. Hurricane Hustler is unridden in six outs, but he's also untested. As we've seen plenty of times, Triplett is capable of stepping up and winning a round at any time.
Emilio Resende vs. The Lunatic
Resende arrives in Las Vegas on top of the BluDEF standings, and he's ridden well down the stretch this year. He hasn't made the most of his BFTS opportunities this year, but he's another guy who can win at any level. He's got a Jared Allen bull here – The Lunatic –  that Stetson Lawrence scored 86.75 points on in Thackerville, Oklahoma, last month.
© 2016 PBR Inc. All rights reserved.