The Morning Line: Charlotte, Day 1
By: Slade Long
September 16, 2016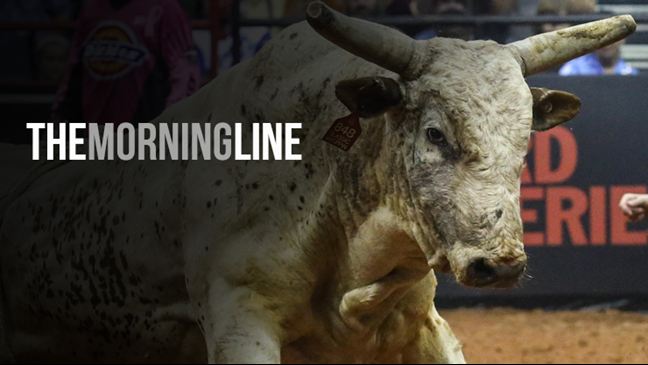 Morning Line – Charlotte Day 1:
After a big week for the bulls in Springfield, Missouri, look for the riders to strike back in this round. There are a lot of matchups tonight that look like they could go the riders' way.
Aaron Roy on 36Z Rebel Yell II:
This is a solid young bull we've seen at several of the ABBI Classic events. He's been outstanding at times, but he's also had a few off days. When he's on his game he's good enough for Roy to win a round on, and Roy really needs to have a big weekend.
Derek Kolbaba on 911 Hy-Test:
Hy Test is 5-13 against left-handed riders in his career, which makes him one of the easiest bulls going right now for lefties. Kolbaba was 85.5 on him in St. Louis back in February. Kolbaba hasn't done well in the second half of the season so far, but this could get him started well here.
Brady Sims on 805 Ace:
While just about all the riders on the Built Ford Tough Series were suffering from an inability to stay on anything in Springfield last week, Sims was busy winning the BlueDEF event in Rochester, New York. Sims has been away from the BFTS since March, but he's ridden 10 of his last 16 bulls at lower levels, and he's coming here hot. His bull here will probably turn out to be one of the easier ones in this round. Ace hasn't faced many top-tier riders, but he's been ridden by every lefty he's gone against.
Guilherme Marchi on 01Z Rocco:
J.B. Mauney and Jess Lockwood both have big rides on this bull in the past month. The bad news for Marchi is that Rocco is 12-0 against right-handed riders, and Marchi will have to get it done going away from his hand.
Tyler Harr on -3 Johnny Walker Black:
Harr was a ray of light in the midst of a pretty dark event last week in Springfield. He only rode one bull, but outside the numbers he looked like a guy trying to win while a lot of other riders looked like they were trying to survive and try again next week. He did manage to pick up the most points he's earned at an event this year. Harr has stepped in for an injured rider at the past two Built Ford Tough World Finals, and he's looking to earn his own spot for the first time. He should like this bull. We haven't seen Johnny Walker since February, but in his last six BFTS outs going back to 2014 he's given up five qualified rides.
J.B. Mauney on 264 Ram It:
This is the kind of bull that Mauney should dominate. There have been periods in his career when he has been less than impressive on the easier bulls. For the past two seasons, though, he's ridden nearly every bull he's supposed to ride, and a good many of the ones that are truly a test. He's done this even when he's been less than completely healthy. That's the exact recipe for a World Championship, and it's why he won it last year and is in the hunt again.
Kaique Pacheco on 185 I'm Trouble:
Over the past two events, Pacheco has gone 3-for-9. That's not terrible, but if you are thinking in terms of a World Championship, it is. The upside is that in those three rides he picked up two round wins and placed fourth with the other. That earned him 437.5 points in those two events. He's likely to get off to a good start here. He rode this bull in New York for 86 points, and he should be favored here, but this bull isn't that easy. He can be a little shifty and he's only given up five rides in 23 career outs.
Stetson Lawrence on 50 Tux:
Tux hasn't played much at this level, but he got the best of Mauney in Duluth, Georgia, this year. That may have been something of a fluke, because this is a decent draw for a left-handed rider. Lawrence has a good chance at an opening round score here.
Brant Atwood on 902 Lil' Z:
This is a good matchup for Atwood because this bull should be into his hand right in the gate. He's not an easy bull at the BFTS level, but he's rideable, and Atwood really needs to convert opportunities into points if he wants to earn a spot at the World Finals.
© 2016 PBR Inc. All rights reserved.