The Morning Line: Chicago, Day 3
By: Slade Long
January 15, 2017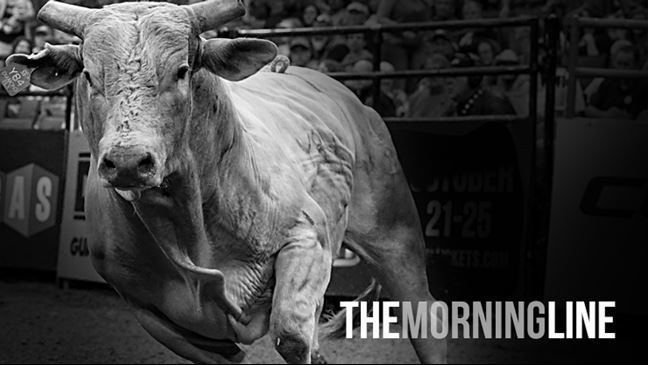 CHICAGO – In 2016 riding percentage was 33.33% for the season. Here in Chicago, just over 42% of the bulls have been ridden so far, not counting the 15/15 Bucking Battle. Look for the trend to continue in Round 3. Quite a few riders have favorable draws, including many of the guys in contention for the event win here.
Alex Cardozo on 212 Blue Duck:
Blue Duck isn't ridden very often, but Ryan Dirteater scored 85 points on him in the opening round here. Cardozo is leading the event right now, and has at least a shot at going 3-for-3 with this bull.
Brady Sims on 629-10 Ante Up:
Shane Proctor had this bull in New York and was bucked off, but all things considered, Ante Up is very similar to the bulls Sims rode in the first two rounds here. He's 3-3 against left-handed riders, he's a good fit for Sims, and he's the third good draw in a row Sims has had here.
Jess Lockwood on 730 Air Bender:
This is one of the better bulls to ride at the Built Ford Tough Series level, and Lockwood has ridden him before. They met in Wheeling, West Virginia, early last season, and Lockwood picked up 86 points there. Lockwood has a chance to add a second score and get into the short round here. I don't know if this is enough bull for him to win the round on.
Rubens Barbosa on 247 Red Bandana:
This is the bull Kaique Pacheco rode for 86.5 points in Round 4 of the World Finals, and he must not have that same kind of trip every time. He's only been ridden three times in twelve career outs, and they are 1-5 on him at the BFTS level. He was so nice with Pacheco that he should be easily ridden by any rider good enough to be here, and if he's consistently like that I would expect them to ride him nine out of ten times. Barbosa has a good chance here, but there must be something to this bull we don't have video on or he would have given up a lot more scores.
Kaique Pacheco on 219 Tractor Tippin':
Gage Gay split the opening round on Tractor Tippin', and Pacheco certainly has a good chance on him, although the bull is going to spin away from his hand. Pacheco did not get a big score last night, but if you watched his ride you could see why he is a contender for a world title. The bull had a good chance to get him on the ground early in the ride, but Pacheco made precisely the right reaction to correct his error. It's kind of rare these days for riders to be really good at recovering from a bad position. Even at the BFTS level, riders more commonly do something to make a bad position worse, or just give up.
Ryan Dirteater on 00 Captain:
J.W. Harris bucked off of Captain in round one here, but Dirteater rode him for 85.75 points last week in New York. A second score would really help Dirteater here, because he came down a little early last night.
Marco Eguchi on 1100 Milky Jones:
Milky Jones bucked Dener Barbosa off in Round 1, and he's a very rideable bull that ends up bucking off a lot of riders. He likes to mix up his timing a little, and he doesn't make the same predictable jump over and over. Eguchi should be favored here, but not by a lot.
Matt Triplett on 700 Fire Bender:
There's a chance this could be the round win. Fire Bender will be away from his hand, but Triplett is solid on bulls away from his hand. He's a guy who gets good scores out of bull as well, and a good score out of Fire Bender would be 87 points or more.
Dener Barbosa on 264 Ram It:
Alex Cardozo won Round 2 on this bull, and we could easily see Barbosa win Round 3 on him. This is a classy bull, and although Barbosa hasn't done anything here in Chicago yet, he has the talent to take care of this one.
Mike Lee on 073 Lieutenant Dan:
This is a bull that is easy to get in trouble on. He's a little mean, and he likes to try to get the rider off inside the spin. Mike Lee doesn't have a problem with that. He rode Lieutenant Dan at this event last year for 85.75 points, and he had him at a lower level event in 2014 and stayed on 7.35 seconds.
Joao Ricardo Vieira on 01Z Rocco:
Rocco can be challenging, even for the best riders in the world, but Vieira had him at the World Finals and stayed on 7.86 seconds. Look for a lot of direction change from this bull. Once he gets into a spin he's likely to reverse it if the rider is still there.
Guilherme Marchi on 138 Cracker Jack:
Cody Heffernan had Cracker Jack last night, and did well, as do most right-handers who get on this bull. Marchi will almost certainly prevail here. This matchup is like David Ortiz vs the best pitcher on your office slow pitch softball team. Yes, Big Papi is old and retiring from baseball, but he's probably going yard on Dave from accounting.
© 2017 PBR Inc. All rights reserved.