The Morning Line: Decatur
By: Slade Long
June 04, 2016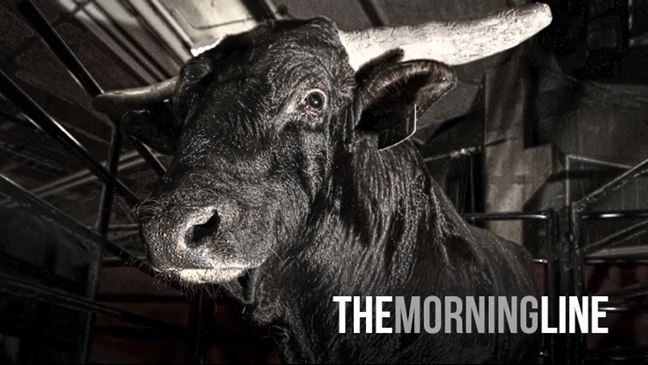 Morning Line – Decatur BDT
The long round here is an ABBI Classic round, and the bulls entered are essentially the same ones we've been seeing at the Built Ford Tough Series ABBI rounds. This group of bulls has had their way with the Built Ford Tough Series riders at times and they are that good. The riders as a group aren't going to be Built Ford Tough Series ready, so these young bulls have the overall edge in round one.
Douglas Duncan on Z7 Sketchy Bob:
There are a lot of good bulls in this round, but Sketchy Bob may be the classiest one of the bunch. He leaps high, hangs in the air, and is as showy a bull as you will ever see in a long round, even at the Built Ford Tough Series level. In fact, the last two times he was ridden went for BFTS round wins. The catch for Duncan is that Bob goes to the right, and Duncan is left-handed, but I would bet that Duncan isn't complaining about this draw. This is one every rider here would like to have.
Marco Eguchi on 129/2 Big Show:
We don't know much about this bull. He has just four Touring Pro Division level outs on record, but he gave up an 89.5-point ride to right-handed Reid Barker at a San Antonio TPD last fall.  That makes this an interesting matchup. Eguchi has had some success at the Built Ford Tough Series level, and he's trying to get back there now. He's one of the more capable riders at the lower levels, and he has a chance to do something here.
Ryan McConnel on 1202 Mr. Deeds Jr.:
McConnel is another rider we've seen at the next level. He's qualified for the PBR World Finals four times, but he's struggled in recent years. This bull is unproven, like most of the other young bulls here, but he's given up a couple of qualified rides at the TPD level this year. McConnel has a chance on any of these bulls, but he may have one of the easier ones here. It's hard to tell with most young bulls, because most of them aren't as consistent as the bulls normally used at the BFTS level.
Robson Palermo on 2259 Ms. Kitty's Peacemaker:
Peacemaker has been to a couple of Built Ford Tough Series events, and he was ridden by Aaron Roy in Springfield last fall. He threw Shane Proctor off in Oklahoma City back in January. Palermo may be the best rider entered at this event, and as such he's likely to be a factor in the outcome.
Ouncie Mitchell on Z3 Swamp Wreck:
You may not have heard of Mitchell before, but this is a guy with a lot of try, and he's got a bull here who can be ridden. Swamp Wreck typically goes to the right, but he's been ridden by Mike Lee and Joao Vieira – two lefties. Mitchell is left-handed as well, and he'll have to deal with a pretty strong bull here, but one that has good timing once he's into the spin.
Young Guns Challenge
This is a group of really good matchups, and one thing that applies to all of them at an outdoor event is the weather. If the arena is muddy, the riders have an advantage, but if it's actually raining the bulls have the edge.
Cooper Davis on 1327 Who Dey:
This is really a match made in heaven, and Davis has an excellent chance to win the round here. Who Dey goes to the right, and he's rideable, but he does have world class speed. He's bucked off quite a few guys who weren't prepared to go quite so fast. This is a matchup that I would expect a BFTS round win from, and muddy arena conditions may shift this further to Davis's advantage.
Derek Kolbaba on 58X SweetPro's Long John:
Long John typically goes to the left, and that is into Kolbaba's hand, but that's not really the issue here. Long John is a whole lot of bull to hang on to. He has a lot of drop, and in the past year, he's only been ridden by J.W. Harris and J.B. Mauney, two of the most seasoned veterans in the sport. Because of the razor-thin margin of error on this bull, veteran riders are really the only ones who have a fair chance at him. I think Kolbaba will have his hands full, and the odds are he's never been on a bull with this much up and down.
Jess Lockwood on 32Y SweetPro's Bruiser:
If Cooper Davis rides Who Dey he won't automatically win the round, because of this matchup. Bruiser is a better bull, and he will spin into Lockwood's hand here. These two have never met, but they are made for each other. If Lockwood makes the whistle here, Kolbaba is really the only one with a chance to beat him. Lockwood also has the best chance at riding Air Time in the match after this round, but no rider has really has much of an edge against Air Time.
Jorge Valdiviezo on 911 Hy-Test:
Valdiviezo doesn't have enough bull to win this round on if any of the aforementioned guys stay on, but he does have a good draw. Hy-Test is significantly easier to ride than the rest of the bulls in the Challenge. He's a quality bull, he's very consistent, and he will spin away from Valdiviezo's hand, but he has excellent timing, and he gives up quite a few scores at the BFTS level. This is the safest bet for a qualified ride. Davis and Lockwood both have favorable matchups, but they also have harder bulls to stay on.
Kurt Shephard on 177 Time Bomb:
Joao Ricardo Viera rode this bull for 90 point in New York back in January, but only two other guys have made the whistle on him in 19 career outs. Time Bomb is by far the least predictable bull in the Challenge. He can spin either way, he can reverse the spin, he can move forward, you name it. Add some speed to all that and it's not hard to figure out why he's racked up impressive buckoff numbers.
© 2016 PBR Inc. All rights reserved.