The Morning Line: Glendale, Day 1
By: Slade Long
March 25, 2017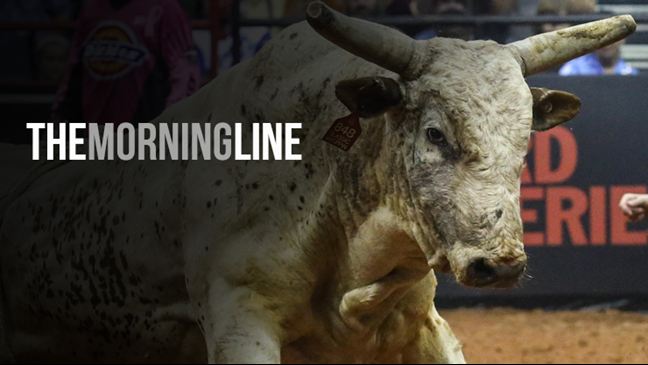 GLENDALE, Ariz. – Over the past three weeks, we've gone from one extreme to another. In Jacksonville, Florida, the bull power was pretty soft. In Little Rock, Arkansas, and Albuquerque, New Mexico, it was as good as it gets. The riders rode 46% in Jacksonville, and that promptly dropped to 27% for the next two events.
In Glendale, Arizona, the bulls won't be as soft as they were in Jacksonville, or as hard as they were in Albuquerque. They will be somewhere in between, and there should be plenty of qualified rides this week. Even the Built Ford Tough Championship Round will feature a number of bulls that are very rideable by Built Ford Tough Series championship round standards.
Two bulls we will see in the championship round here have a huge opportunity to put themselves into the World Championship Bull race. Jared Allen's Air Time and Brutus will both go in Glendale, and they are the only two bulls here in their talent class. Often when you see a really strong bull he's part of a pen of really strong bulls, but Air Time and Brutus will really be able to stand out in Glendale, because Pearl Harbor, SweetPro's Bruiser and the tiny handful of other bulls that can show just as well won't be here.
Air Time and Brutus are both hopeful contenders for World Champion Bull, and both of them have similar issues. They can buck up and down as hard as any bull, but won't necessarily go straight into a spin. Sometimes it can cost them points, but SweetPro's Long John had the same issue and he did win the title in 2015.
Round 1 Matchups:
Derek Kolbaba on 157 Legacy:
Kolbaba rode this bull in Stephenville, Texas, during the 2015 season for 87 points. On top of that, Legacy is a solid draw for a left-handed rider. He has great timing, and goes to the left with no surprises. Kolbaba should win the match easily for somewhere around 86-87 points.
J.B. Mauney on 1201 Shelly's Gangster:
Mauney scored 88.25 points on this bull in Albuquerque in 2016. Shelly's Gangster doesn't go to many events, but he was really good with Mauney the first time. He spun both ways, and had a lot of intensity. If we see the same trip here this could easily be the round win.
Mason Lowe on 078 Grandpa Joe:
Grandpa Joe has bucked Lowe off before, but I wouldn't bet on that happening twice. Lowe is riding well right now, and this is one of the best draws in the sport of bull riding. They ride this bull a little over half the time at the BFTS level, and usually for a good score. Lowe may not be able to win the round here, but he should place well.
Fabiano Vieira on 976 Slick Rick:
This is another rematch. Vieira scored 85 points on this bull in New York in 2016. Slick Rick has also been ridden in his last nine PBR outs counting all levels. The catch is that he's a lot better fit for right-handed riders. He's 14-4 against lefties, but 6-11 against right-handers.
Kaique Pacheco on 225 Dew Rag Dan:
Pacheco has six straight buckoffs since the second round in Jacksonville, but he's too good a rider to stay on that path for long. He should be able to handle this bull into his hand pretty easily. Dew Rag Dan was in Chicago this year, where Mason Lowe scored 85 points on him, but he also threw off J.B. Mauney in New York.
Stormy Wing on 026 Just Juan:
You have to figure that Stormy Wing is riding as good as he ever will right now. He has to have some confidence after last week, and a little confidence goes a long way in bull riding. Just Juan is a rideable bull at this level, and Wing definitely has a shot here. This bull is similar to the Cracker Breaker bull Wing had in Round 2 last week, but not quite as strong.
Mike Lee on 017 Crazy Horse:
This is just an all-around good draw for any rider at the BFTS level. They ride him exactly 50% of the time here, and that's a low difficulty bull here. We saw Kaique Pacheco turn in two huge scores on this bull last fall.
Chase Outlaw on 718 Captain Jack:
Outlaw continues to draw well, and he's riding better than he ever has at the moment. He rode Captain Jack for 88 points at a California Touring Pro Division event last summer. Since Sacramento, California, Outlaw has drawn a lot of bulls that really fit him well, and this is another one.
Cody Teel on 200 Booger Red:
Booger Red doesn't have much experience, but Mason Low rode him in St. Louis for 86 points. Teel should be able to handle him. Although he hasn't set the world on fire at this level yet, Teel is a guy who has the talent to stay here.
Stetson Lawrence on Y1 Crazy Days:
This bull threw off J.W. Harris in Anaheim, California, but he's been ridden in five of his last eight outs. Crazy Days can have a little more up and down than your average long round bull, but Lawrence should be able to handle him.
Luciano de Castro on 8 Beast of Burden:
We first saw this bull at the BFTS level in Chicago back in January. He went to St. Louis and Sacramento as well, and he's logged four outs this season – all of them qualified rides. So, this bull is in the unusual position of looking for his first BFTS buckoff at his fourth BFTS event. He probably won't get it here. Castro is too sticky.
Koal Livingston on 262 GOOD RIDE'S Jailhouse Jr.:
Livingston hasn't exactly been knocking it out of the park since he's been here, but there have been flashes of real promise. This bull should be a decent fit for him. He goes to the left, and can produce a big score. Cooper Davis scored 89.25 points on him in Kansas City.
© 2017 PBR Inc. All rights reserved.