The Morning Line: Jacksonville, Day 2
By: Slade Long
March 05, 2017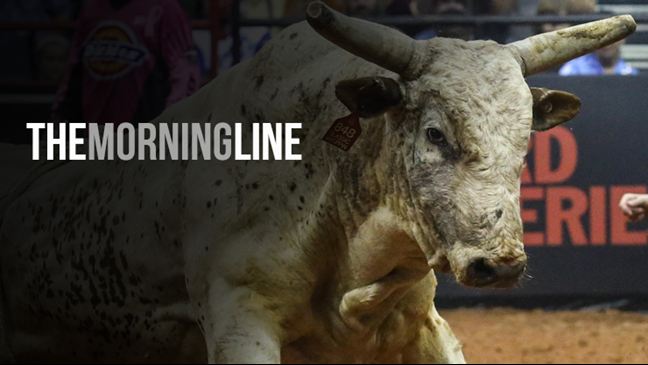 JACKSONVILL, Fla. – We saw 20 rides last night, and with that many scores on the board, we could see an unusual situation for this era – someone could ride two decent bulls here and not qualify for the Built Ford Tough Championship Round.
The bulls out in Round 2 are not really more difficult than the ones out last night, although there are some better known names in the bunch today. We are on track to see the highest riding percentage at a single event this year.
Koal Livingston on 965 King Buck:
We often talk about bulls with stats that show how difficult they are to ride, but this bull has some of the most interesting stats in the business, and he's on the other end of the spectrum. King Buck is a quality bull, and he's carried riders to round wins at this level numerous times, but he has a style that most riders gel with to the point where they rarely buck off of him. He is 6-21 vs. right-handed riders in his career. He's been ridden in 26 of 36 Built Ford Tough Series outs. At this point in his career, the most difficult thing about him is the mental game. The riders are fully aware of how easy he is, and that knowledge can mess with a rider's mental state and cause them to ride too conservatively.
Needless to say, King Buck is the most coveted draw in this round or any round, and he comes at a good time for Livingston, who won last night's round. He could do very well in this one, and can hold court going into the short round.
Claudio Montanha Jr. on 96 Fire Rock:
This veteran bull is neither especially easy nor especially hard. He can be good enough to produce a round win, and he has a wild and western style that makes every rider look good. Montanha should be able to handle him, and if this bull has a great day, this could be a big score.
Chase Outlaw on 120 Little Air:
Outlaw has been riding every bull he's supposed to ride, but this is not that kind of bull. Statistically, the bull should have an edge in this matchup, because he's only been ridden once in 14 career outs, and he's 7-0 at the BFTS level. This will be an interesting test for Outlaw, because to contend for a world title it will be necessary for him to win a lot of matchups where he's not the clear favorite.
J.B. Mauney on 1122 Sin City:
Sin City goes to the right, and has never given up a qualified ride to a left-handed rider, but that will change today. This is too nice and too easy a bull to get Mauney on the ground. In fact, he could carry Mauney to a higher score than he got last night.
Dakota Buttar on 848 Classic Whoppin':
Brady Sims scored 86 points on this bull in Kansas City, and Buttar will probably pick up a second score on him here. But while there are several bulls in this round that will be dead easy for riders, this one may be harder than he looks. His numbers against even the best riders are respectable.
Mike Lee on 288 Mr. Big Stuff:
This is the bull Mauney had for a re-ride last night and rode for 85.25 points. On top of that, Lee rode him last fall in Charlotte, North Carolina, for 85.5 points. Look for another guy to rack up a second score here, making it tough on the riders who bucked off last night.
Fabiano Vieira on 0628 Bluegrass:
This isn't the easiest bull in this round by a long shot, but Vieira definitely has the edge in this matchup. Bluegrass should go into Vieira's hand, and while his timing can be a little off, it's not enough to show Vieira anything he hasn't seen before.
Luciano De Castro on 01Z Rocco:
This is the matchup to watch for a possible round win. Rocco is one of the stronger bulls here, and one of the harder to ride ones as well, but he's given up quite a few scores, including a 90-point ride by Jess Lockwood last summer in Nashville, Tennessee. He's been ridden four times in seven outs since then.
Matt Triplett on 160 Pitch Black:
Pitch Black is 1-3 against right-handed riders and 4-6 overall for good reason. He's not that hard to ride. He's not particularly fast, and he telegraphs his change of direction. That's going to make it hard for him to win against any rider at this level. The down side for Triplett is that he may not get more than 84-85 points out of this bull, and in a round where there are a lot of good matchups that may not be enough to place.
Kaique Pacheco on 1095 Cowboy Phil:
Pacheco is in good shape to get his sixth consecutive score here. He rode Cowboy Phil for 88 points at the 2015 World Finals. He may not get that much today, but he shouldn't have a problem going 2-for-2.
© 2017 PBR Inc. All rights reserved.