The Morning Line: Last Cowboy Standing, Day 1
By: Slade Long
May 13, 2016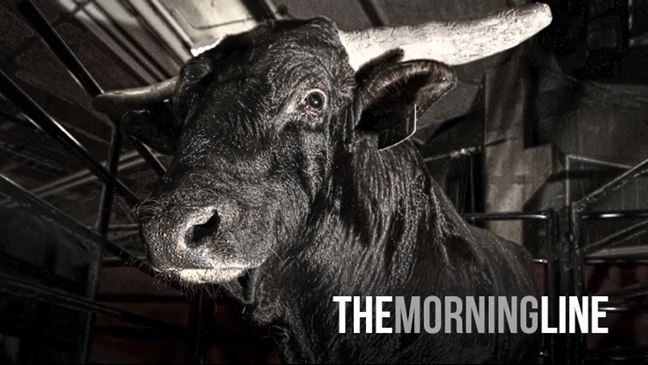 Morning Line – Last Cowboy Standing Day 1
We should see some good rides in the opening round here. There are a lot of rideable bulls in the draw here, and we could end up with more than fifteen riders moving on to round two. This is the first outdoor Built Ford Tough Series event of the year, and a quick look at the Las Vegas weather forecast shows (surprise) it's not going to rain. Good weather gives the riders an advantage at outdoor events, while rain would turn that around and give the bulls an advantage.
Derek Kolbaba on 11 Tso-Op:
This isn't a very well-known bull, but he's a good one. Kade Alberty was 86.5 points on him at a Blue-DEF event in Fresno, California, just last month. He went to the left there, which will be into Kolbaba's hand. He's not a very intimidating looking bull, but he has some speed and he finishes strong. This is a quality draw, and Kolbaba should be able to handle him.
Joao Ricardo Vieira on 942 Mr. Clark:
Mr. Clark has been around for a number of years, and he's only given up six rides in 75 career outs. He doesn't get a lot of action at the Built Ford Tough Series level, but he's been pretty efficient at throwing riders off. He's often out of a right hand delivery, and he can spin to the right, but he can go either way. He's not extremely fast or powerful, and usually when an otherwise ordinary bull has an impressive buckoff percentage it's because he has some forward movement. Mike Lee rode him in Tucson, Arizona, last fall and if he has the same trip here Vieira has a good chance.
Eduardo Aparecido on 977 Bad Grandma:
This should be a day off for Aparecido. This bull likes to go to the right, and he hasn't really faced a lot of high level right-handed riders, and every time he does he gets ridden. Aparecido has quietly been one of the more efficient riders on tour this season, and he should easily get past this bull and move on to the second round.
Mason Lowe on 022 Recovery Time:
Gage Gay won the opening round here last year on this bull. Recovery Time goes to the right, he's pretty consistent, and he's a good fit for Lowe. That said, Lowe had him in Thackerville, Oklahoma, last year and came down in 6.9 seconds. I don't think that will happen twice in a row. This bull is too good a fit for Lowe, and it should go his way this time.
Wallace de Oliveira on 915 Houla Hoop:
Oliveira hasn't done that well over the past month or two, but if we've learned anything about the 36 year old, it's that if you give him a bull he can handle, he probably will handle him. Houla Hoop is that kind of bull. He can have a hard corner, and he can reverse the spin at times, but he gives every rider a chance. Oliveira doesn't really have the natural talent that some of the top riders have, but he does make the most of the talent he has. That is an important aspect of any sport, and even more so in bull riding, where there is a relatively small player base. A guy who brings his lunch box every day and puts in the work can have success against guys who are more talented than he is.
Stormy Wing on 1275 Joe The Grinder:
Joe the Grinder is essentially the bull version of what I just mentioned about Wallace de Oliveira. He doesn't have the over the top athletic ability that Air Time and Crossfire have, but he knows what to do, and he does it to the best of his ability. He's a pattern spinner that goes to the right every time, he has good timing, and every rider has a fair chance on him. But, he works hard and he ends up getting most of them on the ground. He's been to six events this year, and he's unridden, but every guy had a shot at a round win on him. Wing has had him three times, and he's been beaten all three times.
Tanner Byrne on 868 After Party:
Aside from the fact that this is a compact bull and Byrne is a long and lanky guy, everything about this matchup works in Byrne's favor. After Party tends to go to the right, and he likes to get riders down on his head by backing up underneath them. Byrne is right-handed, and he's one of the best at staying off a bull's head. He rarely gets thrown over the front end, even on bulls that are trying hard to get him there.
Reese Cates on 011 Smoke Wagon:
We don't see this bull on tour very often, but he's a good draw, especially for a right-handed rider. Gage Gay rode him in Billings last year, and Sean Willingham and Nevada Newman both put up good scores on him at Touring Pro events in January. He can be a little wild and unpredictable, but if Cates can get into the spin with him he should be alright.
Paulo Lima on T05 El Capitan:
Lima has been on this bull twice and bucked off both times, but this is a matchup he should win. El Capitan has a pretty weak record against the top riders, and Lima is one of the top riders. If he's a real contender he should handle this bull easily.
Valdiron de Oliveira on W28 Long Haired Outlaw:
Oliveira was 86.75 points on this bull about a year ago in Seattle, but he had him in Billings last month and bucked off. This is a wild and strong bull that goes to the right, and he fits Oliveira's style perfectly.
Kasey Hayes on 27 Gentleman Jim:
Hayes should be a heavy favorite in this matchup. Gentleman Jim is 6-7 against left-handed riders in his career, and Hayes is exceptionally good at riding bulls that go into his hand. This bull is one of the more rider-friendly ones in the draw here.
© 2016 PBR Inc. All rights reserved.