The Morning Line: Little Rock, Day 2
By: Slade Long
April 10, 2016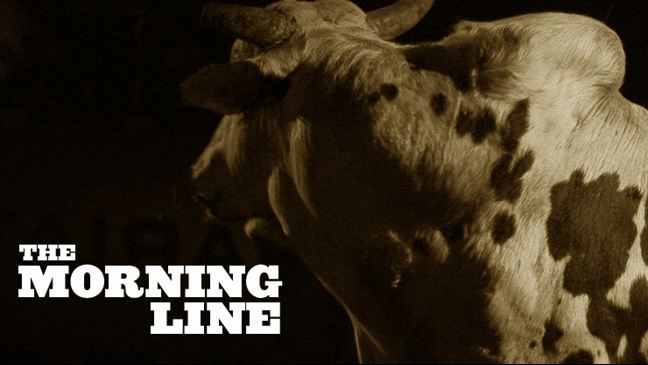 Morning Line – Little Rock Round 2:
Last night was a night for the riders as 13 walked away with a score, but many of them will have a tougher draw Sunday. This round is full of established, veteran bulls compared to the young set we saw last night. They aren't necessarily harder to ride as a group, but they are less likely to have an off day.
Cody Nance on 173 Mental Revenge:
Nance bucked off last night, but he might be able to get back in it today with this bull. Mental Revenge isn't an easy bull to ride, but Nance was 89 on him at a Touring Pro Division event last summer.  When we've seen him at the Built Ford Tough Series he hasn't been marked quite that high, but he's only given up four rides in 17 outs on tour.
Josh Faircloth on 901 Sam:
Sam is a big, long-bodied black bull that should turn back to the right which will be away from Faircloth's hand. He looks intimidating, but his bucking style negates that. He's got near perfect timing once he goes into a spin, and he's very predictable. Faircloth should get along with him, and he could get a good score here.
Gage Gay on 316 Panda Trax:
Gay had a good draw last night, and got a good score, but he's got a much tougher task here. Panda Trax is like a box of chocolates – you never know what you're going to get. He can go to the right or to the left, but no one knows at what point in the ride he might spin. He's been a hard bull to ride throughout his career, and his difficulty lies in the only consistent pattern he really has. When he leaves the chute he will take some high, hard jumps with plenty of drop and kick, and when he goes into a spin he picks up speed and loses his kick. For the rider, this means that he must be in perfect position when the spin starts or he's lost. Panda Trax gets most riders this way – he goes into his spin with them sitting up or back, and they can never get their weight back to the front. He'll string the rider out and sling them out the back. Gay will have to be on point to get this bull ridden, but if he does it could be for a big score.
Tanner Byrne on 3028 Stunting Like My Daddy:
Like Gay, Byrne also faces a tougher bull than he had last night and, in this instance, much tougher. Byrne had a bull that fit him perfectly, and while this one is rideable, he doesn't fit anyone.  He can throw some fakes, and once he comes around to spin he means it. He is somewhat inconsistent, and he has a bad day now and then. Byrne had him in Albuquerque on one of his bad days, and he didn't make the whistle, but he can't expect this bull to have an off day again today.
Jess Lockwood on 033 Shoot Out The Lights:
Shoot Out The Lights is always one of the best draws in any long round. He's a classy, showy bull with a style that riders like. He usually likes to go to the right, and he's been a lot harder on left-handed riders. That might be a problem for Lockwood, except that he's been living with Cody Lambert, and he's probably already heard that he's not supposed to struggle on bulls that spin away from his hand. This is an honest bull that is going to give Lockwood a fair chance to ride him for a great score, and that's all any rider can ask for.
Mike Lee on 411 Coats Rojo:
Lee has an even chance at picking up ride number 499 here. This bull is making his BFTS debut, but he's been around at the Touring Pro level for a while, and he's given up one score in 11 career outs. He hasn't faced any riders of Lee's caliber, though, and that means he's untested. He'll be out of his comfort zone here, and Lee will be further into the comfort zone than anyone in the building.
Robson Palermo on 913 Big Benny:
Sometimes old guys who have been around bull riding a long time like to sit around and snipe about how the sport has changed, and bulls just aren't as scary as they used to be. When they do that it's just because they haven't seen this bull yet. Big Benny looks so old school it's kind of weird to see him come out of a chute made of metal. When he does hit the arena he's actually pretty good to ride, and Palermo will probably like him a lot. He's a pattern spinner, and he bucks a lot like his pen mate 901 Sam except he goes to the left. Both bull can open up their spin a little near the end of the ride, but Palermo is likely to handle him easily.
Kaique Pacheco on 058 American Sniper:
Like several other guys, the difficulty knob has been cranked up on Pacheco today. This isn't a terribly hard bull to ride, but he's considerably harder than the bull Pacheco had last night. The difficulty with American Sniper is that he sometimes doesn't kick enough to help the rider. He's a strong bull, he likes to go to the left, and for Pacheco none of that is helpful. The best case for Pacheco is that the bull has a good day, has some kick, and keeps a steady timing. Worst case, he's sluggish, because that would make him harder to stay on.
Derek Kolbaba on 03 Redbone:
Kolbaba has a great chance to pick up a second score here, and every guy in the round would be happy to draw this bull. Redbone is a solid performer, he has a lot of action, and almost nothing he does adds much difficulty for the rider. He spins to the left, which will be into Kolbaba's hand, and while he can drift around in the spin a little, he's pretty easy to track. He's not fast and he really lets the rider know what's coming next.
J.B. Mauney on 089 War Party:
Mauney is obviously dealing with injury. He kept a low score last night rather than taking a re-ride, so his fortunes at this event are tied to this bull, and this is a bull that threw him off in Arlington, Texas, in under two seconds a couple of months ago. J.W. Harris rode Wart Party in Tucson last fall, and he's the only who has had any success on him. Joao Ricardo Vieira, Silvano Alves, and Gage Gay are among the guys who have tried and failed.
© 2016 PBR Inc. All rights reserved.