The Morning Line: Little Rock, Day 1
By: Slade Long
March 10, 2017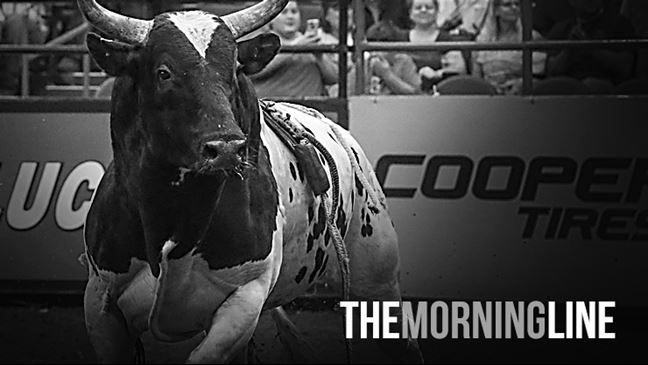 LITTLE ROCK, Ark. – This is an ABBI Classic round, and all 36 bulls out tonight are three and four-year-old bulls entered in the Classic competition. We've seen these bulls a couple of times this year now, and a few of them are beginning to stand out, but for most of the matchups tonight the bull is a big question mark. Most of the bulls in the round don't have enough experience to have a real track record.
Claudio Montanha Jr. on 5A After Midnight:
This is the money matchup in this round, but whether it means money for the bull or rider is a big question. After Midnight has been solid every time we've seen him, and he's unridden in eight career outs. He's a Page bred bull who is a half-brother to Smooth Over and a cousin to several other bulls in tonight's round. He has a vertical style similar to SweetPro's Bruiser and Brutus, and while Montanha has been riding very well since he's been in the states, this bull will present a challenge going away from his hand.
Fabiano Vieira on 387 Call the Law:
This bull posted 44.25 points in Kansas City and threw off Kaique Pacheco doing it. He's a Cord McCoy bull, but he comes from the same bloodlines as Bruiser. Vieira is capable of riding any bull here, and if he can crack this one it should be for a big score.
Emilio Resende on 20A High Test:
High Test is a son of Shepherd Hills Tested, but he's not as hard to ride as his father was. He goes to the right, and Resende may be able to leverage that into a high score here. If you are looking for a dark horse pick, this is it. If they don't ride a lot of bulls tonight, Resende has a chance to win the round.
J.B. Mauney on 312 JJ:
Mauney drew something of a ringer here. Derek Kolbaba rode this bull easily in Oklahoma City, and spurred him as well. He went to the left with Kolbaba, and if he has the same trip here there's no way he throws Mauney off. Mauney may not get enough points to guarantee a round win, but he should get an easy first round score.
Cody Ford on A19 Bezerk:
Ford is replacing Matt Triplett who is out with an injury. This is particularly bad news for Triplett because in the two long rounds here he outdrew every other rider by a wide margin. In Round 2, Triplett had Cooper's Comet, who he's ridden before. Ford being left-handed isn't as good a matchup against Cooper's Comet, but this bull is a different story. Bezerk has been ridden twice in five career outs, both times for round wins, and he went to the left both times. It's a big opportunity for Ford just to get into the event, but getting in and drawing outstanding bulls in back-to-back rounds is an epic opportunity.
Paulo Lima on 613 The Hard Stuff:
Lima hasn't been riding well at all, but this is one of the bulls to watch in this round. The Hard Stuff split the win in Kansas City, and he's unridden in four career outs. Lima may be on a down swing, but often drawing a really good bull can change things.
Koal Livingston on JF310 Power Plant:
Livingston had this bull in St. Louis and bucked off, but he didn't come down until the 7.97 second mark. Expect him to get the job done here. Guys who make it to this level aren't likely to buck off bulls two times in a row unless the bull is really something special.
Shane Proctor on 60-3 Inferno:
This bull won the Oklahoma City ABBI Classic round, and he's got more experience than most of the other bulls here. He competed at the Classic level last year as a three-year-old. He's given up three scores in twelve career outs, but all to left-handed riders.
Dener Barbosa on 44A Smooth Over:
This is another of the bulls to watch here. Smooth Over has been from pretty good to exceptional every time we've seen him, and he's one of the more reliable performers in the round. Barbosa has the talent to ride him, but there's sound reason to question his mental game. At times he doesn't look like he's trying very hard. We know the bull will be good here, but we don't know which Barbosa will show up.
Luciano de Castro on 323 Biker Bob:
Stetson Lawrence scored 87.5 points on this bull in Anaheim, California, and I would expect Castro to get the job done here. Although he's 20th in the standings right now, I expect Castro to be close to the Top 5 by season's end. In Brazil last year he went 5-for-5 at four major events – Barretos, Divinopolis, Sao Jose do Rio Preto, and Rio Verde. This guy is a talent to watch.
© 2017 PBR Inc. All rights reserved.