The Morning Line: Little Rock, Day 2
By: Slade Long
March 11, 2017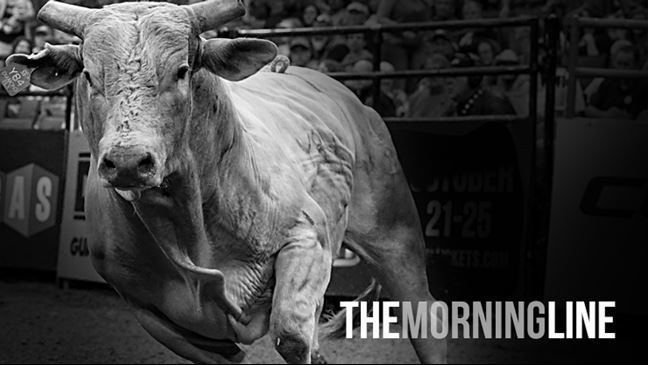 NORTH LITTLE ROCK, Ark. – With only seven qualified rides last night, this event is still wide open. Someone could step up and win it with two scores. Round 2 features a group of solid, veteran bulls, and there are a lot of matchups here that should result in a score. We will almost certainly see more than seven rides tonight.
Dakota Buttar on 056 Rodeo Time:
In the Morning Line, I usually end up writing about bulls that are pretty rider-friendly, because those are the bulls that guys consistently win on week after week. But did you ever wonder what makes a bull rider-unfriendly? This bull meets the level 1 criteria, which are:
A: hard to ride
B: big, scary horns
Rodeo Time is a throwback to a previous era when there when there were a lot more scary looking bulls around. He's a brindle bull, the universal color of mean mongrels, and he's got wide, asymmetrical horns that give him an air of madness. He stands out in a pen of today's bulls to the point where 90% of fans could pick him out of the herd as the one not to be trusted. He's been working on the hard to ride part – throwing off Gage Gay, Kaique Pacheco, and Joao Ricardo Vieira just this season.
This is an interesting matchup because of the rider. Buttar has quietly been winning a lot of matchups where he doesn't have a clear advantage, and that is key for any rider who wants to solidify a spot at this level. You have to be capable of getting by bulls that aren't a perfect fit for you, and Buttar has shown he can do that. Of all the riders that aren't talked about as much, he is closest to blowing up into a true contender. He got a score last night when few other guys did. The next step for him is to convert the scary, hard to ride bull into a second score, and up his chances of having a good championship round bull. Winning iffy matchups leads to winning events.
Claudio Montanha Jr. on 100 VJV Nailed:
Montanha may have come up short last night, but don't count him out. This bull is an ideal draw for right-handed riders, and could be enough to get Montanha into the championship round. Nailed is a Canadian immigrant, originally from Vold Rodeo in Alberta. He consistently goes to the right, and while he's not easy, he's manageable for right-handed riders.
Fabiano Vieira on 2125 Wicked Stick:
This is a matchup that's happened twice before. Vieira was disqualified in the chute the first time, and bucked off the second. Wicked Stick has thrown off a lot of top riders over the past few years, but he's the kind of bull you can win a round on.
Guilherme Marchi on 13-2 Glory Days:
This should be a slam dunk for Marchi. Glory Days is weak against right-handed riders in general, and Marchi rode him about a year ago in Albuquerque, New Mexico, for 86 points. Marchi is all but a lock to reach 600 career qualified rides soon, and that is a record that may never be broken.
Chase Outlaw on 93 Pepper:
Outlaw won the round last night, and he should be in good shape to get a second score here. This bull is new to the Built Ford Tough Series, but not to bull riding. He's got a solid record of being good to riders. He may not be enough bull to guarantee a round win, but Outlaw will get the best score possible out of him.
Joao Ricardo Vieira on 157 Legacy:
Vieira has bucked off this bull before, but he still has a very good chance here. Legacy can have two different trips. He can be a pretty normal bull and spin to the left, and he gets ridden often when he does that. He can also be out of line at times and have a lot of forward movement. He's not nice to riders when he does that. If Vieira draws the good trip here he will handle it just fine and pick up a second score.
Jay Miller on 978 Little Red Jacket:
Miller has shown flashes of talent here and there, but his success at lower levels hasn't translated to the BFTS yet. He's got a huge opportunity here. Little Red Jacket is the single best draw for a right-handed rider in this round. He gives up a score in more than half his outs vs. right-handed riders, and roughly half of those scores are good enough for a round win. A rider may go three to five entire events without drawing into a matchup this good, and Miller needs to convert.
Silvano Alves on 027 Kookaburra:
Alves got an easy score in the first round, and he may get another here, but it won't be easy. Kookaburra can move forward and reverse his spin, and that gives guys a lot of trouble. Alves obviously has the talent to hang with any bull here, but it's hard to tell whether he has the same motivation to take on challenging bulls he once did.
Cooper Davis on 60X No Regrets:
Davis has tried this bull three times, and has yet to reach the 4 second mark on him. However, all of these happened in the first half of 2015, and Davis is a different rider now than he was then. This will be a tough bull to ride because he typically won't stay in a pattern, and if one thing doesn't get the rider off he will quickly try something else.
Mason Lowe on 262 Jailhouse Jr.
Lowe could jump back into contention for the event win with this bull. He bucked off last night, but he's likely to get a score here, and it could be a good one. Jailhouse Jr. can have a little forward movement when he's at his best, but he goes to the right, and Lowe should be able to handle that. Lowe needs that better trip to get a round winning kind of score and guarantee a good spot in the short round.
© 2017 PBR Inc. All rights reserved.