The Morning Line: Nampa, Day 2
By: Slade Long
October 08, 2016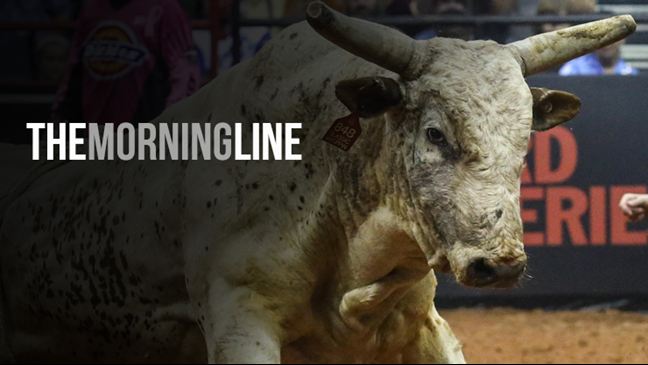 Morning Line – Nampa Round 2
Chase Outlaw on 118 Dirty Deeds:
Derek Kolbaba had this bull last week in Eugene, Oregon, and bucked off. But, over the summer, Dirty Deeds was ridden three times in seven Touring Pro Division outs. Outlaw hasn't had a great second half of the season, but last night he looked as sharp as we've ever seen him look. He stands a good chance to get a second score here.
Jess Lockwood on Y20 Wipeout:
Lockwood looked unbeatable last night. Although his bull wasn't great, he was not particularly easy to ride until he went into a spin. He's is likely to pick up a much bigger score here. This bull is showy and wild, and he should fit Lockwood's style pretty well.
Lockwood, Ryan Dirteater and Kaique Pacheco all turned down a re-ride option last night and kept their scores, which in retrospect was a smart move by Lockwood and not as wise for the other two. Wipeout was the next bull up in the re-rides for all three guys, but since Lockwood already had him drawn in Round 2, he would have had Intensified Clyde – a very squirrely and difficult to ride bull that he probably could not have placed on. Dirteater and Pacheco both passed on Wipeout, and they may regret it because Lockwood has a very good chance to win this round on him.
Matt Triplett on 026 Just Juan:
Jess Lockwood rode Just Juan to a 86.5 point score and third place in the round last week in Eugene. Triplett came down last night, but this is a good draw for him and he should do well.
J.B. Mauney on W43 War Cry:
War Cry is unridden in 13 career outs, but he hasn't faced a lot of high level riders. He did throw off Eduardo Aparecido last week, and Fabiano Vieira back in May. His performance in a handful of Built Ford Tough Series outs has been less than stellar, and he may not be the kind of bull Mauney could win the round on. If he can break War Cry's unridden streak, Mauney may end up with an average score, but he'll have two ridden and be in good position going into the short round.
Fabiano Vieira on 908 Americana:
This matchup should go Vieira's way. Americana is a bull he should ride nine times out of ten, and he is already 1-for-1 on him. They met in Sacramento, California, earlier this year and Vieira was 85.5 points. He'll hope to better than that here, because he didn't get a score last night and quite a few other guys did.
Robson Palermo on 055 Ringworm:
The odds are with Palermo to pick up a second score here. Ringworm has only one out on record, but it resulted in an 85-point score for Ty Pozzobon en route to a TPD event win in Fredericksburg, Texas.
Joao Ricardo Vieira on 1275 Joe the Grinder:
I always put a star by this bull when I see him in the draw because he's a great bull for any rider to have. He's 9-0 at BFTS events this year, but that is because a lot of riders let a good opportunity slip away. He definitely goes to the right, so he will test Vieira's ability to ride bulls away from his hand, but Joe the Grinder has near perfect timing, and he's everything you could ask for in a bull.
Marco Eguchi on 711 Stars & Stripes:
This bull is making his BFTS debut here. He's been to a number of Touring Pro events over the summer, and he was ridden by Gage Gay and Ryan McConnel for 88 points each. Eguchi isn't likely to get a score that high here since bulls typically score a little higher at Touring Pro events because the overall herd of bulls isn't quite as strong. He could pick up a score similar to the 86.75 points he got last night, and that should be enough to put him in the lead or close to it.
Cooper Davis on 293 Thunderbolt:
This is a relatively new bull, but he bucks a lot like Grandpa Joe, the bull Davis rode last night. He was ridden twice over the summer at Touring Pro events, and made his BFTS debut last week, throwing Fabiano Vieira off in Round 2 in Eugene. This is a good draw for Davis, and this bull is good enough to place him high in the round if he can stay on.
Shane Proctor on 56Z Lifting Lives:
Proctor won last night's round, but he will have his work cut out for him here. This bull can be pretty salty, and he's unridden in 18 career outs. He's earned some good bull scores this year, and from what we've seen of him he likes to go to the right. If Proctor can become the first man to conquer him he could get a big score here and possibly win another round.
Ty Pozzobon on 362A Heartbreak Kid:
We really don't know anything about this bull other than that he's unridden in four career outs. This will be his BFTS debut. What we do know about Pozzobon is that he looked crisp last night. He made adjustments every jump even when all he needed was a tiny adjustment. This may seem like an elementary mechanic of bull riding, but if you pay attention tonight (and in every BFTS long round) you will see a number of riders buck off because they tried to hang on in a bad position instead of turning loose and trying to adjust themselves into a good one. The best rides happen when riders move every jump even if it's a very small move.
© 2016 PBR Inc. All rights reserved.