The Morning Line: Nashville, Day 1
By: Slade Long
August 19, 2016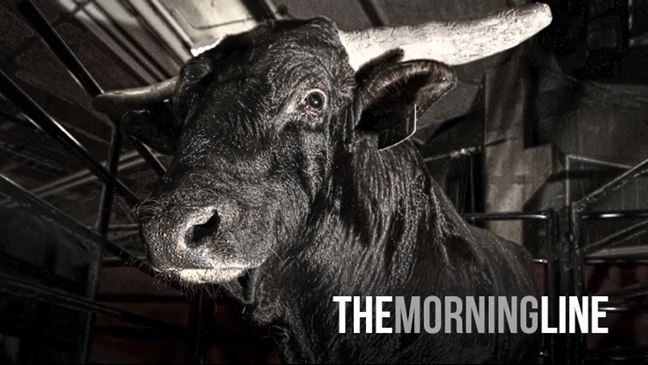 Morning Line – Music City Knockout Day 1
ROUND 1
Cody Nance on 104 Tequila Sunrise
Vs.
Chase Outlaw on 122 Semper Fi:
Outlaw has the better chance to advance here, although his bull can be somewhat intimidating. Everything about Semper Fi should fit Outlaw better than Tequila Sunrise will fit Nance. The only caveat is that Semper Fi really wants the rider down on his head, he has huge horns, and this creates a mental challenge for a shorter rider. Outlaw has ridden well all summer, arguably better than anyone, and he should be well prepared for this.
Mason Lowe on 30 Springer Mountain
Vs.
Marco Eguchi on 093 Hot & Ready:
This match will be close to a push. Springer Mountain is a bull all these riders are familiar with. He should fit Lowe, except that he goes to the left and Lowe is right-handed. Hot & Ready is a lesser known bull, but he is active on the pro rodeo circuit and has been to the National Finals Rodeo. He's only been ridden once in 22 career attempts, but he hasn't faced many top-tier riders. We could see two qualified rides here, but if it comes down to buckoff times, Lowe has the edge. Springer Mountain doesn't really have any tricks and he typically doesn't score quick buckoffs.
Valdiron de Oliveira on 2117 Paradise City Slinger
Vs.
Cody Heffernan on 152 Cash Flo
Oliveira should be the favorite in this match as he is by far the more experienced rider. Neither of these bulls have a long history, but Paradise City Slinger has given up a couple of scores to right-handed riders while Cash Flo is unridden despite having faced better riders overall.
Lachlan Richardson on 107C Torch
Vs.
Stormy Wing on 106 Kill the Lights
Wing has the better bull here, but Richardson may have a slight advantage in the match. Both of these bulls like to go to the right, and Richardson is right-handed. Kill The Lights is a quick buckoff specialist as well. He does a lot in the first second or two, and he won't be the best fit for left-handed Wing.
Nevada Newman on 107 Come on Baby
Vs.
Kasey Hayes on 114 Anonymous
Both of these riders are left-handed, and they both excel on bulls that go to the left. Come on Baby definitely goes to the right, but he's not particularly hard to ride. Newman has been on him before and lasted 5.24 seconds. Anonymous is, as his name implies, not very well known. He doesn't have much history and we don't know what to expect from him.
Jess Lockwood on 885 Soldier's Pride
Vs.
Justin Paton on 36Z Rebel Yell
Lockwood has a double advantage here. He's the more talented of the two riders, and he has the better bull to ride statistically. Paton isn't a total underdog, though, as he has the more honest bull of the two. While both bulls like the left, Soldier's Pride can be tricky, and wants to pull the rider down inside the spin. Rebel Yell is a slightly better bucker, but can be ridden aggressively, which makes him easier to deal with.
Rubens Barbosa on 123 Scratch Off
Vs.
Jorge Valdiviezo on 177 Carolina Classic
We havetwo evenly matched right-handed riders and right-spinning bulls here. Valdiviezo may have a slight edge because, while both these bulls like the right, Scratch Off can throw a big fake and go to the left instead. He also has more fast buckoff potential than Carolina Classic.
Gage Gay on 259 Whiteout
Vs.
Kurt Shepard on 61 Black Warfare
Neither of these bulls are well known, but there's a chance that Gage Gay could turn in one of the best scores of this event. Whiteout goes to the right, and from the one video we've seen of him, he should fit Gay's style well. He's good enough to produce a 88-89 point score if not more.
Silvano Alves on L37 Yo Yo
Vs.
Tyler Harr on 1100 Milky Jones
These are two bulls of equal difficulty, but both riders have an advantage here. Milky Jones is weak wtih left-handed riders, and Harr is capable of making the whistle on him. Yo Yo is weak to riders named Silvano Alves – they have met three times before – and Alves has won all three matches.
Robson Palermo on 913 Big Benny
Vs.
Fraser Babbington on 901 Sam
There's a good chance at seeing two qualified rides here. These two bulls are very similar in both size and style. Sam is a big black bull that is very rideable, and Big Benny is a big brindle bull that has given up three rides in five BFTS outs. Palermo had him in Little Rock, Arkansas early this season and came down in 6.89 seconds, but Palermo should be favored against this bull every time.
Stetson Lawrence on 13-2 Glory Days
Vs.
Aaron Roy on 14-2 The Way I Am
Glory Days will go to the right and The Way I Am likes the left, so both these riders will have to get it done going away from their hands. Neither bull has allowed a ride under those circumstances, meaning there's a good chance this will come down to buckoff time.
Guilherme Marchi on 206 Hillbilly Music
Vs.
Nathan Schaper on 55Y Shake it Up
Neither of these bulls have much history, but Kaique Pacheco rode Hillbilly Music in Sioux Falls earlier this season. Neither of these riders have had a great season, but a big finish here could turn things around.
ROUND 2
Fabiano Vieira on L12 Machinery Auctioneers Colonel
Vs.
? on L10 Like A Boss
This match is likely to end with two qualified rides. Vieira is the only man who has ridden the Colonel before when he covered him in New York earlier this season. Like a Boss is a good fit for every rider here, and particularly for left-handed riders. Since both riders who could end up here are lefties, look for this to be a matter of who has the higher score.
Mike Lee on RK101 Slinger Jr.
Vs.
? on 954 Machinery Auctioneers Little Joe
Lee has faced Slinger Jr. twice before and was unsuccessful each time. Little Joe is somewhat easier to ride, but Lee is the best rider in this match regardless of whether Lowe or Eguchi move up to face him.
Joao Ricardo Vieira on 629 Ante Up
Vs.
? on 177 Time Bomb
Vieira should be a huge favorite in this match. While both these bulls look similar on paper, Ante Up will be a great fit for Vieira. If Valdiron de Oliveira moves up to this bracket, he could make a contest of this, because Time Bomb is his kind of bull. That said, with both bulls favoring the left, Vieira still has the edge.
Wallace de Oliveira on 185 I'm Trouble
Vs.
? on 918 Freakster
Both of these bulls are rideable, but I'm Trouble may be the nicer of the two. He has better timing, and is a more predictable bull in that each jump is a lot like the previous one. Either Stormy Wing or Lachlan Richardson will move up to face Freakster, and either way, this will be a very even match.
J.B. Mauney on -935 Texicali
Vs.
? on 125 Catfish John
The key factors here are that both riders who could face Mauney are left-handed, while Catfish John is better for a right-handed rider. That means Mauney has a leg up on every rider here in the first place. Texicali can go either way, but he's not enough bull to get the best of Mauney, who is just better than almost every bull at this point in his career.
Derek Kolbaba on 976 Slick Rick
Vs.
? on 203 Buck John
Kolbaba has been on this bull before and made it to the 4.7 second mark. Either Lockwood or Paton could move into this match, and if it's Lockwood, he would become the favorite to move on.
Paulo Lima on 89 Slim Ice
Vs.
? on 221 Up North
Lima has a good chance to get a score on Slim Ice, while Up North is 9-0 against right-handed riders. Both riders who could move into this spot are right-handed, so Lima has a definite advantage in this match.
Cooper Davis on -73 Badfinger
Vs.
? on 056 Rodeo Time
Davis is having a career year, he's riding with a lot of confidence, and he has the better bull to ride in this match. He should move on to the next round easily. Gage Gay or Kurt Shepard move into this match, but they will have a more difficult task with Rodeo Time who is 18-1 in his career, and has faced some very good riders.
Kaique Pacheco on 09 Legal Tender
Vs.
? on 217 Mojo Bone
Whether Alves or Harr moves into this spot, they have a chance to make this a tough match for Pacheco to win. That said, Pacheco rode Legal Tender earlier this year for 88.25 points. He may need to pull off another qualified ride here to advance.
Tanner Byrne on 671 Wrongful Termination
Vs.
? on 001 Lab Rat
Neither of these bulls have much history, so all we can know about this match is that if Palermo moves up to face Byrne it will be pretty even, and if Babbington makes it here, Byrne has an advantage.
Eduardo Aparecido on 136 Uncle Tink
Vs.
? on 027 Kookaburra
Aparecido has a good chance to get a score on Uncle Tink, but if this comes down to two qualified rides, Kookaburra can produce a higher score. Both bulls are rideable here, and we could easily see two scores.
Shane Proctor on Y20 Wipeout
Vs.
? on J1 What's Under Your Hood
Proctor has an edge here given that Wipeout has been ridden before while What's Under Your Hood is 19-0 in his career. Wipeout is a high leaping bull that doesn't kick as much as riders would like, so Proctor will have to work here, but he does have an advantage in the match.
© 2016 PBR Inc. All rights reserved.