The Morning Line: Oklahoma City, Day 1
By: Slade Long
January 21, 2017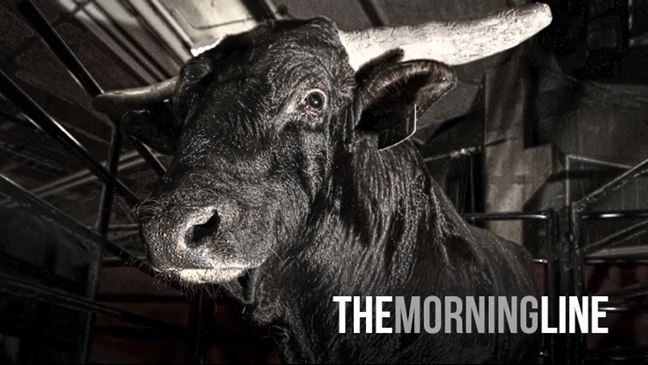 OKLAHOMA CITY – Because this is an ABBI Classic round and it's only January, many of the three and four-year-old bulls out tonight are virtually unknown. A large number of them have only one to five outs on record. That makes this round fairly unpredictable.
A good example is the bull Guilherme Marchi has – 733 Bush Kat. He's right at four years of age, and doesn't have any outs on record, but if you've followed bull riding for a long time you should know what his name means. He's a son of Bushwacker, and his grandsires are Reindeer and Skat Kat. I don't know anything about him, but just based on his genetics I would guess he's going to be worth watching.
Dakota Buttar on A61 Switch Hitter:
We've seen this bull just once before. He threw off Sage Kimzey in the opening round of the Velocity Tour Finals in Las Vegas. He stood out in a night of surprisingly good young bulls. Buttar isn't a fixture at this level yet, but he will be. His numbers are really good and he belongs here. He could pick up a big score on this bull.
Eduardo Aparecido on 08A Smooth Air:
Marco Eguchi rode this bull in Tulsa, Oklahoma, last August, and he's the only guy who has done it in ten attempts. Smooth Air went both ways with Eguchi, and he was really showy, with high leaps and lots of action. He didn't have a lot of kick or drop, and that could be a factor here. Bulls that have solid kick actually help the rider whereas bulls that don't make the rider work a little harder. This one should go the rider's way, but Aparecido will have to hustle.
J.W. Harris on 44A Smooth Over:
Smooth Over is a half-brother to Smooth Air, and both bulls are descendants of a Don Kish bull called Smooth Move. Smooth Move was a freakish bull who was so wild and out of line that he was a little scary. At times he would get himself tangled up and not be very good at all. Dillon and H.D. Page bought him from Kish ten years ago, and he's been a big part of their breeding program ever since. This bull inherited some of that wild, out of control style that his grandsire Smooth Move had. He has a lot of action, high showy leaps, and he looks at times like he's trying to turn inside out. He's not a predictable bull that sticks to the pattern.
Harris has been struggling so far this year, but he's not far off his game. Bull riding mechanics in its simplest form is just keeping your center of gravity just far enough forward that you are in the sweet spot, but you don't go over the front end. Harris is a master of this. When he gets bucked off it's almost always because his balance was tipped too far forward at some point. If there's an upside to getting bucked off, it's when you are inches away from being in the right position. Harris may fail sometimes, but he never looks clueless.
Shane Proctor on 33 Living Large:
Derek Kolbaba had this bull at the Velocity Tour Finals and was 85.5 points on him in the second round. This is a little black bull with very good timing. He's speedy, but he's the kind of bull all these guys want to draw every time. Proctor should like him a lot, and he should get the job done here.
Kaique Pacheco on 226 Hooey:
This should go Pacheco's way. Hooey hasn't been to a Built Ford Tough Series event before, but Mike Lee rode him at the Velocity Tour event in Hidalgo, Texas, in December for 87 points. Hooey went to the right with Lee, and was just a good solid bull in every way. If he has the same trip here there's no way he gets Pacheco on the ground.
Gage Gay on 397A Frequent Flyer:
Gay has been riding well lately, and he's got a chance to ride exceptionally well with this bull. Frequent Flyer is the golden child of this group of three and four-year-old bulls. He was the ABBI Futurity Champion in 2015, and he was solid as a three-year-old Classic bull last year, throwing Jess Lockwood off at the World Finals. He has the most experience in this group as well. He's 10-0 against riders, and he's faced a number of talented riders.
Jess Lockwood on A1 Rise & Shine:
This bull is unridden in five career outs, and he bested Kaique Pacheco in Springfield, Missouri, last year. Lockwood is riding high at the moment. Winning a World Championship is largely about riding the bulls that buck your competitors off. This won't be the easiest day of work for Lockwood, but to get on track for a world title he has to win some of the hard days.
Paulo Lima on 20A High Test:
High Test is one of the better draws in this round. He's going to spin a hole in the ground to the right, and he keeps steady time doing it. He's fast, but not exceptionally so for bulls at this level. Ryan Dirteater rode him at the World Finals. If you have to win some when it's hard, you have to win most of the time on bulls like this in order to contend for a world title.
Dener Barbosa on 602A American Sniper:
This bull has given up just two rides in eight career outs, but Barbosa can probably ride him to the store and back. Barbosa hasn't been dominant at the BFTS level. He's ridden three of the eight bulls he's faced, but I think he's better than his numbers show. He's got a lot of talent and if he can make the transition to the smaller, faster bulls in the U.S.  he could have a shot at a world title.
© 2017 PBR Inc. All rights reserved.