The Morning Line: Sacramento, Day 3
By: Slade Long
January 29, 2017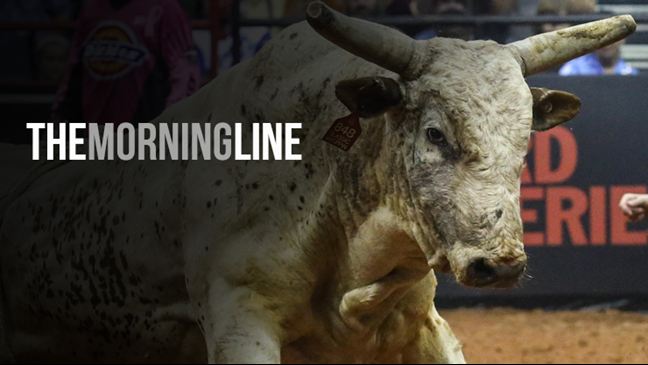 SACRAMENTO, Calif. – As good as the riders have looked here so far, it's worth mentioning that the bulls are good at their job too. In Round 2 we saw 19 qualified rides, and when a lot of riders do well in one round, it's largely because a lot of riders drew the right bull.
Like the riders, the bulls have varying styles, strengths and weaknesses. Some of them are strong against everyone, some are weak against everyone, but most of them can hold their own until they meet up with that one type of rider who can exploit them. Last night, a lot of bulls drew that guy. Today, not so much.
The matchups for Round 3 have mostly swung back into the bull's favor, where they are by default. Some of the event leaders have bulls that are largely unknown. Kaique Pacheco, Keyshawn Whitehorse, and Silvano Alves are in this situation.
Round 3
Cooper Davis on 98A Hurricane Hustler:
Davis is in the lead here, and he's looked flawless so far in Sacramento. This bull only has a few outs on record, but Tyler Harr had him last night, and the bull looked outstanding. If Davis can call it up again today he could win the round.
Luis Blanco on 718 Captain Jack:
This is one of the best draws in the round. Stetson Lawrence scored 87.25 points on him last night, and Captain Jack really struggles to buck anyone off. He likes to spin one way and then reverse it, but there's nothing overly difficult about him. He has been ridden nine times in 16 career outs, and only two of those outs are at the Built Ford Tough Series level. That's the record of a bull that isn't very difficult at all.
Derek Kolbaba on 60X No Regrets:
This is a high risk, high reward kind of bull. He can carry Kolbaba to a round win, but he's far from easy to ride. He's given up 6 scores in 31 BFTS outs, and his numbers put him in the company of bulls that are almost but not quite regular short rounders. No Regrets is really quick, and like a lot of Page bulls he has a wild streak. Kolbaba will have to put in some work to get a score here.
Mike Lee on 025 The Kraken:
Gage Gay won the round on this bull last night with 89 points. The Kraken is a good draw in any long round. He's as rider-friendly as bulls get at this level. I didn't think he would bring enough points for a round win yesterday, but Gay does have a knack for looking good and getting every possible point out of a ride. I'd be surprised if Lee comes down here, but I'd be just as surprised to see that high a score again on this bull.
Eduardo Aparecido on 00 Set 'Em Up Joe:
These two have met twice before and are 1-1 against each other. Aparecido should be the favorite here, but this may not be enough bull to move him up very far since he has only one low-80's score at the event. He needs this bull to have a big day with him.
Reese Cates on 83 Cowboy Up:
Cates is 0 for the weekend so far, but he's got a chance to sneak up and steal a round at least. Cowboy Up is a really pretty bull with a showy style that the crowd and the judges both love. He threw Brant Atwood off in Round 1, and ended up with an average bull score, but he can be a 43-point bull and he's historically weak against right-handed riders.
Jess Lockwood on L819 Naughty By Nature:
Not much BFTS experience for this bull, but he did throw Lockwood off at a Velocity Tour event earlier this month. Lockwood is the golden boy at the moment, but he'll have to overcome a bull that is unridden and has beaten him before here.
Koal Livingston on -915 Hammer Down:
Livingston has one score on the board here, and a buckoff in Round 2, but don't be surprised if he surges back to win the third round on this bull. Hammer Down is a quality bull that turns in 43 or more points consistently, and he goes to the right. He can cover some ground before he turns back, and the first few jumps will be the challenge for Livingston.
© 2017 PBR Inc. All rights reserved.