The Morning Line: San Jose, Day 1
By: Slade Long
October 15, 2016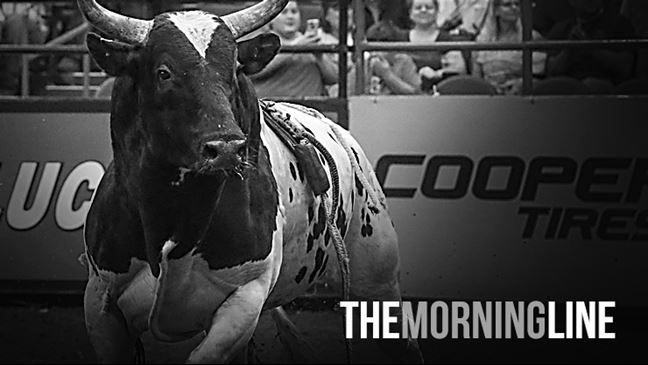 Morning Line – San Jose, Day 1
Round 1
Eduardo Aparecido on 1095 Cowboy Phil:
We don't see this bull all that often, but he's been a pretty good fit for right-handed riders, and he'll be a good warmup for Aparecido who has a similar but much tougher bull in the 15/15 Bucking Battle.
Aaron Roy on 1974 Pile Driver:
Roy was 90.5 points on this bull at a Touring Pro Division event over the summer. He won't be 90 here, but he is likely to get a score. Roy has ridden four of his last six bulls and is riding plenty well enough to get the job done on this bull.
Jess Lockwood on T954 Hot Blooded:
This is an interesting matchup. We haven't seen this bull since last November, even at the TPD level. In 2014 and 2015 he was pretty active. He likes the left, and from what we've seen of him he's a bull that Lockwood should look good on.
Guilherme Marchi on 055 Ringworm:
Robson Palermo rode this bull for 86.75 points last week, and Ringworm stayed hooked to the right the entire way. Marchi should like him a lot, but he'll have to be on his game. This bull is pretty speedy.
Kaique Pacheco on 619 Yesterday's Wine:
Yesterday's Wine has been around for a while, but this will be his first out at the Built Ford Tough Series Level. Pacheco didn't get points last week, while his competitors did, but this is an opportunity for him. This bull goes to the left, but he's rideable for right-handed riders. In many ways he's a much easier version of Stone Sober, who Pacheco will have to face in the 15/15 Bucking Battle.
Robson Palermo on 62 Mr. Bull:
This is all but a sure thing for Palermo. Mr. Bull has been among the best bulls at this level in the past, but he's been ridden in his last five BFTS outs, and his buckoff percentage overall has dropped over the past year. He goes to the left, and left-handed riders really like him.
Cody Nance on 2-1 Mortimer:
This is a good draw for Nance. He was 86.25 points on Mortimer about a year ago in Tucson, Arizona. Mortimer has respectable career buckoff numbers except at the BFTS level where he's given up four rides in just six outs.
Stetson Lawrence on T05 El Capitan:
El Capitan likes to go to the right – away from Lawrence's hand – but he's been ridden in seven of eight BFTS appearances. He's been equally kind to left and right-handed riders. Lawrence had a big ride last week on American Sniper, and he's got a chance to get started well here.
J.B. Mauney on 673 Blowing Smoke:
This bull doesn't have a lot of history, but he has enough to know he's overmatched against Mauney. He likes to go to the left, and he's given up 4 rides in 13 career outs.
Cooper Davis on K12 Kylie:
In his last two outs, Kylie has given up qualified rides to Aaron Roy and Tyler Harr. Before that he was 10-0. Despite his recent bout with Injury, Davis has consistently delivered this year, and that's why he's in position to grab a World Championship. He has a good chance at a score here, and a good draw in the 15/15 Bucking Battle later. If he can convert on both opportunities it will be big for him.
15/15 Bucking Battle
Robson Palermo on 80 Jeremiah:
I was a little shocked when Jess Lockwood picked Jeremiah in the Nampa, Idaho, short round draft last week. No matter who faces this bull it's typically a good bet that they will buck off. Jeremiah has been ridden just once in 41 career outs, arguably on his weakest day ever. His difficulty lies in the fact that he stays close to the ground and doesn't give riders any chance to recover from mistakes, and those mistakes are easy to make. Jeremiah will move around in the spin, push off to the side with his front feet, step forward, and do any number of things that make him difficult to stay in the middle of.
Lachlan Richardson on 90 Boot Jack:
This is a rematch from Eugene, OR where Richardson was off and done in under three seconds. Boot Jack was last ridden in April of 2015, and he has 18 straight buckoffs at the BFTS level since then. He's 46-3 in his career, and those numbers become more impressive when you realize that he does exactly the same thing every time the gate opens.
Guilherme Marchi on 95X DaNutso:
DaNutso is one of the more rideable bulls here, but he's also one of the most unpredictable. He's in this round because of his outstanding out in Nampa with Jorge Valdiviezo last week. This bull usually has a lot of backup and at times he can get bogged down trying to back up too much. He likes the left, but Marchi has a good chance.
Derek Kolbaba on 122 Cooper Tires Semper Fi:
Semper Fi is a decent draw for a lefty rider, but no bull has been good for Kolbaba lately. He has just two rides in the last eight BFTS events. To be fair he hasn't drawn very well in that time, but he's missed a few opportunities too. He's been on this bull twice and doesn't have anything to show for it, but he's got a legitimate chance to get some points here.
Wallace de Oliveira on 06 Swashbuckler:
This is a great little bull that Robson Palermo made an outstanding ride on in Las Vegas at the Last Cowboy Standing this year. He will be tough on a right handed rider, because be prefers to go to the left. Oliveira is in the same situation as Kolbaba. He hasn't done very well at all down the stretch, and has just one qualified ride in the second half of the season.
Paulo Lima on 143 Bad Moon Rising:
Bad Moon Rising is 4-0 in his last four BFTS outs, throwing off Shane Proctor, Kaique Pacheco, Cody Heffernan, and Marco Eguchi. Lima will be the first left-handed rider he's faced in a while, and he's decidedly nicer to lefties. He's 3-3 against them in his career and 12-1 against righties.
Mike Lee on 1037 Cooper Tires Brown Sugar:
No one in this round would have complained about having this bull. Brown Sugar is one of the best bulls going, and his performance fits in this round, but his buckoff percentage is considerably lower than the rest of the field, at least this season. Lee has been on him once and bucked off, and Lee hasn't been at his best in recent weeks, but he has a good chance to turn things around here.
Ryan Dirteater on 32Y SweetPro's Bruiser:
Bruiser is at the peak of his career, and turned in his biggest bull score of the season last week. He's known as one of the better to ride bulls among the World Championship contenders, but he's shedding that mantle this season. He's 12-1 on tour this year. Everyone has a shot on Bruiser, and Dirteater will as well, but he'll have to get squared away quickly. Bruiser isn't a hard bull to get in time with, but Dirteater will have to get in time with him from the first jump because the window doesn't open any wider than that.
Fabiano Vieira on 125 Catfish John:
Vieira is 1-1 on Catfish John this year. He bucked off in Anaheim, California, but later turned in 87.75 points on him in Sioux Falls in April. It was not an easy ride for Vieira – he had to work hard for it on a bull that went away from his hand. He won't have an easy time here either.
Eduardo Aparecido on 001 Smooth Operator:
Smooth Operator is 43-1 in his career, and in all that time the best strategy riders have come up with for him is to wait until he has a horrible day and doesn't buck at all. When he really bucks he's as close to invincible as Bushwacker was. He typically goes to the right, but right-handed riders certainly haven't benefited from that. His usual trip is a long stretched out fake to the left followed by coming around to the right with considerable power. Most of the riders he's faced don't stay on long enough to see what he might do next. Aparecido has tried him once before, and came down in 1.24 seconds.
Jess Lockwood on 35 Spotted Demon:
This will be a good test for Lockwood. Spotted Demon's career numbers look a lot like Smooth Operator's, but his style is different. He goes to the right and over the course of the ride he works guys to the inside of the spin and down on top of his head where he can bat them around a bit. This is a bull a lot of guys get started well on, but few manage to finish.
Joao Ricardo Vieira on 922 Modified Clyde:
Modified Clyde is a great fit for Vieira. They met back in 2014 and Vieira was 89.25 points. There are two things to watch for here. Clyde can be hard to get out of the chute on, and getting out of the chute isn't one of Vieira's strengths. Clyde can also modify things and decide to go to the right, which makes him tougher for left-handed riders to conquer.
J.B. Mauney on 781 Asteroid:
This is already the most talked about matchup this week, and for good reason. Mauney rode Asteroid in San Antonio, Texas, in 2012 for 93.5 points. He's still the only guy to have ridden Asteroid when the bull was really at his best. It was in my mind one of the most impressive rides Mauney has ever made, more so than his ride on Bushwacker even. Among the rankest bulls in PBR history, Asteroid stands out a little in one respect – because of his size and his style, the margin of error on him is tiny. He's not a bull that a rider can strike a pose on. He forces a rider to throw the book out the window and do whatever it takes to stay in the middle every jump, and if they miss the middle by an inch they fail. Mauney met this challenge in 2012, and it's hard to describe how difficult a feat that was.
That said, Asteroid isn't the same bull he was then. One thing that hasn't changed about him is that the margin of error is still very small. Mauney will have to come up with a masterful effort just to stay on, and the result almost certainly won't be worth 93.5 points. Another relevant factor here is that Asteroid is actually 3-1 against Mauney, and the three times Asteroid won it wasn't really close. This is a bull that has the ability to make anyone look foolish, and that's why when Mauney turned the tables on him in 2012 it was a big moment in bull riding history.
Cooper Davis on E5 Big Cat:
This is a great draw for Davis. Big Cat will go to the left, but Davis is as good as it gets on bulls that go away from his hand. Of the top three guys in the standings, Davis outdrew the other two. Big Cat is considerably nicer to ride than Asteroid or Stone Sober. Davis has made the most of these good draws all year, and that's why he's in the hunt.
Kaique Pacheco on 44W Stone Sober:
Pacheco is in a tough situation here. He bucked off Stone Sober over the summer at a TPD event in Guymon, Oklahoma. The odds are stacked against any right-handed rider on Stone Sober, although Emilio Resende rode him way back in 2013. There's a reasonable chance of a re-ride option here. Stone Sober is touchy in the chute and hard to get out on, and besides that he has a history of being inconsistent. How he will respond to being ridden last week is a legitimate concern.
© 2016 PBR Inc. All rights reserved.