The Morning Line: San Jose, Day 2
By: Slade Long
October 16, 2016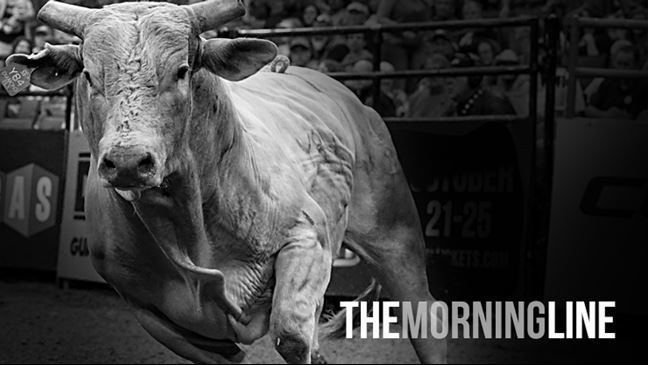 Morning Line – San Jose Day 2
The riders stayed on exactly half the bulls out last night, which means there are 18 guys with one score and none higher than 86 points. The way this round is drawn up we could see quite a few rides again tonight. There may not be much room to sneak into the short round with one score. Quite a few riders in this round drew bulls that go away from their riding hand, and we should see several good rides come from it.
There are three bulls in the short round tonight who have a shot at getting into the World Champion bull race at the World Finals. The seventh qualifying spot is held by J.A.R.S / Gene Owen's Wicked with an eight out total of 355.25 points. It will take 355.5 points to unseat him. Beaver Creek Beau, Stone Sober and Jeremiah all have a chance to reach that total today. Beaver Creek Beau needs a bull score of 44.75 to get there. Stone Sober needs 45 points and Jeremiah needs 46. If none of the three makes it into the race on scores, Stone Sober stands the best chance of earning a wild card berth.
Round 2 Matchups:
Cooper Davis on 33/2 Hawaiian Bond:
This bull primarily spends his time on the rodeo trail, but he's been to a couple of Built Ford Tough Series events this year. Brady Sims was 84 points on him in Anaheim, California, in January, and that's the only time he's been ridden as far as we know. Davis earned points on both his bulls last night, but he needs another score in this round to keep pace in the average.
Guilherme Marchi on 908 Americana:
Like Davis, Marchi did well in both rounds last night, and he drew one of the best bulls available in this round. Americana is a PBR veteran, and he fits every rider here. He normally goes to the left, but he can go either way. He has good timing and an easy corner, but he will speed up once he's into the spin. Marchi should handle him and pick up a solid second score here.
J.B. Mauney on 90 LL Cool J:
This is an interesting matchup. Although we haven't seen him much this year, this bull has been around since 2013, and he's typically pretty wild and wooly and he likes to go to the right. If he has his day he could deliver Mauney another round win, and when he's not at his best he's still pretty good. This won't be a slam dunk for Mauney either. He'll have to do some work to get this bull ridden.
Robson Palermo on 00 Set 'em Up Joe:
Set 'em Up Joe is a solid bull and a good draw for Palermo. He tends to go to the right and then reverse it back to the left, which should suit Palermo. When a bull goes both ways it's better for the rider to have him away from his hand first because it's easier to manage the reverse.
Matt Triplett on 105Y Chantilly Lace:
Triplett really needs to earn points at this event, and this is his chance to get them. Chantilly Lace has been ridden in five of nine BFTS outs, and he can deliver a round-winning score at times. He's very similar to Americana – the bull that Marchi has in this round – in that he has great timing and likes the left.
Jess Lockwood on 367/0 Dark Shadow:
This will be the BFTS debut for Dark Shadow. He's not a brand new bull. He's been around the rodeo circuit for some time. He hasn't always been impressive, but when he's good he's really good. He can blow out of the chute pretty hard, and he's the kind of bull that Lockwood could really look good on if he can get the job done.
Tanner Byrne on 677 Smooth Sailing:
This is one of the more difficult bulls out in this round on paper. He's been ridden a couple of times in eight BFTS outs, but he's also thrown off quite a few good riders. Eduardo Aparecido rode him in Anaheim early this season, and he went to the right there. If he has the same kind of trip here, Byrne should be able to handle him.
Kaique Pacheco on 36 Dream Catcher:
There may be some hand wringing going on about Pacheco's riding over the past couple of events, since he's leading the world standings and has bucked off four in a row. He's had a few tough bulls. If he bucks off this one there is legitimate reason to worry. This is a bull he should ride nine times out of ten, and a bull he could get a good score on.
Gage Gay on 103 Strong Heart:
This is a really good draw and a chance for Gay to pick up a second score – something he hasn't been doing enough of this year. Strong Heart is a little bit of an uphill battle for a right-handed rider. He goes to the left and he's 24-3 against right-handed riders, but he's well within Gay's capabilities.
© 2016 PBR Inc. All rights reserved.