The Morning Line: Sioux Falls, Day 1
By: Slade Long
March 31, 2017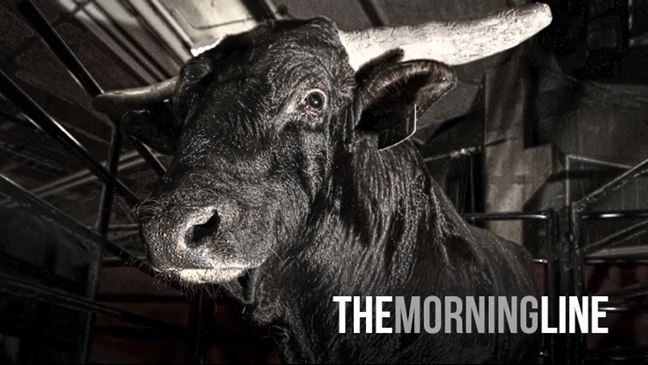 SIOUX FALLS, S.D. – Coming off a two-day event in Glendale, Arizona, last week, the First PREMIER Bank PREMIER Bankcard Invitational is likely to feel like a marathon to the riders. Three long rounds, a championship round and a 15/15 Bucking Battle means that some riders will get on at least five bulls here.
The bull pen in Sioux Falls will be as strong as any event this year. Naturally, Chad Berger Bucking Bulls is here in force with 31 bulls. D&H Cattle is bringing 23 head, and we'll see bulls from Jared Allen, Gene Owen, Flying S, Broken Arrow and Owens / Wyatt as well. Almost every major PBR Contractor is here, and the 15/15 Bucking Battle will feature Pearl Harbor, Air Time, SweetPro's Bruiser, Stone Sober, TLW's Big Cat, Seven Dust and more.
Because all the top bulls are slotted in the 15/15 Bucking Battle, the short round will be interesting to watch here. There are a number of very rideable bulls in the short round pen, and we should see several good rides there. The event win will come down to who can get it done on Championship Sunday. The bulls won't sweep the short round as we see them do occasionally.
Round 1 here is an ABBI Classic round, featuring mostly the same group of 3 and 4-year-old bulls we saw in Little Rock, Arkansas, Kansas City, and Oklahoma City. D&H's Smooth Over, Samford's The Hard Stuff, and Cord McCoy's Call The Law are among the bulls to watch here. There are a few veteran bulls in the first round who are not involved in the ABBI competition, and several of those are involved in key matchups:
Round 1 Matchups:
Alex Marcilio on A61 Switch Hitter:
Stormy Wing won the first round in Albuquerque, New Mexico, on this bull, and he was such a good bull that you can't count whoever draws him out. He's likely to go away from Marcilio's hand here, and he will be tough, but the potential payoff is a round win here.
Cody Nance on 602A American Sharp Shooter:
This is one of the more rideable bulls in the round, notwithstanding that he can be a little tricky, and he's 1-2 against left-handed riders despite the fact that he doesn't always go to the left. A lot of bulls you'll see at the Built Ford Tough Series level have an obvious pattern, but this one can be a little unpredictable. He's just not always powerful enough to consistently take advantage of getting a rider momentarily out of time. Nance should have a slight advantage here. He may not win the round, but he could start the event off with a solid score.
Dener Barbosa on 2739 Flat Top Pete:
Flat Top Pete has only given up a couple of rides in 13 career outs, but look for Barbosa to make it three. This bull does have a nice pattern, and solid timing. He's earned his buckoffs by throwing in a little forward movement in the spin, but that shouldn't be enough to rattle Barbosa.
Koal Livingston on 344 Lebanon Levi:
Chase Outlaw won the ABBI round in Little Rock on this bull, and he's as good a draw as you will see out tonight. He does go to the left, which will be away from Livingston's hand, but great timing takes some of that disadvantage away.
Mason Lowe on 312 JJ:
We saw this bull throw J.B. Mauney off in Little Rock, but Derek Kolbaba rode him for 85.5 points in Oklahoma City. He went to the left with Kolbaba but he had great timing, and there's no reason a right-handed guy shouldn't be able to handle him. Especially if we're talking about Lowe, who has been riding like a World Champion this season. Look for this bull to start off leaping high and get lower to the ground and faster as the ride goes on.
Ryan Dirteater on 60-3 Inferno:
Inferno has been one of the more impressive Classic bulls this season, but his weakness is left-handed riders. He's unridden at the BFTS level, but he has given up three scores in his young career, all to lefties. He's 2-3 against them overall. It just happens that when he's come to the BFTS level he's drawn nothing but right-handers – until now.
Luciano de Castro on A19 Bezerk:
We've seen two big rides on Bezerk this year. Cooper Davis scored 87.75 points on him in Kansas City, and Eduardo Aparecido scored 87.25 points on him in Jacksonville. Overall he's 4-2 against all riders, 2-2 against right-handed guys, and 2-0 against lefties, which is odd because he goes all out to the left. This is a snappy bull with both speed and buck. He won't stay in one spot, he will move around a little while spinning and change things up, but he should be a good fit for Castro. Look for a big score here.
Fabiano Vieira on 20A High Test:
High Test is a son of Shepherd Hills Tested, but he's not as big and strong as his dad yet. The challenge for Vieira here is that this bull will go wide open to the right. He has relentless speed, but not a lot of power. The challenge for the bull is getting Vieira on the ground, which can be hard to do.
Kaique Pacheco on 1217 Red Moon:
Pacheco is just one of a number of guys tonight who each drew quality bulls that go away from their hands. Red Moon isn't a Classic bull, and you'll notice he's a bit more filled out and stronger looking than a lot of the younger bulls. He should go to the left, and while his numbers show he's a lot more difficult for right-handed riders, he's not impossible.
Stormy Wing on A6 Church Bells:
Church Bells could be nearly the perfect fit for Wing in this round. He likes to go to the left, and once he gets into a spin he should drift across the front of the chutes at a steady pace. Jake Gowdy scored 87.75 points on him in St. Louis.
Gage Gay on E5 Big Black Cat:
There is always speculation about the difference between BFTS bull riding and bull riding at pro rodeos, and the speculators may want to check out this bull's history. He has 15 outs (that we know of) at rodeos in 2015 and 2016, and was not ridden. He's logged 14 BFTS outs and has given up 7 qualified rides in 2016 and 2017. The top bulls just don't face the top riders as often in the rodeo world. He's a good draw for Gay here. He should spin to the left, away from Gay's hand, but that hasn't stopped right-handed guys from riding him at the same pace lefties are.
Jess Lockwood on 311 Get Smoked:
Welcome back Jess Lockwood. Here's a bull that goes away from your hand. This may be a tough job for Lockwood if he lets this bull get ahead of him at the start, but it's more likely we will see a solid ride and a good score here. Get Smoked has a lot of speed, but if Lockwood can get through the first two or three seconds in the right spot he should ride this bull all day.
Dakota Buttar on 058 American Sniper:
This is another bull that isn't in the ABBI competition, and he should show a little stronger than most of the young bulls. American Sniper is really Cody Lambert's prototypical long round bull. Every guy here has a chance against him, but he's good enough to throw every guy here off too, if they make a mistake. He goes to the left, but his solid timing makes him a good fit for every rider. Most guys who belong at this level should get along with him, and Buttar does belong here.
Cody Teel on 08A Smooth Air:
Smooth Air has been ridden just once in 12 career outs, and there's a reason for that. He's wild and unpredictable. He can go into a spin only to jump out of it, take a forward leap, and go back into it. This is a very intense bull that should be a real challenge for Teel. He's not nice or easygoing. In the PBR Teel will face a lot of bulls like this in his climb up the standings. He needs to have success against some of them. Quite a few BFTS riders are consistent when the bull fits them. The ones who have success against bulls that don't fit anyone are usually World Championship contenders.
© 2017 PBR Inc. All rights reserved.