The Morning Line: St. Louis, Day 1
By: Slade Long
February 24, 2017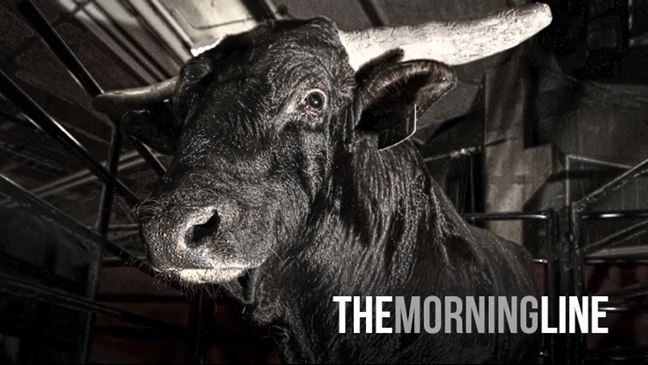 ST. LOUIS – This is a solid round of bulls from top to bottom, and tomorrow night, the Round 2 group is even better. The riders didn't exactly dominate in St. Louis last year, but there are some young wolves among the riders this weekend who could make the outcome different this time.
Brady Sims on 1100 Milky Jones:
Milky Jones isn't easy to ride, but he can be good enough to win on. He's pretty fast, and he tends to stay in a spin, but he may be flat one round, and have a lot of up and down the next. He makes it hard for the rider to stay in rhythm, but Ryan Dirteater was able to get to him for 88 points last season.
Koal Livingston on 1031 Vegas Outlaw:
This bull is in the same class as Milky Jones, but he is a decent fit for right-handed riders. They have accounted for three of the four rides Vegas Outlaw has given up. Most bulls at this level are a test for newer, younger riders, and this one is no different. On paper, he has an advantage over Livingston, but Livingston can prove he belongs here by stepping up to the challenge.
Gage Gay on 264 Ram It:
This bull makes it into the Morning Line quite often, because he's a very nice draw for everyone at this level. He likes the right, and he has rock solid timing, plenty of kick, and no dirty tricks. He's given up four rides in seven BFTS outs, and he tends to produce good scores too. Gay should do well here, and carry a good score over to Round 2 where he has another good matchup.
Cody Nance on 885 Soldier's Pride:
Nance had this bull three years ago in Tulsa, and was 87.5 points on him. Soldier's Pride is 3-6 in his career against left-handed riders. He's not a pushover, and he doesn't just go out and spin a hole in the ground in the same spot. He can be a little shifty and he can have some fast moves, but all of the difficult things he does are less difficult for a lefty when he is spinning to the left.
Eduardo Aparecido on 2558 Buccaneer:
We don't know much about this bull other than he's been to a couple of Velocity Tour events this year, and hasn't been ridden. We do know something about Aparecido, though. He's looked shaky at times in his career, but he is anything but right now. He's ridden 11 of the last 14 bulls he's been on. He's making every ride he's supposed to, and winning some matchups where he's the underdog. That is exactly the recipe for winning a world title.
Kaique Pacheco on 626 Hard Times:
Pacheco should have a big advantage here. This bull has been one of the easier ones at the BFTS level, giving up four rides in seven outs. He can spin both ways, and he can be strong, but he telegraphs most of his moves, and he's easy to track. While Aparecido has been rolling over the past five events, Pacheco has been somewhat quiet, and he could turn things around on this bull.
Marco Eguchi on 36Z Rebel Yell II:
Rebel Yell is a great draw at the BFTS level, but he's a better draw for a left-handed rider. He will go away from Eguchi's hand here, and Kaique Pacheco is the only right-handed guy who has ridden him, but Eguchi may easily be the second.
Claudio Montanha Jr. on 2660 Killing Time:
This guy has really been the most talked about rider in the PBR for a couple of weeks now. He's ridden 15 of the 22 bulls he's been on since January, and since he moved up to the BFTS in Kansas City he's ridden 8 of his last 9 including THE AMERICAN and THE AMERICAN Semi-Finals. He's got a good chance of riding this bull, because a guy who rides that well has a chance against every bull.
Luciano de Castro on 033 Shoot Out the Lights:
This is another Brazilian rider with a bright future, and while Montanha has been getting all the attention, this guy could sneak in and steal a round win with this bull. Shoot Out the Lights is a better fit for a right-handed rider, but he's honest enough and has the timing to be a good fit for every high-level rider. De Castro has been as solid a rider as Montanha, and he should do well here.
It's no longer that surprising to see new riders come up from Brazil and have success right away. Why is that? Well, in Brazil they ride at big events with large crowds and plenty of pressure, so they are used to that atmosphere before they come here. They often don't speak English well, so the buzz and the hype around BFTS events doesn't distract them. The bulls in Brazil aren't as consistent overall as they are here, but there is a wide variety of bulls there, many of them big and scary looking. By the time a rider gets here he has been exposed to almost every bucking style and intimidation tactic a bull could have. In that respect, the Brazilians are learning on bulls that as a group look very similar to the bulls that the PBR founders grew up facing. They often aren't BFTS level bulls, but learning to handle every kind of move a bull can throw is valuable experience, and it's easier to learn when every bull isn't a master of his craft.
© 2017 PBR Inc. All rights reserved.