The Morning Line: Thackerville, Day 2
By: Slade Long
September 04, 2016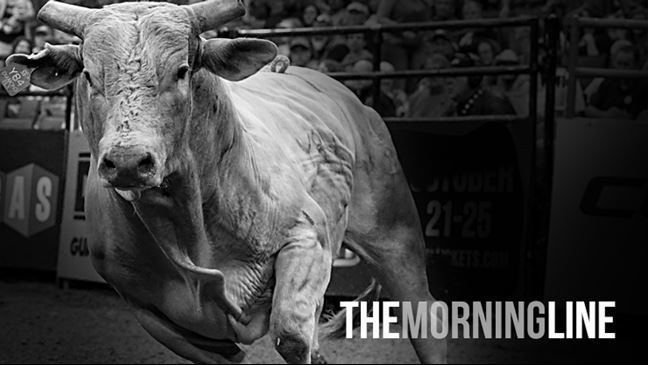 Morning Line – Thackerville Day 2
There will be a few bulls in Round 2 we haven't seen on tour in a while, along with a number that we haven't seen before at all. Some of those bulls have experience outside the PBR while others are brand new.
Gage Gay on 107 Come On Baby:
Gay rode this bull in Des Moines, Iowa, earlier this season for 86.5 points. This is a bull that has fit a lot of riders on tour, giving up eight scores in 14 Built Ford Tough Series attempts. He's been even weaker against right-handed riders. Gay didn't get anything done in Nashville, Tulsa or Thackerville last night, but he's got one of the more favorable matchups in this round.
Mike Lee on J3 Johnny Bones Jones:
We haven't seen this bull on tour since the 2014 PBR Built Ford Tough World Finals. He has been to plenty of Touring Pro Division events in the meantime, though. In 2014 he was just a 4-year-old bull, and he was a little wild and could be hard to get out clean on. He's had some time to mature, and he should be a decent fit for Lee. He likes to go to the left, and he gives up scores reasonably often, even at the TPD level.
Jorge Valdiviezo on 169 Crimson King:
We saw this bull in Nashville, and at a few TPD events over the summer, but he's been around for a couple of years operating mostly outside the PBR. He's got 28 outs on record, giving up nine qualified rides. At the BFTS level, look for him to be one of the more rideable bulls, and good for a mid-80's kind of score. He can have a lot of kick at times, but he's a bull most guys here should be able to handle.
Lachlan Richardson on 152 Cash Flo:
Richardson didn't get a score in Round 1, but he did ride a very difficult bull in the 15/15 Bucking Battle last night. His riding has improved this season, but that was really the only direction it could go. If it hadn't improved he wouldn't be here for us to talk about it, meaning whatever he's currently doing is working. Not many people behind the chutes would have bet on him to ride Seven Dust last night, but he did. He's got a bull here that is unridden in eight career outs, and has bested Mike Lee, Shane Proctor and Kasey Hayes this season. The next step for Richardson is to string some rides together and do well in events. The BFTS was built to reward consistency, and to be consistent at this level it's not enough to just stay on the bulls that fit you the best.
Fabiano Vieira on 0/325 Yoga:
This will be the third match between these two. Yoga threw Vieira off at Iron Cowboy in 2015, but Vieira got his revenge at the Uvalde, Texas, TPD event back in May for 88 points to win the event. This is a solid bull that most riders should like. He can go either way, but he prefers the left.
Cooper Davis on 111 El Diablo:
Davis placed fifth in Round 1 last night, and took the lead in the world standings away from Kaique Pacheco. His bull here is unridden in 10 career outs, but he's also untested. Davis will be the best rider he's yet faced, and this is his first BFTS event. Since the first day of the 2015 PBR World Finals, Davis has looked like a contender for a world title. He's got a chance to win a third straight event here, and El Diablo is the only thing standing in his way.
Guilherme Marchi on 163 Jungle:
Marchi won last night's round, and he's got a bull here that has given up five qualified rides in his last seven outs. Marchi has a good chance to go 2-for-2 here.
Tanner Byrne on 107 Oklahoma Bandit:
Byrne did get a score last night, and he's got a good chance to get another one here. We saw J.B. Mauney ride this bull in Albuquerque, New Mexico, for 87.5 points, and the bull went to the right with Mauney, which will be into Byrne's hand.
Silvano Alves on 161 Firehouse:
This is another bull who has spent a lot of his time outside the PBR, and he's been ridden a number of times. He's 4-0 on the BFTS, but he really hasn't drawn the strongest riders when we've seen him. He's been ridden several times elsewhere. Alves will be the best rider he's ever faced, but Alves hasn't been himself this year to say the least. He did come through with a big score in Round 1, and if that means we can expect to see the Alves of 2012 again tonight, this bull doesn't stand a chance.
Kaique Pacheco on 022 Recovery Time:
Pacheco fell out of the top spot in the world standings last night, but that is something for the peanut gallery to talk about. It doesn't mean anything to Pacheco, whose aim is to be there at the end, and to accomplish that you have to take it one bull at a time. This bull is a good fit for him, and he should turn in a score here. Gage Gay earned 88 points on Recovery Time back in May, and a big score like that would most likely put Pacheco in the short round here.
Jess Lockwood on 941 Brown Sugar:
We don't know much about Brown Sugar, but his numbers from outside the PBR indicate he may not be good enough to be here, and certainly won't be good enough to win the round on. That said, numbers aren't always accurate either. In any case, because Lockwood did have a good score last night, any score here will keep him on track to possibly win the event, and he should be able to handle this bull.
© 2016 PBR Inc. All rights reserved.