The Morning Line: Tucson, Day 2
By: Slade Long
October 23, 2016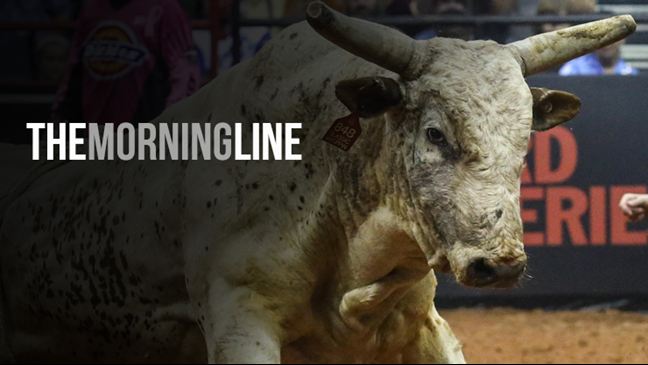 The riders put up 15 qualified rides last night, but things could take a different turn tonight. We will see a good number of rides here, but the guys who placed near the top last night didn't draw very well for the most part. Chase Outlaw and Nevada Newman drew brand-new bulls that are completely unknown, as did Stetson Lawrence. We could see a different group of guys get scores tonight, and that would make it easier to get into the short round with one score.
Guilherme Marchi on 214 Jailbreaker:
Jailbreaker is 19-0 in his career, and 10-0 on the Built Ford Tough Series. Marchi looked sharp last night, but he's facing a much harder bull here.
Aaron Roy on 908 Americana:
Roy made a good ride last night, and he drew an equally good bull today. Americana gives up a lot of qualified rides, and he's always one of the best bulls to have in a long round. Roy struggled early in the season, but he has been riding well in October.
Fabiano Vieira on 118 Dirty Deeds
Vieira has a fairly good chance to get a second score here. Dirty Deeds has been ridden in five of his last eight outs.  He is a better fit for a right-handed rider, but that probably won't affect Vieira that much. He's usually solid on bulls that go either way.
Jorge Valdiviezo on 138 Crackerjack:
This is the second good draw in as many nights for Valdiviezo. He needs to do well at this event, and he's got a bull here that will go into his hand and has great timing. Crackerjack has been ridden five times in 10 BFTS outs, and that is a rideable bull at this level.
Lachlan Richardson on 965 King Buck:
Richardson nearly had a big ride last night – falling one one-hundredth of a second short. He's got the one to have in this round. King Buck has carried a lot of riders to the pay window, and he's statistically one of the easiest bulls to ride in the sport. He's 4-19 against right-handed riders in his career. A bull with low difficulty and high performance is what every rider wants, and those two traits aren't always correlated in bucking bulls.
Cooper Davis on 270 Springer Mountain Striker:
Davis had an unridden bull last night that was also unproven. This one is also unridden, and he has faced a few good riders. Striker has thrown Silvano Alves twice this year, along with Shane Proctor, Mike Lee and Cody Nance. Davis let one get away last night, and making up for it today will be tough.
Mason Lowe on 677 Smooth Sailing:
We saw Tanner Byrne ride this bull last week en route to a third-place finish in San Jose. Smooth Sailing is a good fit for a right-handed rider, and he will give Lowe a shot at getting a good second score.
Ty Pozzobon on 59Y Flyin' Crazy:
Pozzobon won the round last night with a pretty impressive ride, and he'll have to make another impressive ride to get another score. This bull is unpredictable and can have a lot of up-and-down. His style is very similar to the bull Pozzobon had last night.
Joao Ricardo Vieira on 078 Grandpa Joe:
This will be a day off for Vieira. He's ridden this bull before – in 2015 – and Grandpa Joe has given up eight scores in his last nine outs. Vieira needs a big score here because he bucked off last night, and this bull could give him one.
Kaique Pacheco on 026 Just Juan:
Pacheco has a chance to make a move here. While Mauney and Davis both bucked off last night, he escaped with an 81.5-point score. He's got a chance to ride this bull. Jess Lockwood picked up 86.5 points on Just Juan a few weeks ago.
© 2016 PBR Inc. All rights reserved.