The Morning Line: Tulsa, Day 2
By: Slade Long
August 28, 2016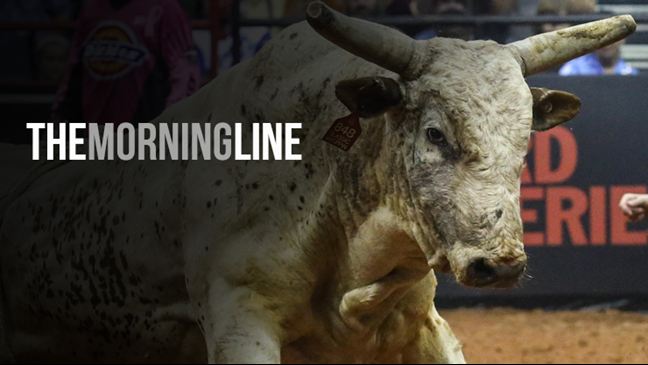 Morning Line – Tulsa Day 2:
Round 2
Cooper Davis on 152 Psycho Path:
This bull is making his Built Ford Tough Series debut in Tulsa, but he's a fairly experienced bull. Davis had him at a Touring Pro Division event in January of 2015 and rode him for 79.5 points. The reason for the low score is the bull never turned back and spun at all. He did buck plenty hard, and he wasn't easy to ride. He was only 3-years-old then, and he's matured into a solid performer, and earned a spot at the National Finals Rodeo last year. Davis turned in 87.75 points to split the round win last night, and you can expect this bull to be a little harder to ride than Davis' first round bull.
Kaique Pacheco on B36 JJ's Pride:
Pacheco may have come down in the 15/15 round last night, but look for him to bounce back here and be in good shape to compete for an event win. This bull has handed out good scores all season, including a 90-point ride to Pacheco at a Denver, Colorado TPD event back in January.  Pacheco didn't have any problems with this bull going away from his hand last time they met.
Mason Lowe on 1R15 Blind Spot:
This is a good second round draw for Lowe, who got on the board in Round 1, and could get a better one here. Blind Spot is rock solid, has good timing, and he should spin into Lowe's hand.
Eduardo Aparecido on Y4 Wired Child:
The last time these two met, Aparecido walked away with an 86.5-point score. He's one of only two guys who have ridden Wired Child in his 24 out career. Aparecido did not get a score last night, so he needs a big one here.
Dakota Buttar on X202 I'm a Thug:
This is a Canadian bull rider and a Canadian bull, and as it happens, they met earlier this season in Moose Jaw, Saskatchewan. Buttar wasn't successful there, and he bucked off last night, but you can expect to see this kid more often at the BFTS level. He's got talent to make it on tour. I'm a Thug has been ridden a couple of times but only by right-handed riders because he goes to the right. If he stays around he'll be ridden more often at this level. He has good timing, and he bucks with his head high. He'll be a sought after draw here, and Buttar is already familiar with him.
Robson Palermo on 917 Pound the Alarm:
This is one of the higher rated bulls in this round. Palermo bucked off of him back in 2014, but Pound the Alarm is a little better to ride now than he was two years ago. He's given up a couple of good scores this season. Palermo has a chance to do well here.
Jess Lockwood on 222 Majestic.
Lockwood didn't have a highlight reel kind of night Saturday, and it will be interesting to see if he can bounce back today. This is a debut bull who is unridden in nine TPD level outs, but he hasn't faced a rider this good yet.
Gage Gay on 79 BootDaddy.com:
This will be the third match between these two. Boot Daddy won the first two, but Gay took him to 7.68 seconds in their last meeting. This isn't an easy bull to ride. He's been in quite a few short rounds. He is worth more points than most of the bulls in this round, and Gay needs a big score today because he came down early last night.
J.B. Mauney on Y238 Aftershock:
It's hard to say how healthy Mauney will be today, but we've seen this situation many times before. Mauney limps out on day one, you don't think there's any chance he will be on his game for the second day, only to see him bounce back and win the whole thing. This bull will be unfamiliar to most of the guys here, but he's been around the rodeo circuit a good bit, and doesn't give up many rides. A healthy Mauney would be heavily favored here, and as we've seen before, a banged up Mauney can be just as good.
Silvano Alves on 640 World Class:
This is another Frontier Rodeo bull that isn't well known in the PBR, so Alves will not know what to expect here. World Class is unridden in 17 career outs, and he's been to the NFR, but he hasn't faced a lot of top-tier riders. Alves hasn't been at that level for most of this season, but he looked like the old Alves last night, and many will be watching today to see if he can put two rides together here.
© 2016 PBR Inc. All rights reserved.