The Morning Line – Tulsa Day 1
By: Slade Long
August 11, 2018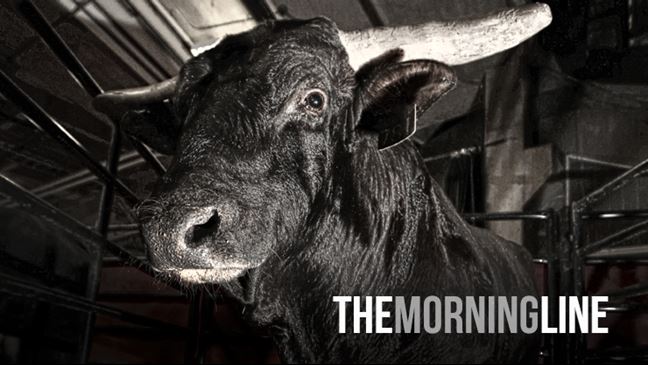 Round one is an ABBI Classic competition here, meaning they are all three and four-year-old bulls competing for their own title. By this time of the season we have seen the Classic bulls enough to know what most of them are about. There isn't really a shooting star at the Classic level right now, but there are a number of very good bulls that are battling it out.
Round 1
Cooper Davis on B1 Mind Freak:
This should be one of the better matchups in the first round. Mind Freak is sitting fifth in the ABBI Classic standings this year with over $23,000 won. He has had the occasional off day, but at the last Premier level Classic in Little Rock early this season he was outstanding. He will be a test for Davis and Davis will be a big test for him.
Cody Nance on 027 Concealed Carry:
Nance has a great chance at a possible round win here. Concealed Carry is a strong bull, but he has near perfect timing, and that makes him rideable. He may not be enough to win the round if they ride a lot of bulls, but he will be enough to place Nance in the points.
Jess Lockwood on 16B Budakon:
This was the high marked bull at the Last Cowboy Standing in Las Vegas before the summer break. He beat out Bruiser and every other top PBR bull for that honor. He doesn't always have that kind of trip, but he's a young bull. He does tend to go to the left, and that will be into Lockwood's hand
Luciano de Castro on 514 Bottoms Up:
Derek Kolbaba rode this bull for 89 points and a round win in Little Rock in March of this year. Bottoms Up has given up three qualified rides in six career outs, which makes him one of the more rideable bulls in this round. He likes to go to the left as well, which will be good for de Castro.
Claudio Montanha on 444 Big Black:
This is a rematch from round one of the World Finals where Big Black got the best of Montanha. This is one of the best draws in the PBR right now. He's big, has very even timing, and he's one of the most mature and finished bulls in this group. He has a real shot at the ABBI Classic title this year, and he's honest enough that every rider here would love to draw him.
Cody Teel on X64 Testified:
Teel should do well here. Testified is one of the prettiest bulls to look at and his style is a good fit for Teel. He should go to the right, and he doesn't have quite enough kick to help a rider get back to the front, but that is one of Teel's strengths. He rarely gives any bull a chance to get him in a vulnerable position.
15/15 Round
Ryan Dirteater on 045 Seven Dust:
From a rider's perspective, there are some bulls in the PBR that are fun to go against, easy to look cool on, and are low risk / high reward propositions. Seven Dust is not one of those bulls. He's a hard day's work, as in the day a truckload of porta-potties runs off the road and flips over in your yard during a thunderstorm. Dirteater could score big here, but he will have to sweat it out.
Derek Kolbaba on W37 Cochise:
Kolbaba is one for two on this bull, and he was 89.5 points the time he came out on top. Cochise has been good to left handers at times, but he has two different trips and one of them is much harder than the other.
Dakota Buttar on 361 Hedoo:
Hedoo may be the best overall draw in this round. He's been ridden five times in sixteen career outs, and a buckoff percentage of under 70% is pretty reasonable in this group of bulls. Cody Teel was the last man to ride Hedoo, and his riding style is similar to Buttar's.
Fabiano Vieira on 44A Smooth Over:
This is a solid bull who is unridden this season, and has never allowed a left-handed rider to make the whistle. Viera is one of the best riders alive today, but he has a tough task here. Smooth Over is a wild bull with a lot of action and will be one of the showiest bulls here.
Cody Teel on 138 M.A.G.A:
This is a lesser known bull, but he's unridden in eight career outs and he's gone against a couple of good right-handed riders in Silvano Alves and Guilherme Marchi. He was one of the top ten bulls at the Last Cowboy Standing in Las Vegas to close out the first half of the season.
Dener Barbosa on Hydrastar Slinger Jr.:
This bull has been quietly compiling a record that proves he's one of the toughest bulls in the PBR to make the whistle on. He's been ridden just three times in sixty-four career outs, which puts him at 95.31%. Compare that to Bushwacker who ended his career at 84-3 (96.55%) and you can see that Slinger isn't far off that pace. He's not nearly as flashy as Bushwacker, but his difficulty level is practically the same.
Cooper Davis on 809 Old Fort Days:
This will be the second tough-but-fair matchup for Davis today. He should be on even footing with this bull, but Old Fort Days is unridden in twelve outs. He's honest, but not easy. If you want to see what the PBR founders had in mind when they had the idea for the PBR, it is matchups like this – a top tier rider and a top tier bull where the outcome is 50/50.
Eduardo Aparecido on 08B Hostage:
Hostage may be the biggest question mark in the round. He only has two career outs, so we don't really know what to expect from him. Aparecido is something of an enigma himself. He has respectable numbers this season, but he hasn't done well against the top bulls, and he was not riding well at the end of the first half.
Jess Lockwood on 319 Canadian Mist:
Lockwood may have a shot here, but this bull isn't easy. He's a small bull with speed, power, and kick. He's unridden in nine Premier level outs, and no one has really ridden him very far, so it's hard to say what he will do.
Jose Vitor Leme on 362A Heartbreak Kid:
Leme is a small, athletic rider, and this bull isn't the best fit for him. Heartbreak kid has proven that he isn't really a good fit for anyone. He's 41-1 in his career, and 19-0 at the Premier series level. The one ride he gave up was when he had a seriously off day, so in effect no one has an answer for this bull when he's on his game.
Luciano de Castro on 1173 Gangster's Wildside:
Gangster's Wildside has been around for a number of years, but hasn't accumulated a lot of outs. He's 23-1 overall and 18-1 at the Premier level, and he's gone against the best riders the PBR has to offer. Castro will have his work cut out for him here.
Cody Nance on 397A Frequent Flyer:
Frequent Flyer was an ABBI Futurity champion as a two-year-old bucking with a dummy, and he's done very well at every level vs. riders. He is unridden in his career, and that is somewhat surprising because he does have a predictable pattern. He's just good enough that he throws the top riders off even when they know what to expect.
Ramon de Lima on 83A Wild Goose:
These two met in Arlington at the Iron Cowboy earlier this year, and Lima walked away with 86 points to show for it. This is good for Lima because few of the other matchups in this round look good for the rider in any way.
Claudio Montanha Jr. on Lester 567 Gillis:
Montanha has a decent draw here. Lester Gillis is something of an oddity in that he typically goes to the left, but he's only ever been ridden by right-handed riders. He's 30-4 at the Premier level, and he's faced plenty of rider talent.
Kaique Pacheco on 08A Smooth Air:
Pacheco had a dismal start to the season, but if he can close out the year the way he closed out the first half he has no serious competition for the world title. When Pacheco is riding his best, no bull is safe. Smooth Air is a top tier bull, but Pacheco should dominate him easily. Pacheco's only enemy is streakiness. When he's off he's off, but when he's on he is unstoppable. If he can even that out somewhat, or just stay on the rest of the season and avoid a slump, he will be an easy favorite to win a world title.
© 2018 PBR Inc. All rights reserved.