The Morning Line: World Finals, Day 3
By: Slade Long
November 04, 2016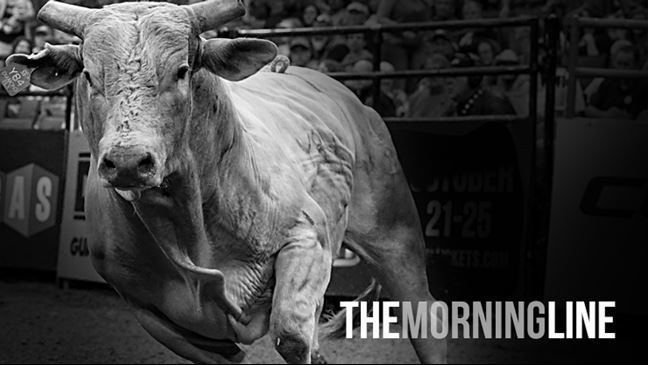 Morning Line – 2016 World Finals Round 3
This is a draft round, which means the riders chose these bulls rather than having them randomly drawn. They drafted in the order they finished in Round 2.
It's often interesting to see what bulls riders choose to draft early. Some riders are pretty good at it. Without seeing what went on beforehand I would assume that the Brazilian riders form a committee and share information among themselves. They tend to find some relatively obscure bulls that turn out to be good picks. Each rider would be best served picking the best available bull that fits his style, but they can misjudge themselves at times.
This group of bulls is one step down from the pen we saw last night, and there are a lot of bulls here that riders like. The bulls were less than spectacular overall through the first two rounds. There have been a few bright spots, but more disappointments from the stock contractor's perspective.
Guilherme Marchi on 978 Little Red Jacket:
This is a good fit and a good pick for Marchi. Little Red Jacket typically goes to the right, and he's good enough to win this round on. They met two years ago in Colorado Springs, Colorado, and the bull won, but Marchi should be the favorite here, especially coming off a big ride last night. Marchi seems to feed off his own emotion more than other riders.
Ty Pozzobon on 922 Modified Clyde:
Modified Clyde may be the most desirable draft pick in the PBR right now. There aren't as many draft rounds as there were a few years ago, but Modified Clyde has been picked at or near the top of every draft he's ever been in. He is good enough to win rounds on, and he is the prototypical bull that riders like. Despite being a highly coveted draw, he's been able to beat the riders more than 75% of the time in his long career. He's faster than a lot of riders expect, and he doesn't give guys much time to recover from mistakes. Pozzobon had him once in 2014 and didn't make the whistle, but he's reaching for another round win with this pick.
Kaique Pacheco on 017 Crazy Horse:
Pacheco is 2-for-2 against this bull over the past couple of months, including a 90.25-point ride in Tucson just a week ago. This is a quality bull and near perfect fit for Pacheco, who should get back on track here.
Rubens Barbosa on 1327 Who Dey:
Barbosa made a great ride last night, and arguably could have been the round winner. Who Dey, like Modified Clyde is usually picked high in the draft, but is surprisingly fast and wins his share of battles. In his last two outs he's thrown off Cooper Davis and J.B. Mauney. Both guys are plenty capable of riding him, but this bull goes from zero to 60 in no time, and if you miss it you end up on the ground. If Barbosa can stay on this could be a round win regardless of who else rides.
Tanner Byrne on 104 Moto Moto:
Byrne was drafting near the middle of the round, but he got a great bull here. Moto Moto is a little unpredictable, but his style is a good fit for Byrne. Moto Moto is another bull with Canadian roots, and Byrne is probably familiar with him, but they haven't met before that we know of.
J.B. Mauney on 157 Legacy:
Mauney doesn't go to many Touring Pro Division events, but he did go to Rocksprings, Texas, this summer, and this bull bucked him off in 7.43 seconds there. Don't look for a repeat here, because this is a bull Mauney should be able to dominate. He's a good enough bull for Mauney to place on in the round, and maybe win the round depending on whether the better bulls get ridden here.
Juliano da Silva on 1037 Cooper Tires Brown Sugar:
Whether you are trying to dress up your morning oatmeal or win a round at the World Finals, Brown Sugar is never a bad choice. This will be a challenge for da Silva, but if he can get the whistle he will be a lot of points. Da Silva is a little like Renato Nunes in that he rides loose and makes big dramatic moves. It can cost him on some bulls, but when he rides one he will get as good a score as that bull can provide.
Ryan Dirteater on 868 After Party:
Dirteater went with a bull he's very familiar with. He's 4-for-5 on After Party going back to the 2011 season. This is a bull that gives a lot of guys fits, and guys that know exactly what's coming can't stay off his head. Dirteater has pretty much owned him even when the bull was in his prime.
Dakota Buttar on 005 Liquid Fire:
This is a debut bull that most of these guys probably aren't familiar with. Liquid Fire is one of the two best bulls in Canada right now, and Buttar knows him well. He scored 88 points on him back in May at a Prince Albert, Saskatchewan PBR Canada event. Buttar likely had his eye on this bull from the start and was happy to see he was still available late in the draft.
Cooper Davis on -915 Hammer Down:
Davis didn't have a great spot in the draft order, but he still got a great pick. Hammer Down gave up a big ride to Cody Nance in a Big Sky, Montana, BlueDEF Tour event this summer. That's the only time he's been ridden, but he did go to the right with Nance, and he should fit Davis pretty well.
© 2016 PBR Inc. All rights reserved.