The PBR Arrives in Las Vegas for Last Cowboy Standing
By: Denise Abbott
May 12, 2016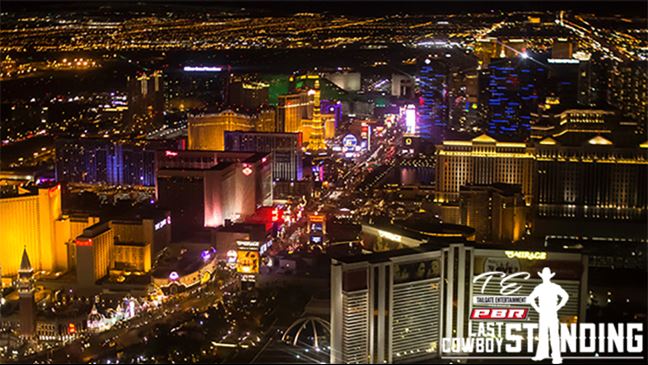 LAS VEGAS – As the Professional Bull Riders' (PBR) elite Built Ford Tough Series (BFTS) bucks onto the Las Vegas strip this weekend at Tailgate Entertainment's Last Cowboy Standing, the sport is nearing the season's halfway point embroiled in one of its most competitive races ever.  The world's Top 9 riders are separated by only 612.5 points, while the winner this weekend will earn 625 points toward the world standings.  In the PBR's third Major of the 2016 season, every Top 9 rider will be chasing, and has a chance to upend, two-time and reigning PBR World Champion J.B. Mauney.
As a PBR Major, the Last Cowboy Standing presents a unique format, a larger prize purse, and 50 percent more points toward the world standings than traditional regular season BFTS events. It also will air on CBS Television Network on Sunday, May 15 at 4 p.m. ET in the only two-hour network TV broadcast of the season. The BFTS has enjoyed a 33 percent increase year over year in CBS TV ratings in 2016.
Leading the way into the Last Cowboy Standing is Mauney who has yet to claim a PBR Major title but will be attempting to add that feat to his long list of record-breaking accomplishments this weekend.
World No. 2 Joao Ricardo Vieira will be defending his Last Cowboy Standing title and looking for his fourth PBR Major win. Sitting only 125 points behind Mauney, Vieira could head into the summer break as the No. 1 man in the world with a victory in Las Vegas.  Putting the pressure on the veterans will be rookie young guns Jess Lockwood and Derek Kolbaba. The 18- and 20-year-olds roll into Las Vegas on the momentum of sweeping the last two BFTS events from the veterans.
In the chutes this weekend will be some of the PBR's world class bovine athletes, including Jared Allen's Pro Bull Team's Air Time and Hy Test, Jeff Robinson's Stanley Fatmax, Jeremiah (Rob Smets), Cochise (Gene Owen/ Jane Clark) and Little Red Jacket (JARS Bucking Bulls / Gene Owen).
During the two-day PBR event taking place in the outdoor Las Vegas Village on the Strip as part of Helldorado Days presented by Monster Energy, the bull riders will ride in round after round of competition. To advance to the next round, each cowboy must make a qualified, 8-second ride.  If they fail to make the 8-second buzzer, their competition is over. At the end of the event, one man will stand atop the heap and be named the Last Cowboy Standing, taking home a check for $100,000, courtesy of Bad Boy Mowers.
Previous Last Cowboy Standing winners include:
2015     Joao Ricardo Vieira
2014     Guilherme Marchi
2013     Silvano Alves
2012     Silvano Alves
2011     Luke Snyder
An added bonus for the riders this weekend is the $50,000 Bad Boy Mowers Bounty Bull. Each PBR Major offers a bounty bull who is randomly matched to a bull rider during the competition. The bounty on each bull is $25,000.  If the rider successfully covers his bull, the $25,000 is his. If he fails to ride for 8 seconds, the money is rolled to the next PBR Major.
World Champion Bull contender Air Time is the $50,000 bounty bull in Las Vegas and is scheduled to meet his lucky challenger during Round 3 on Saturday.
The Last Cowboy Standing takes place Friday and Saturday at 7:50 p.m.  Tickets range in price from $25 to $250 and include admission to the Helldorado Days festival located in the Las Vegas Village. They can be purchased online at ticketmaster.com or by calling 800 745 3000.
Friday night's Round 1 will air live on CBS Sports Network at 10:30 p.m. ET. All of the Round 1 action can also be seen in real time on PBR LIVE, located www.pbr.com/live.
© 2016 PBR Inc. All rights reserved.