The Wrangler Network Dedicates October to Barrel Racing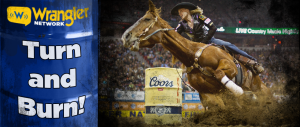 Western lifestyle network debuts new partnerships, announces live event coverage, and offers exclusive barrel racing content
Starting Wednesday, Oct. 1, the Wrangler Network will feature a month-long campaign focused on the sport of barrel racing. The newly-launched Barrel Racing section will house:
· Live video coverage of the NILE Rodeo from Billings, Mont., Oct. 18 starting at 7:30 p.m. MT.
· Live video coverage of the Women's Professional Rodeo Association World Finals in Waco, Texas, Oct. 25 starting at 7:00 p.m. CT.
· Partnership with Where2BarrelRace.com and FindaBarrelHorse.com bringing an up-to-date barrel racing event calendar and a marketplace to buy and sell barrel horses to the Network.
In addition, the Wrangler Network will feature a special recurring series this month, publishing video vignettes of David Wittkower's barrel racing documentary "Turn & Burn." Professional competitors and aspiring barrel racers alike will enjoy the film, says Wittkower. "The documentary gives viewers behind-the-scenes access to some of the top names in the business. We were able to capture the hard work they put into practicing, competing and traveling to get to the top and it's inspiring and exciting to watch."
Tune into "Turn & Burn" month at WranglerNetwork.com today.
Share the News Socially
See suggested social messages below to share the news.
· Twitter: #Cowgirls: October is #barrelracing month on WranglerNetwork.com. Tune in for exclusive content & watch @WomensProRodeo Finals live 10/25
· Facebook: #Cowgirls: October is #barrelracing month on the Wrangler Network. Tune in all month long for exclusive content on the sport including live coverage from NILE Rodeo and WPRA World Finals. www.WranglerNetwork.com #LongLiveCowgirls
About the Wrangler Network
The Wrangler Network is the mobile and online destination for those living and loving the western lifestyle, offering exclusive live streamed video and news content related to rodeo, country music and more. Find the Wrangler Network online at WranglerNetwork.com and download the mobile app for your iPhone or Android.