Thomas Wins Dinosaur Roundup Rodeo with Reride
by Bob Stephens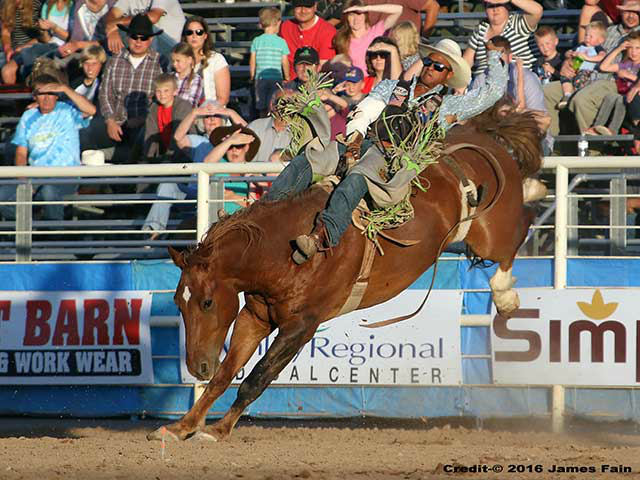 VERNAL, Utah – Anthony Thomas has a habit of going all-out. That's what he did when he left Australia to chase his dream, and that's what he's doing this year while trying to qualify for rodeo's Super Bowl in Las Vegas.
"Growing up in Australia, a lot of people dream and talk about coming over here, but not many have ever done it," Thomas said. "I was determined to make it work."
The 28-year-old bareback rider moved to Canada first, and competed in the Canadian Professional Rodeo Association in 2012, before moving south the next year to challenge the world's best. His goal was the same as every other cowboy with a dream: qualify for the Wrangler National Finals Rodeo presented by Polaris RANGER in Las Vegas.
"I did three events growing up: bareback, saddle bronc and bulls," he said. "In Canada that year, I rode bareback and saddle broncs, then moved to the States with the idea of making the NFR. It's been a wild three years, but I've finally got all my ducks in a row. I don't want it to sound like a damn fairy tale or sound unrealistic, but people keep telling me that if I ride like I have been, I'll make it."
Thomas, who was 26th in the July 5 WEATHER GUARD® PRCA World Standings, furthered his cause by winning the Dinosaur Roundup Rodeo in Vernal. He was up Thursday on opening night in the one-header and posted a score of 85.5 points on Powder River Rodeo's Black Leg. It stood up over the next two nights to give him the win and a check for $4,033.
Black Leg was his reride horse, and Thomas wasn't sure how well he'd do, but he was going for the win.
"I'd heard about that horse, but had never seen him," Thomas said. "I knew he wasn't easy money, but I always take the reride because I'm going for the win. That horse bucked really hard."
Thomas has concentrated on riding just bareback horses the last two years, and it seems to be paying off.
"I love the sport of bronc riding, but it's just so hard to be in two events and find a buddy group where you can cross-enter," he said.
He takes care of the books for his traveling group, which varies but often includes Frenchman Evan Jayne, who qualified for his first WNFR last year, and South Dakota's Shane O'Connell, who was third in the July 5 bareback riding rookie standings.
"I had a terrible winter; I didn't win a red cent," Thomas said. "In the spring, I was winning enough to make a living. Then in the late spring, I started drawing really well and have been doing good ever since. It all started when I won the Danny Dietz."
He won the U.S. Navy Seal Danny Dietz Ultimate Challenge in Rosenberg, Texas, May 28, the week before he was co-champion at the Old Fort Days Rodeo in Fort Smith, Ark. He's also won the Rodeo de Sante Fe (N.M.) and was co-champion at the Beef Empire Days PRCA Rodeo in Garden City, Kan.
"I'm only one or two rodeos from being right there in the mix for the top 15," Thomas said. "I'm staying positive and watching my nutrition and staying in shape. That's a big deal for a PRCA cowboy going to 100 rodeos a year. I'll go to my 100 – that's the limit on your count for bareback riders – but I'd like to go to more."
Other winners at the $132,764 rodeo were all-around cowboy Paul David Tierney ($2,171 in tie-down roping and team roping), steer wrestlers Shawn Downing and Dirk Tavenner (3.8 seconds each), team ropers John Alley and Clark Adcock (4.5 seconds), saddle bronc rider Chet Johnson (87.5 points on Powder River Rodeo's Lipstick & Whiskey), tie-down roper Tyson Durfey (7.4 seconds), barrel racer Jessie Telford (17.20 seconds) and bull rider Cole Melancon (92.5 points on D & H Cattle's Bruiser).
Read more about the Dinosaur Roundup Rodeo in the July 29 ProRodeo Sports News.
Courtesy of PRCA