Thurston Adds Red Bluff Win to Career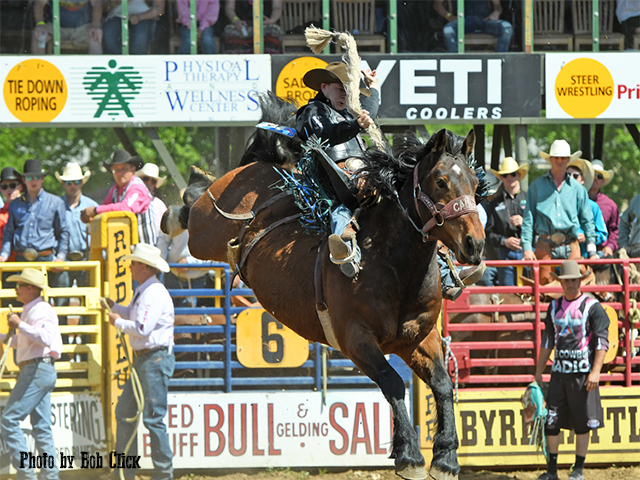 RED BLUFF, Calif. – While it was a perfect day for rodeo at the Red Bluff (Calif.) Round-Up, saddle bronc rider Zeke Thurston wasn't basking in just the sun following his April 22 outing.
Rusty Wright's 85-point ride set the standard earlier in the weekend, but for Thurston, a combination of skill and draw saw the 23-year-old cowboy net the win. Atop Calgary Stampede's Urgent Delivery, Thurston posted an 86.5-point ride to win his first Red Bluff Round-Up title.
"It's awesome," Thurston said. "I love this rodeo. I look forward to it every year. It's one of the first outdoor rodeos of the year, the weather is beautiful, and I just have a good time here."
His time spent in Northern California was made much more pleasant when he saw his name next to the 9-year-old Urgent Delivery. In a one-go format such as Red Bluff, a Wrangler ProRodeo Tour stop, Thurston knew he was in contention with the hefty bay horse.
"He's real big," the 2016 world champion cowboy said. "He's kind of a bucker. I just knew that if I did things right, I'd have a good chance to win some money, and luckily, I did that. I was happy."
And that he did, as his one and only ride was worth a check of just more than $6,000 and a brand-new buckle.
Thurston, who won $265,449 on his way to his first world title in 2016, has seen his fair share of impressive bucking horses. No matter, he believes that you can't force points on the scoreboard. A cowboy can only take what's given to him.
"You never know what to expect," he said. "I figured I'd do what I have control over, do my part and try as hard as I could. My horse had a really good day and he really bucked, so I was just happy to get him rode."
A win in Red Bluff gives Thurston his second major win of the 2018 season. Following his triumph in Denver at the National Western Stock Show and Rodeo, a victory that netted the Canadian nearly $11,000, Thurston's $6,148 in Red Bluff will surely move him into the Top 10 of the newest world standings. With the mania of the summer run on the horizon, Thurston likes where his game is.
"(A win) is always good for a guy's confidence, and obviously for his bank account," Thurston said. "Just keep rolling on, take it one ride at a time, one rodeo at a time and it really does help.
"I've been riding as good as I ever have. Drawing good horses and taking advantage of them, you make the best of them as you can. It's a long season with a lot of rodeo left, but you just go out there and have fun. That's why I started doing it in the first place."
Other winners at the $265,616 rodeo were all-around cowboy Rhen Richard ($3,479, tie-down roping and team roping), bareback rider Jamie Howlett (87.5 points on C5 Rodeo's Virgil), steer wrestler Tyler Pearson (21.0 seconds on four head), team ropers Cody Snow/Wesley Thorp (29.1 seconds on four head), tie-down roper Tyler Milligan (38.2 seconds on four head), barrel racer Jessi Fish (34.53 seconds on two runs), and bull riders Jordan Hansen on Corey & Lange Rodeo's Rewind, and Garrett Tribble, on Rosser Rodeo's Compton Kid (88.5 points each).
For more coverage of the Red Bluff Round-Up, check out the May 4 edition of the ProRodeo Sports News.
Courtesy of PRCA