Tilden Hooper Wins RAM NCFR with Record Ride
By Tracy Renck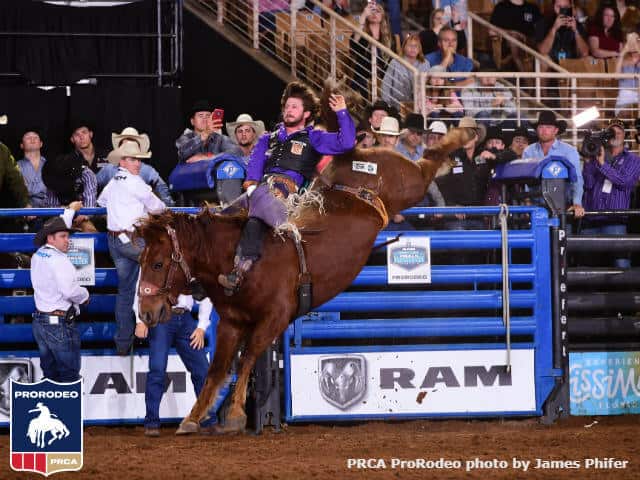 KISSIMMEE, Fla. – With the RAM National Circuit Finals Rodeo on the line, Tilden Hooper delivered.
The bareback rider from Carthage, Texas, had a 92-point ride on Hi Lo Pro Rodeo's Redzilla to win the four-man round Sunday at the Silver Spurs Arena.
Hooper's score broke the RAM NCFR bareback riding record of 91 points set by Cimmaron Gerke on Kesler Rodeo's Smiling Cat in 2004 in Pocatello, Idaho.
"That was one of my most fun bareback rides of my career," said Hooper, 31, who joined the PRCA in 2006. "There's nothing better than breaking a record and having all your buddies cheering for you behind the chutes."
Hooper, who was making his debut at the RAM NCFR, was plenty familiar with Redzilla. He drew that horse in Round 1 of the 2018 Wrangler National Finals Rodeo and had an 83-point ride.
"I'm also really good friends with the guys who run Hi Lo Pro Rodeo," Hooper said. "My friend Levi McCray was flanking him and Dustin Murray, the guy who runs Hi Lo Pro Rodeo, was running the neck rope. I've known those guys forever, and it is fun to win, but it is even more fun with your buddies involved."
Hooper acknowledged Redzilla was better this time.
"When I had that horse before, she was good, but she just covered a little more ground," Hooper said. "So, when she hooked that right and stood in one spot, I knew I had a chance and just let it roll, and here we are."
Hooper departed the RAM NCFR after earning $19,670 – $7,493 for winning the final round. Hooper entered the RAM NCFR March 21 fifth in the PRCA | RAM World Standings with $44,231.
In addition to the money earned, each event national champ also received a Voucher toward a new RAM truck; a Polaris Ranger XP 1000; a 65 Venture OtterBox Cooler; a pair of Justin Boots; a custom champion Montana Silversmiths buckle; and a champion saddle handcrafted by Cactus Saddlery.
"It always feels good to win this kind of money," Hooper said. "I'm excited. I'm trying to win a world championship, so all those dollars are just helping me get a little closer to No. 1."
A year ago, Hooper placed a career-best third in the world standings with $245,583. He earned $150,391 in Las Vegas at the 2018 Wrangler NFR. Hooper has qualified for the Wrangler NFR five times (2008-09, 2011, 2014 and 2018).
"Ever since I had surgery on my neck in 2013, I had to completely change what I was doing," he said. "I started working out and I have a fitness regimen. Those injuries have been blessings for me because they have made me really work for it and crafted me into the bareback rider I am today, which is a lot better than I was 10 years ago."
Tune in to watch the RAM NCFR on CBS Sports Network on April 8 at 8:30 p.m. (ET).
Courtesy of PRCA