Tim Naylor Wins RAM First Frontier Circuit Rodeo Average, Year-End Title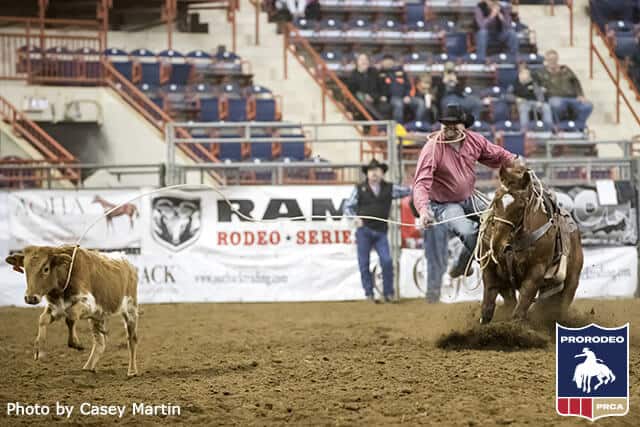 HARRISBURG, Pa. – For 15 years Tim Naylor has competed at the RAM First Frontier Circuit Finals Rodeo.
Through the first 14 years, he had never won a round. The tie-down roper had won the First Frontier Circuit's year-end title twice (2005 and 2011) and the RAM FFCFR average twice (2011 and 2012), but a round win had eluded him.
This year was different. Not only did Naylor kick off his 15th RAM FFCFR with his first round win, he went on to win a second round and claim the average and the year-end title Saturday night.
"It's kind of crazy I have been here 15 times and it was always the black cloud over my head that I never won a round here," Naylor said.
Through it all, he rode the same horse – an American Quarter Horse named Kid, now 23 years old.
"He's it, man, I mean he is 90 percent of the run and fits me like a glove," Naylor said. "I've used him for years and it's been phenomenal. He's just got his own personality. He's not a very big horse and has a big stop with a lot of pull and is really strong. We get along well. He darn near can talk to me, his personality is unbelievable. The joke at the house is he gets treated as good or better than my wife does – and she accepts it."
Naylor is focused primarily on his sons' rodeo careers. At 44 years old, the Maryland cowboy takes a month off work to take his sons Trevor, 16, and Tanner, 15, west for high school and junior high rodeos.
He entered Harrisburg ranked third in the circuit with $3,454.
His victory meant more to him because he shared it with his sons, who were cheering him from the stands.
"For those two to be here and cheer me on and be here for the high-fives means the world to me," Naylor said.
Naylor won the first round of the RAM FFCFR with an 11.5-second run, placed second in the second round with 10.5 seconds and won the third round with a 9.4-second run. Clocking in at 31.4-seconds on three head was worth $8,503, more than he typically wins in a year of competition.
Initially, Naylor didn't know he won the First Frontier Circuit's year-end title.
"I was untacking my horse and my two sons came running through the barn screaming and hollering," Naylor said. "I didn't know I had a chance to win the year-end. I couldn't believe it."
In the last 10 years, Naylor's biggest season total was $9,253 in 2010. He ended the 2018 season with $6,972. Now, he's heading to the RAM National Circuit Finals Rodeo in Kissimmee, Fla., in March to potentially score bigger prize money.
"I wish I was younger and had the opportunity to utilize it a bit and go to some rodeos because of this big win," Naylor laughed. "But I'm a 40-plus-year-old fat guy and I have to stay home for the business. I don't get to play as much as I'd like."
When he's not competing or taking his sons to youth rodeos, Naylor runs a fencing company with his sister and mother.
"I'll practice for Kissimmee and be as sharp as I can, and if the roll keeps moving we'll take it," Naylor said, adding that he's not aiming for the Wrangler National Finals Rodeo. "I'm 100 percent a circuit cowboy."
Naylor got into rodeo thanks to his dad, Norman, a former PRCA competitor who passed away due to brain cancer three years ago. Norman didn't start roping until he was 42, but he went on to win the Cowtown Rodeo in Woodstown Pilesgrove, N.J., at 70 years old in 2011.
On the final night of this year's RAM FFCFR, Naylor wore a gray shirt in honor of his dad. While pink represents breast cancer awareness, gray does the same for brain cancer.
"So to do it tonight is unreal, it means a ton," Naylor said. "Tonight, he's up there smiling for sure."
This will be Naylor's third trip to the RAM NCFR, so he knows what to expect and how to prepare, but this year will have a different feel.
"The boys told me I'm a middle-aged fat guy, I have a big belly from sitting behind a desk," Naylor laughed. "But they have a plan to whip dad into shape. I have a rough road ahead of me before Florida, according to my sons. … I can't believe it happened."
Other winners of the $175,478 rodeo were all-around cowboy John Leinaweaver ($8,502, bull riding and steer wrestling); bareback rider Matthew Smith (241 points on three head); steer wrestler Leinaweaver (15.6 seconds on three head); team ropers Eric Fabian/Jake Edwards (17.3 seconds on three head); saddle bronc rider Clovis Crane (217 points on three head); barrel racer April Masterson (44.90 seconds on three runs); and bull rider Austin Beaty (154.5 points on two head).
For more coverage of the RAM First Frontier Circuit Finals Rodeo, check out the Jan. 25 edition of ProRodeo Sports News.
Courtesy of PRCA