Tim Pharr Wins Sikeston Rodeo for Second Time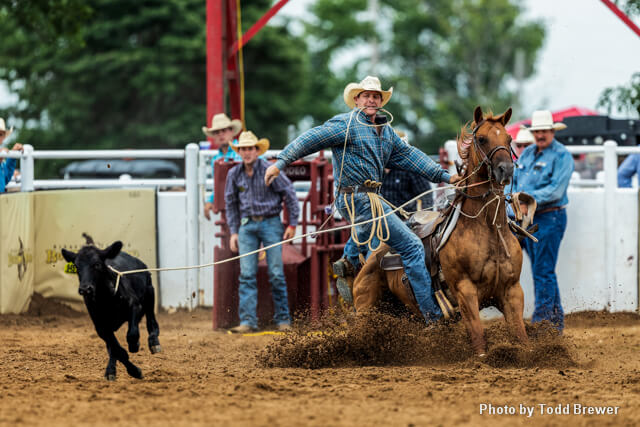 SIKESTON, Mo. – Summer was not an easy road for tie-down roper Tim Pharr. And maybe the horrible steak he had in Spanish Fork, Utah, on his 40th birthday July 20 was the capper of a terrible stretch.
But all that bad luck flew out the window when Pharr wrapped up his second career win at the Wrangler ProRodeo Tour's Sikeston (Mo.) Jaycee Bootheel Rodeo, Aug. 11.
Pharr took second place in the first round in 8.6 seconds before winning the average in 17.7 seconds on two head. He took home $3,875.
"There's never a bad time for a win, and none is really more special than the next," said Pharr, who also won Sikeston in 2001.
In Spanish Fork, Pharr had a steak that was so bad (it tasted like "shoe leather," he said) he had to send it back. Between June 20 and July 25, Pharr ran 22 calves without placing. He placed at Deadwood, S.D., then went six more calves without placing. Then came Sikeston.
"It was the worst summer on record," Pharr said. "The longest streak I've ever been on – twenty-two calves in a row with no money. Then I placed in Deadwood, then I went another six calves with no money. Then, BAM, I win Sikeston. Long overdue."
The reason for the streak was easy to explain.
"Just bad luck," he said. "Some of the craziest things I've ever had happen in my career."
Turning a streak like that around isn't easy.
"When you go that long, there's no other way to say it than it's extremely stressful," Pharr said. "You read books, read the Bible, you try to put things in perspective and know it will turn around eventually. You've got to know that when you show up, you've got to get your head right and make sure you do the basics because it can turn and go the other way just as fast as it can go south."
Pharr was riding Zanna, his 9-year-old mare that he raised, when he won Sikeston.
"Honest to God, I've trained a whole bunch and this is the best one I've ever been across," Pharr said. "She stands in the box great. She runs harder than any horse I've been on. She stops and backs up better than any horse I've been on, which is really her signature – her stop and backup."
Normally, Pharr calls it a season after Cheyenne (Wyo.) Frontier Days. He heads back to Resaca, Ga., to help his wife, Shae, get their sons Conner, 8, and Sterling, 5, ready for school. But this year he stopped at Sikeston since it's relatively close to home.
It proved to be a wise decision.
"Every one of them (wins) is extremely fulfilling, and to have one at Sikeston, it's a Tour rodeo and a big stop," said Pharr, who has won more than $20,000 on the season. "It seems to be a little more special than most because it's one of the top 20 rodeos of the year."
The win should vault Pharr into the Tour standings. The top 24 cowboys in each event in the Wrangler Tour will advance to the Justin Finale in Puyallup, Wash., Sept. 6-9.
Pharr will add a few circuit rodeos to close out the 2018 season.
"It wouldn't hurt my feelings to get a few more circuit rodeos in and solidify the circuit finals for me," said Pharr, who raises and trains horses, in addition to being a farrier and working on the family ranch. "Basically, I'm going to stay right here and be a circuit cowboy."
Other winners at the $169,021 rodeo were all-around cowboy Paul David Tierney ($5,845 in tie-down roping and team roping); bareback rider Tim O'Connell (89 points on Rafter H Rodeo Livestock's Pony Soldier); steer wrestlers Tanner Brunner and Dru Melvin (9.3 seconds each on two head); team ropers Paul David Tierney/Tanner Braden (9.5 seconds on two head); saddle bronc rider J.J. Elshere (85 points on Pickett Rodeo's Real Fancy); barrel racer Kylie Weast (16.32 seconds) and bull rider John Mincey (89 points on Rafter H Rodeo Livestock's No. 3109).
Courtesy of PRCA