Time Capsule Tuesday – Byron Walker's 1981 Fort Worth Record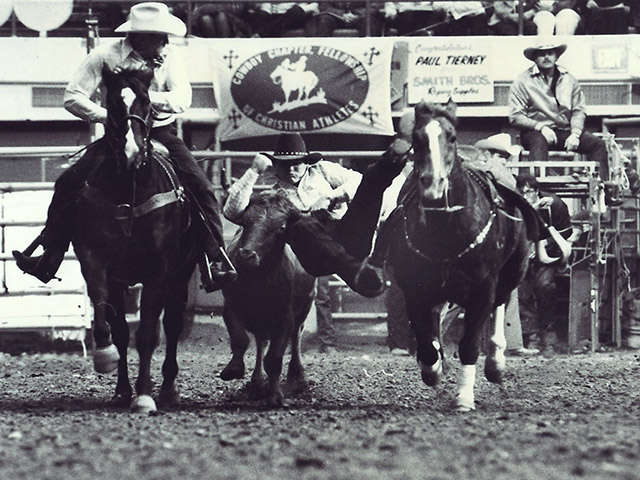 Thirty-six years ago, Byron Walker set a Fort Worth (Texas) Stock Show and Rodeo steer wrestling record that has only been matched at the rodeo three times since he recorded that fabled 3.2-second run in 1981. His time at that rodeo wasn't matched until Lee Laskosky in 1997, and then Stephen Canik in 1998, and Beau Clark in 2012.
Three of the Fort Worth rodeo's other records, dating back to 1950, were broken as of its final round Feb. 4 – Jake Wright's 255.5 points on three head in saddle bronc riding, Tim O'Connell's 336 points on four head in bareback riding, and the rodeo's total payout record increased by $20,290 to a new total of $665,546.
Walker's impressive PRCA career landed him in the ProRodeo Hall of Fame in 2014.
Walker is part of a rare two-world championship household. He won his steer wrestling gold buckle in 1981 and his wife, Mary, was the barrel racing world champion in 2012.
Trained by his father, "Whitey Bob" Walker, and four-time World Champion Jim Bynum, Walker qualified for his first National Finals Rodeo at 19 years old – the first teenager ever to qualify for the NFR as a bulldogger – and went back the next year as the regular-season standings leader.
Over a career spanning four decades, Walker would make 16 trips to the NFR (1977-87, 1991, 1997-2000), an achievement surpassed only by Roy Duvall. He was among the Top 5 in the world a total of seven times, including second-place finishes in 1979, and 1983 – when he finished just $891 behind Joel Edmondson.
"Being second to Roy Duvall, that's a pretty good short list right there," Walker said, "but I think I am most proud of being a pretty good cowboy. I was good (in all different setups). My dad taught me everything I know about steer wrestling, and Jim Bynum taught me how to win."
Courtesy of PRCA