Tofield and Parsonage – A Winning Combination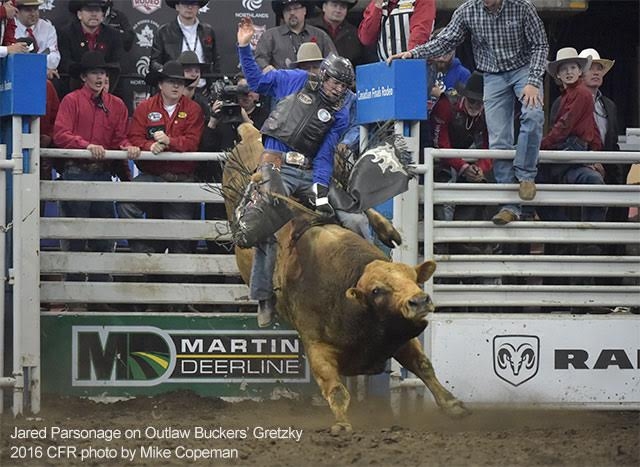 Tofield, Alberta (April 17, 2017) – "I'm a small town guy so I love these deals in the local hockey rink that's packed with fans and everybody's having a great time."
That was Jared Parsonage's reaction to his successful weekend foray into Tofield, AB, the newest bull riding stop on the CPRA 2017 calendar.
The Maple Creek cowboy put together rides of 81 in the long go (Girletz's Rodeo's Okie from Muskogee) and 82.5 in the short go (Ellie Skori's Jawbreaker) for 163.5 on two and the win. The 27 year-old Saskatchewan hand was the only man to ride two bulls at the Bull Bash and collected $3967 for his efforts.
"They were both good bulls," Parsonage noted. "My short go bull went out there a little ways but then he turned back to the left and he was really good."
While the win moved the likable Parsonage from 11th spot in the Canadian standings to 6th place, it didn't help the tall cowboy with another of his 2017 rodeo goals.
"I'm really wanting to take a run at qualifying for the All Around this year," he admitted. "I'm hoping to pick a few cheques in the team roping to see if I can make that happen. Last year I was hurt and things didn't work out on the roping side but I've been practicing a lot this winter so that's definitely one of my goals."
Fifteen time CFR qualifier and two time Canadian champion, Scott Schiffner, won the long-go at Tofield with an 84.5 score on the Girletz bull Wonderlust and finished second overall,. His $4100 payday jumped the venerable Strathmore bull rider to the season leader position, a spot he's occupied many times in his iconic career. Reigning Canadian champion Jordan Hansen finished third overall to take home $3200 and move into the top five in the Canadian standings.
Parsonage will get the opportunity to get after that all-around aspiration when the CPRA makes its annual stops at Camrose (Camrose Spring Classic) and Coleman (Kananaskis Pro Rodeo). Both events are slated for April 28-30.
For full results from the Tofield Bull Bash, see rodeocanada.com
About the Canadian Professional Rodeo Association
The Canadian Professional Rodeo Association (CPRA) with headquarters in Airdrie, Alta. is the sanctioning body for professional rodeo in Canada. The CPRA approves over 50 events annually with a total payout exceeding $5.1 million. Join us for our premiere event – the Canadian Finals Rodeo (CFR) November 8-12, 2017 at Northlands Coliseum in Edmonton, Alberta. Follow us on Twitter, Instagram and Snapchat at @prorodeocanada, like Canadian Professional Rodeo Association on Facebook, or online at RodeoCanada.com.
Courtesy of CPRA