Tommy Lucia 6/1/1941 – 6/1/2016
by Justin Shaw | Jun 02, 2016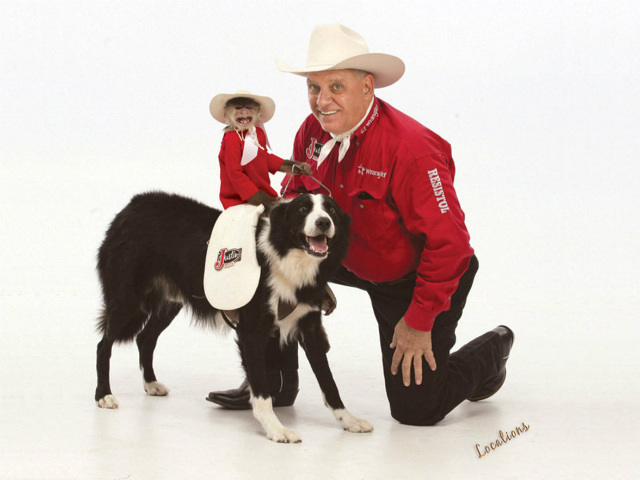 Tommy Lucia, who was voted PRCA Entertainer of the Year 2003-05 and Texas Circuit Act of the Year four times, passed away June 1 on his 75th birthday.
Lucia began his rodeo career at the age of 15 riding bareback horses and bulls. When a friend was injured, he filled in as a rodeo clown.
He quit clowning in 1984, but continued with his amazing acts which included Glory, his swayback horse, and Whiplash, the monkey in full cowboy attire who rode a dog.
Lucia performed at the National Finals Rodeo as the opening act for five years. He also was a barrelman at the 1973 NFR.
Lucia's acts weren't just limited to the rodeo arena. He also performed during the NBA playoffs and at Major League Baseball games, as well as doing shows for Frank Sinatra and many others as well as shooting multiple commercials over the years.
This past September, Lucia was inducted into the National Cowboy & Western Heritage Museum's Rodeo Hall of Fame in Oklahoma City.
Lucia is preceded in death by mother, Olive Luella Lucia and father, Thomas D. Lucia. Lucia is survived by children, son, Tommy Joe (Donna) Lucia; son, Josh (Bobbie) Lucia; son, Dominic (Marisa) Lucia and son, Anthony Lucia; daughters, Poppy Cedillio and Lonna Vopat; grandchildren, Chase Lucia, Nick Lucia, Gabby Rodriguez, Parker Ryan, Dillon Vopat, Grace Vopat, Baylee Lucia, Brooklynn Lucia, Halston Lucia, Derian Lucia, Malaya Lucia, Lillian Lucia, Magdalena Lucia, and Patina Olive Lucia.
The family can be reached by email at: anthonylucia@ymail.com.
A celebration of Tommy's life will be shared at St. Stephens Catholic Church, 1802 Bethel RD, Weatherford, TX 76086 at 2:30 p.m. June 3. A visitation will be held at 1:30 p.m. in the narthex of the church. Graveside services will be held immediately following the funeral at Memory Gardens of the Valley Cemetery, 5600 Mineral Wells HWY, Weatherford, Texas 76088.
Send donations to The Pantry at St. Stephens Catholic Church, 1802 Bethel RD, Weatherford, TX 76086 or online at the St. Vincent de Paul Society www.svdpusa.org.
Courtesy of PRCA