Top 10 Country Artist Blake Shelton to Headline Rodeo Kick Off Concert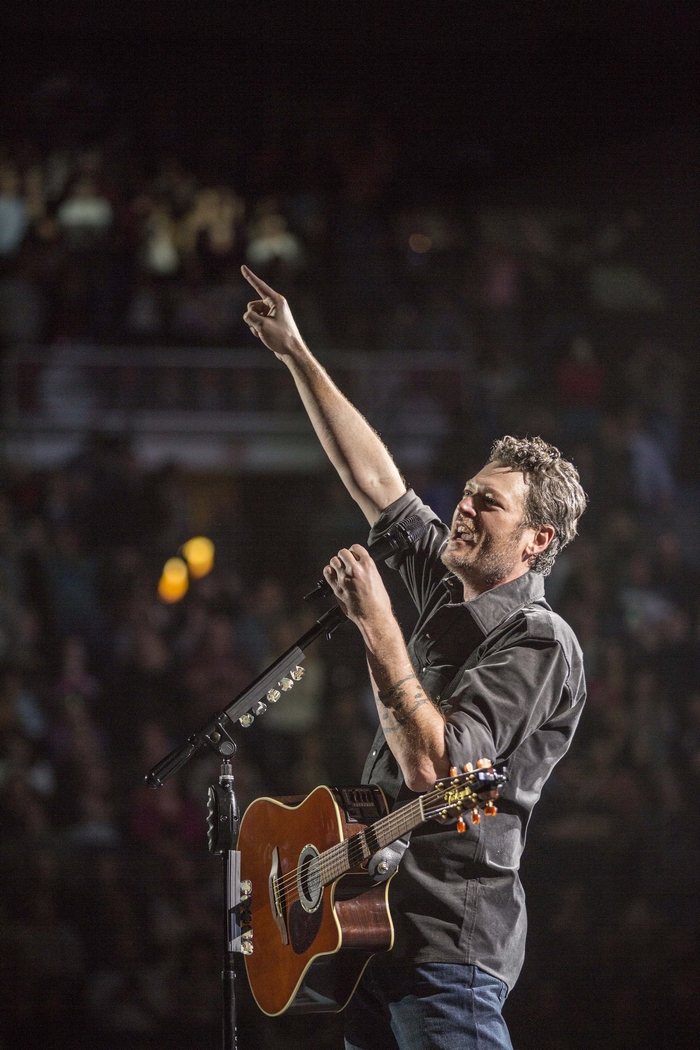 SALINAS, CA, January 4, 2018 – Blake Shelton is headlining the 2018 California Rodeo Salinas' Kick Off Concert on Friday, July 13th at the Salinas Sports Complex. After 25 number 1 singles, winning the Male Vocalist of the Year award five times, being named the 2012 Country Music Association's "Entertainer of the Year," and coaching on the Emmy Award-winning television show, The Voice, Shelton is a household name with mega talent. One of his hits from his current album Texoma Shore is "I'll Name the Dogs," but Shelton has a long list of fan favorites to perform when he plays in Salinas this summer.
Produced by the California Rodeo Salinas and David Drew Productions, the Kick Off Concert is presented by Taylor Farms. Concert tickets go on sale Thursday, January 18th at 10am. Ticket prices are $40 for grandstands, $90 for box seats, $90 for reserved floor seats and $80 for standing floor tickets. All tickets are subject to applicable fees. Tickets can be purchased by visiting the Salinas Sports Complex Box Office, 1034 N. Main Street, Salinas, Thursday, January 18th, Friday, January 19th or Saturday, January 20th from 10am to 6pm. Tickets will be available online starting Thursday, January 18th at 10am until the day of the show or until tickets sell out. The Salinas Sports Complex Box Office opens for the 2018 season on Monday, March 26th and will be open Monday-Friday from 10am to 6pm for walk up and phone sales. On Friday, July 13th, gates will open at 5pm and music will start at 7:00pm.
Visit www.carodeo.com for links to music, videos and updated information as the event nears. Opening acts will be announced in the near future.
About Blake Shelton
Country Music Association's 2012 "Entertainer of the Year," five-time Male Vocalist of the Year winner and GRAMMY nominee Blake Shelton continues to add to his superstar status. He just released his brand new album Texoma Shore, which became his sixth record to debut at No. 1 on the Billboard Top Country Albums chart and marked his 11th all-genre Top 10. Texoma Shore features his latest hit single "I'll Name The Dogs," a romantic tune that boasts over 20 million streams as it quickly approaches the Top 5 at country radio. In the week following album launch, Shelton became the first artist in Country Aircheck / Mediabase history to have six songs chart simultaneously. He recently notched his 24th No. 1 single with "Every Time I Hear That Song" from 2016's If I'm Honest, the best-selling country album release of the year. The Gold-certified record spawned two additional chart-topping songs and earned him a No. 1 on both the Billboard Top Country Albums and the all-genre Top Album Sales charts.
A member of the Grand Ole Opry, Shelton has earned a host of awards throughout his career, which most recently include Top Country Artist at the Billboard Music Awards. In 2017 he became the first country artist to win Favorite Album at the People's Choice Awards in addition to his win for Favorite Male Country Artist. He also took home the trophy for Favorite Country Male Artist at the American Music Awards as well as the first-ever Male Artist of the Year. As a coach for the Emmy Award-winning television show, The Voice, Shelton is a five-time champion, most recently with his contestant Sundance Head. He will head out on the road in 2018 for his headlining "Country Music Freaks" Tour alongside Brett Eldredge, Carly Pearce and special guest Trace Adkins.
For more information and upcoming tour dates, please visit www.BlakeShelton.com and follow @BlakeShelton.
About California Rodeo Salinas
The 108th California Rodeo Salinas will take place July 19th-22nd, 2018. The California Rodeo Association is a not-for-profit organization that strives to preserve and promote the traditions of the California Rodeo Salinas and the West. We support the community and other non-profit organizations through the staging of the annual California Rodeo Salinas and other year round operations of the Salinas Sports Complex. Through donation of our facility, vending and fundraising opportunities during Rodeo and other events, the California Rodeo Association returns over $400,000 annually to local non-profits. For more information about the California Rodeo Salinas, log on to www.CARodeo.com or call the California Rodeo Office at 831-775.3100. 'Like' the California Rodeo on Facebook at www.facebook.com/CARodeoSalinas or follow us on twitter @CaliforniaRodeo for updates, photos and more.