Trenten Montero Wins Sisters Rodeo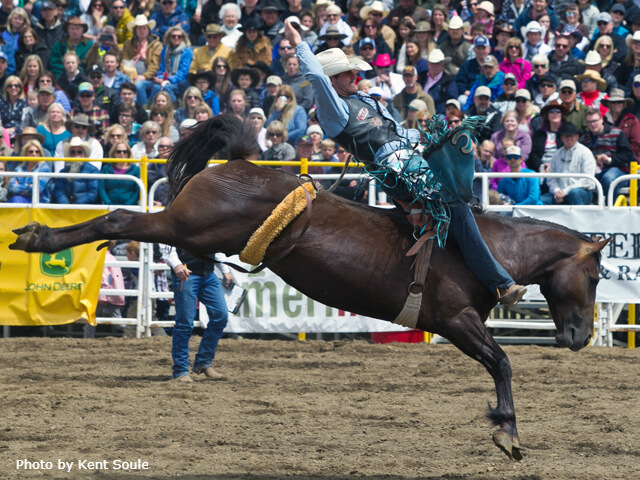 SISTERS, Ore. – Bareback rider Trenten Montero is making it count in points and in qualifications. An 81.5-point score on Corey & Lange Rodeo's Envouge was all it took to make his biggest win of the year at the Sisters (Ore.) Rodeo, and he's been holding back on competing so he can go to the year's biggest rodeos during the summer run.
"You know, it doesn't matter what the score is if your name is at the top of the leaderboard," Montero said. "I could have been 89 or 85 or 81.5, it didn't matter."
This wasn't the 26-year-old cowboy's first time with Envouge. The Nevada cowboy rode the bronc at Cheyenne (Wyo.) Frontier Days last year, so he knew what he was up against.
"He was really good there too, but I got a little behind him at Cheyenne and it cost me there," Montero said. "He's a little horse with a lot of spunk to him. He's really quick, but I was ready.
"I was just happy to get on that horse. I was worried because of him being a little horse and I'm a bigger guy (6 feet tall) and that can be a mismatch, but he has a lot of heart."
Making it big in ProRodeo requires a bit of luck and a lot of skill and strategic planning. One bad year can cut into qualifications the following year, so success requires two consecutive years of solid competition.
Montero's been up and down the world standings since he started competing in ProRodeo in 2011.
"I've gone hard at it a few times and been a little injury-plagued," Montero said. "The past few years I've been in a repetition of a good year and then sit the next year out with an injury and then spend the next year building my qualifications back up."
He was ranked 99th in bareback riding in 2016, but he bounced back and was 37th in 2017. Now he's got the qualifications he needs to hit the biggest rodeos of the regular season.
"Last year was a solid year and I'm feeling healthy now, so I'm hoping this will be the year," Montero said. "My plan is to really rodeo hard when there's a lot of rodeos going on. In years past, I did more rodeo in the spring and winter and ran down my count. But, I have been holding off and hitting the big ones in the spring so I can go as hard as I want all summer long without worrying about my rodeo count."
Before winning Sisters, Montero was 30th in the June 4 PRCA | RAM World Standings with $15,020. Now it's full steam ahead with his plans for the summer run.
"I will do the same thing I have been doing, marking my horses out and going at them every single time and not worrying about the standings too much," Montero said. "I'll let other people figure that out, and I'll just ride my horses."
Sisters is one of the biggest rodeos in June, making Montero's ride worth $4,399.
"I have been needing a big win like this to get my ball rolling," Montero said. "I got some small checks here and there, but this gives me confidence and momentum for the summer run. One good week can really change a guy's year.
"My first goal is to get to the Finals and then I want to make a run for the gold buckle just like everyone else; but it starts with marking my horse out and making solid spur rides and taking each horse one at a time."
Up next, Montero will compete at the Wild, Wild West ProRodeo at Silver City, N.M., Rodeo Santa Fe (N.M.), and then the next Wrangler ProRodeo Tour competition – the Reno (Nev.) Rodeo.
Montero's no stranger to the Reno arena, having ranked second in the average in 2015 with 234 points on three head.
"I'm stoked to go back to Reno," Montero said. "It's the closest thing to a hometown rodeo we have, I live about 90 miles from Winnemucca."
Other winners at the $149,984 rodeo were all-around cowboy Shane Erickson ($1,487, tie-down roping and team roping); steer wrestler Josh Garner (10.1 seconds on two head); team ropers Max Kuttler/Brandon Bates (5.5 seconds); saddle bronc rider Ryder Wright (88 points on Big Bend Rodeo's Majorhuckleberry); tie-down roper Ryle Smith (19.0 seconds on two head); barrel racer Teri Bangart (17.63 seconds); and bull riders Ty Wallace (87.5 points on Corey & Lange Rodeo's Peachy Keen), Dalan Duncan (87.5 points on Four Star Rodeo's Hooey), and Riker Carter (87.5 points on Four Star Rodeo's Yellow Fever).
For more coverage of the Sisters Rodeo, check out the June 15 online edition of ProRodeo Sports News at ProRodeo.com.
Courtesy of PRCA