Trevor and Shada Brazile takeover Facebook page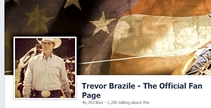 Rodeo's youngest royals, Treston and Style Brazile, children of two of the top rodeo athletes, Trevor and Shada Brazile, will be taking over their famous parents' Facebook pages on December 9th and 10th.
Treston Brazile will be the first to "hack" his dad's phone on Monday, December 9th and give followers of Trevor Brazile- The Official Fan Page the experience of the WNFR through the eyes of Treston. Big brother Treston will post pictures throughout the day of himself with his famous family, and give fans the chance to see his perspective on things along with his witty personality.
Little sister Style Brazile will follow on December 10th, only this time she will take over mom Shada Brazile's phone and Facebook Page. Style will show us things from her point of view as well as post pictures of herself throughout the day.
"We are excited to give fans a glimpse into what the WNFR is like for the kids," says mom of Treston and Style, Shada Brazile.
Treston and Style Brazile will be in Las Vegas supporting their parents while they compete for a world title at this year's Wrangler National Finals Rodeo. Along with their parents, they will also be watching uncles Clif and Tuf Cooper compete in the tie-down roping.
More about Trevor and Shada Brazile
Trevor Brazile is an 18-time world champion and fan favorite cowboy. His rodeo career took off in 2002 when he won his first PRCA All-Around World Title.  Trevor has held steady at the top ever since. Shada Brazile is a first-time WNFR-qualifier in barrel racing, and will be competing alongside her husband and two brothers this year in Vegas. When they are not on the road, they reside in Decatur,Texas with their two young children, Treston and Style.