Trey Benton Breaks the Ice to Ride the Bounty Bull in Jackson
21st CBR Bud Light Classic Horizon Series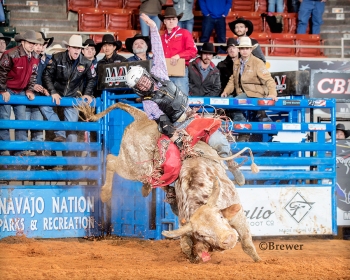 Night one at the Oman Arena began despite six inches of snow and ice on the ground and a chilly 21 degrees in the back pens. 17 of 40 bull riders heard the whistle for qualified rides in the long round format as five time CBR World Finals qualifier and four time National Finals Rodeo star produced the two winning rides to claim the Horizon Series Bud Light Classic title during the first round of CBR competition at the Oman Arena.
There were two professional bull riders preparing in the chutes for the third out of the 21st Annual Bud Light Classic, but one was on the other side of the ride tonight. Cory Melton, a former professional bull rider from Tolar, Texas was the stock contractor that produced both winning rides for Benton at the Oman Arena during the Horizon Series format on night one and his bulls produced five of the seven qualified rides of the event.
Benton, who has won nine CBR Road to Cheyenne event titles, earned 91 points on Melton's Crimson King to take the lead early in the long round on the bull he had never put his rope on.
"I have seen him (Crimson King) plenty of times but honestly, I was a little nervous to have him, but usually when I am a little nervous it makes me try a little harder, heck I don't know, but after I rode him I thought he felt pretty good and I would like to have him everywhere I go," said Benton as he signed autographs and took selfies with adoring young fans.
Koby Radley and U.S. Army veteran Juan Alonzo made the strongest attempts to unseat Benton and both posted 90 points on 721 Kingpin (Cunningham and Scoggins) and 4948 Big Valley (Baker and Hurst) respectively. CBR's Road to Cheyenne tour leader Boudreaux Campbell was 86.50 on Houdini Martini (Rawson) and 2013 CBR World Champion Cole Echols survived 257 Heavy Duty (Hat Brand) for 85.5 points while World Champion Mike Lee bucked off 2141 Seeing Red (Harris).
Citing consisting in his pre event routines, Benton enjoyed cheering his competitors on and helping pull ropes and spot on the back of the chutes while watching 27 other cowboys attempt to knock him off the leaderboard.
"Watching good bull ridings makes me try harder, I engage in the action watch and help them out and that fuels my energy," continued the Sam Houston State University graduate.
40 outs later, Benton who's CBR season best including being the CBR's number two ranked rider in 2014 earned the right to attempt 210 Chaos Ghost for the $10,000 bounty bonus bull check.
Having watched CBR videos on social media, Benton had this to say about preparing for the bull that has now been ridden three of four times in the Oman Arena.
"The first corner I knew I needed to be in the right spot to survive, but it went really fast," said Benton.
"I try and follow the same routine before I get on and it provides me with the consistency that is the key to bull riding and for me if I do the same thing every time that increases my chances for success."
Benton describes the 8 second that earned him $10,000.
"210 put me where I needed to be I just had to keep up with him, he kept bucking hard enough to keep me to the front and I just had to sit down and keep my feet down, I knew the moves I needed to make on him and was able to execute last night," finished Benton.
Get ready to cheer on a few additional highly decorated champions including the returning Trey Benton, the PRCA's number two bull rider who challenged the reigning CBR World Champion Sage Kimzey nightly at the super bowl of rodeo winning four rounds and earning $322,208.13 as he finished the number two man in rodeo for 2017.
Powering the CBR Bud Light Classic performance one was 12 bull teams with Mark Cunningham and Dusty Scoggins winning the bull team portion of the competition in Jackson which gained them the automatic entry to the CBR World Finals Bull Team competition at Cheyenne Frontier Days' worth $100,000 in bonus money.
Driving 10 hours in the sleet and snow to compete for the title and the $20,000 check, Cunningham and Scoggins cited 208 Sledge Hammer as the anchor of their team with the highest bull score of the night, 90 points, earned while bucking off Justin Munns in 2.57 in the long round. They had two qualified rides coming from 721 Kingpin who assisted Koby Radley to 90 points and the second place check. #2 ranked CBR rider Cody Jesus spurred their third team bull, 19 White Soldier, to net 89 points and finish fifth in the competition.
"We have had a few riders including Sage Kimzey, come out to the practice pen at our house earlier and they encouraged us to bring White Soldier as a team bull and 721 and it worked out well for us tonight, it helps to listen to the riders as we try to provide great bulls to the CBR format," said Mark Cunningham.
The CBR Bud Light Classic Continues tonight at the Oman Arena with doors opening at 6 pm and the action getting underway at 8. Four World Champions including four time World Champion J.W. Harris and Clayton Foltyn join the rider roster tonight with 11 National Finals Rodeo qualifiers all vying for the largest payout in CBR history, $78,250.
2018 CBR Bud Light Classic Horizon Series Saturday night tickets are selling fast and the record breaking paying out will be a "bull packed" two hour adrenaline rush show for the fans as the anticipation builds waiting on someone to earn the largest paycheck in CBR history.
Event Location is at the Oman Arena, 179 Lane Ave, Jackson, Tennessee and Bud Light Classic Tickets are available at Rustic Soul, 1926 Emporium Drive, Jackson, 38305 or online ticketing link.
Websites: Eventbrite.com; Cbrbull.com
For media credentials, more information contact: Leigh Ann Schroeder, leighann@cbrbull.com or 940.902.1112. Follow CBR on Facebook at Championship Bull Riding, @cbrbull.com on Instagram and Twitter. Follow Tuff Hedeman on the Official Tuff Hedeman Fan Page on Facebook, Twitter and Instagram and @TuffHedeman and the Jackson event @CBRbull.Bud Light.
CBR Bud Light Classic Horizon Results, January 12, 2018
1, Trey Benton, Rock Island, Texas, Round 1, 91 points on Crimson King and 92 points on Bounty Bull Chaos Ghost, $13,283.20. 2. Koby Radley, Montpelier, LA, 90 pts on 721 Kingpin, $2371.20. 3, Juan Alonzo, Weslaco, TX, 90 pts on4948 Big Valley, $1459.20. 4, Trey Kimzey, Strong City, OK, 89.5 on 3728 Yellowhair, $1,003. 5, Cody Jesus, Window Rock, AZ, 89 pts on White Soldier, $638.40. 6, Wyatt Rogers, Rose, OK, 89 on Houdini Martini, 364.80.
Jackson Cheyenne Challenge Bull Team Results
Cunningham and Scoggins, West, Texas, 283.57, $20,000. 2, Winston/Loe Melton Bull Co, 280.41, $12,0003, Rockin C, Rafter B, Harris, Palestine, TX, 279.62, $8,000. 4, Baker/Hurst, 277.02, $5,000.
Courtesy of CBR