Wilkinson Back from Elbow Surgery
By: Justin Felisko
December 05, 2018
PUEBLO, Colo. – Troy Wilkinson may have been able to win the 2017 PBR Australia championship despite an injury to his left elbow, but he was unable to try and defend that championship in 2018 after his elbow got progressively worse.
Wilkinson fought off pain in his elbow throughout 2017, but it was during the 2018 Unleash The Beast season-opener in New York City that the Upper Horton, Australian, bull rider learned he had torn ligaments in his riding elbow.
At first, he thought he could maybe battle through the injury for a second season, but Wilkinson knew he could not continue to ride at less than 100 percent by the end of the first half of 2018.
"It had been giving me grief for a while, most of last year," Wilkinson said. "In New York, it felt really bad and I had it diagnosed in January."
Wilkinson had gone 9-for-37 through the first six months of the season, including a putrid 1-for-11 in six premier series events.
He was far different from the bull rider that gritted his way to his first PBR World Finals in 2017 and a career-best 38th-place finish in the world standings.
Therefore, Wilkinson decided to shut things down after competing in two summer PBR Australia events and the 2018 PBR Global Cup event in Sydney.
Wilkinson returned to the United States following PBR Australia's Last Cowboy Standing in June so that renowned elbow specialist John Conway could repair his mauled elbow.
"I flew back over and Dr. Conway did the surgery in Dallas," Wilkinson said. "Doc said it was a mess."
The surgery involved repairing multiple torn ligaments and repairing nerve damage and removing pieces of broken bone, bone spurs and scar tissue.
According to Orthopedic Specialty Associates, Conway spent 15 years as a physician for the Texas Rangers and currently works with various professional athletes.
Wilkinson, who concluded 2018 ranked 86th in the world standings, returned to competition for the first time in five months this past weekend at the PBR Australia Monster Energy Melbourne Invitational.
It was a near flawless return for Wilkinson. He finished second overall after going 2-for-3 and splitting the Round 1 victory with 84.5 points on Train Wreck. Wilkinson rebounded from his Round 2 buckoff against Bring The Action (3.18 seconds) and finished second in the championship round with an 85.5-point effort on Stealth.
"It felt pretty good," Wilkinson said. "A little bit stiff the following day, but nothing I wasn't expecting."
Wilkinson earned 90 points toward the 2019 world standings and is ranked 12th ahead of this weekend's PBR Australia Monster Energy Adelaide Invitational.
Also competing in Adelaide are reigning PBR Australia champion Aaron Kleier, 2016 PBR Australia champion Cody Heffernan, seven-time PBR World Finals qualifier Lachlan Richardson and 2011 Rookie of the Year Rubens Barbosa.
Wilkinson had competed in a career-high 15 premier series events in 2017 and was hopeful to return to the World Finals in 2018.
That wound up not being the case, but Wilkinson now believes he finally has a healthy riding arm for the first time in at least two seasons.
"Yeah, very frustrating," Wilkinson said of having to shut things down last year.
He spent five weeks resting following the surgery before going back to work as a construction worker building public transport tunnels throughout Sydney.
"Most of my rehab consisted of me using hand tools all day and some specific arm exercises at home and the gym," he said.
The time away from the sport was good for Wilkinson, he said.
Wilkinson got married to his wife, Montana, in October, at Tocal Homestead in the New South Wales Hunter Valley in a rustic barn in front of roughly 100 friends and family members.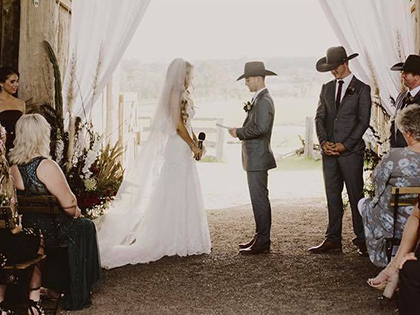 The couple's wedding was featured in Women's Day magazine.
Troy and Montana met four years ago at a bull riding in Dalby, Australia, and six months later had their first date at a bull riding in Mackay when Montana flew in to surprise Troy.
Troy has enjoyed spending time at home with Montana, but he is ready to get back into the Top 35 of the world standings and return to the United States
"It was nice sitting at home for a few weeks healing up," he said. "I will stay here in Australia and if the opportunity arises I will fly over."
Wilkinson is not putting any timetable on his return to the States, though.
For now, it is just one bull at a time and the rest will take care of itself.
"Only goals I have this year is to ride every bull I get on," Wilkinson concluded.
Follow Justin Felisko on Twitter @jfelisko
© 2018 PBR Inc. All rights reserved.