Tutor Shines at All American ProRodeo Finals
by Tracy Renck | Oct 14, 2016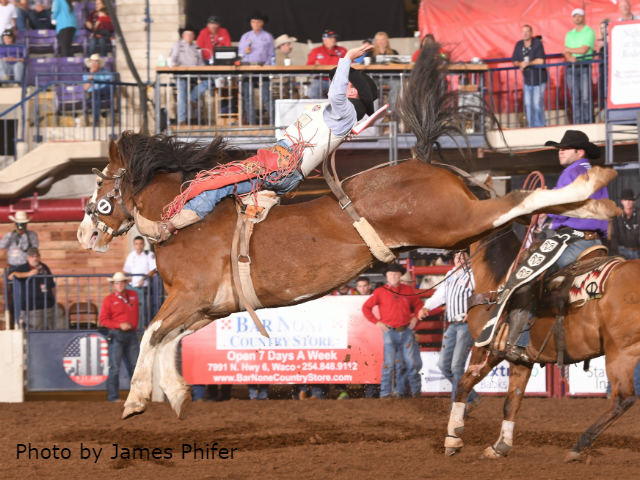 WACO, Texas – Missing the coveted Wrangler National Finals Rodeo presented by Polaris RANGER by one spot is a bitter pill to swallow.
The dreaded No. 16 spot is where bareback rider Bill Tutor found himself when the PRCA regular season ended Sept. 30.
To Tutor's credit, he isn't fretting over his missed opportunity to head to Las Vegas for the Wrangler NFR, Dec. 1-10.
"I never had any hard feelings about it," said Tutor, whose 16th-place finish was a career-best effort. "Somebody is going to be 16th, and it was me this year. I just have to try a little harder next year, and try not to put myself in that predicament."
Tutor finished 16th in the WEATHER GUARD® PRCA World Standings with $64,009 – he lost out on the No. 15 spot by $2,789 to Wyatt Denny.
Denny retained the 15th spot in the standings by finishing second in Mona, Utah, while challenger Tutor was fourth there; both had their rides in the last few hours of the regular season.
Tutor, who lives in Huntsville, Texas, definitely didn't ride with any regrets Friday while he was competing in the All American ProRodeo Finals.
He had an 82-point ride on Cervi Championship Rodeo's Rockstar By Vitalix to win Bracket III at the Extraco Events Center.
"I've been on that horse several times, and she's always been really good," said Tutor, 25. "Jake Brown just won Albuquerque on her last month (with an 86.5-point ride) so I knew she was a good one to have, and I was excited to get on her. There were so many guys who had great rides (Friday night), but I was able to get the job done."
The top three finishers in Brackets I, II and III advance to the 9-man (Nine teams for team ropers) semifinals at 7 p.m. Saturday. The top four placers in the semifinal round move on to the championship round.
All money won at the 12 circuit finals rodeos, All American ProRodeo Finals and the RAM National Circuit Finals Rodeo – per new PRCA bylaws – count toward the 2017 WEATHER GUARD® PRCA World Standings.
"There's a lot of money here in Waco, and I'm just blessed to be here to get a shot to keep riding. We'll see what happens (Saturday)," Tutor said. "The Circuit Finals, the RNCFR, and All American Finals should count toward the (world) standings. Guys ride all year to make it to those rodeos. I know I'm very happy about that fact."
For more coverage of the All American ProRodeo, check out the Nov. 4 issue of the ProRodeo Sports News.
Courtesy of PRCA