Tyler Pearson Getting a Break after Winning RAM NCFR
By Scott Kaniewski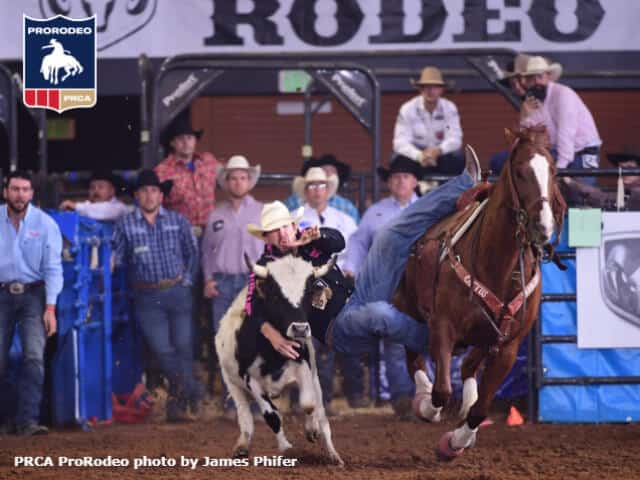 KISSIMMEE, Fla. – Tyler Pearson picked a heck of a time to take some time off.
Pearson, the 2017 Steer Wrestling World Champion, won the RAM National Circuit Finals Rodeo with a run of 3.9 seconds in the four-man finals Sunday.
Pearson also took second in the eight-man round earlier in the day. All told, he won $13,267, which will give him a boost in the PRCA | RAM World Standings where he stood at 16th with $20,723 entering the RAM NCFR.
"That felt good," said Pearson, who claimed his first RAM NCFR title.
Now, the 34-year-old from Louisville, Miss., is going to take a break from competing until the summer run.
"I'm going to take a couple months off, I've been rodeoing pretty hard," Pearson said. "I'll come back out in June."
Joining him will be Scooter, the 2017 and 2018 PRCA | AQHA Horse of the Year for steer wrestling that Pearson rode to the win Sunday. Three of the four qualifiers in the RAM NCFR finals were riding Scooter.
"He gets some time off for sure," said Pearson, who co-owns Scooter with Kyle Irwin. "We're going to give him a couple months off, as well. "We'll let him relax now until June, the summer's pretty hard.
Pearson was making his first trip to the RAM NCFR since it moved to Kissimmee in 2015. Pearson and his family got to enjoy some of the sites in and around Kissimmee, not to mention celebrate Pearson's victory.
"We love the weather, the kids love the atmosphere, the pools," Pearson said. "People around here are cool. We enjoy it. We went to Disney village or something like that. They liked it – Mickey and Minnie, that rat makes a lot of money."
In addition to the money earned, each event champ also received a voucher toward a new RAM truck; a Polaris Ranger XP 1000; 65 Venture OtterBox Cooler; pair of Justin Boots; a custom champion Montana Silversmiths buckle; and a champion saddle handcrafted by Cactus Saddlery.
Tune in to watch the RAM NCFR on CBS Sports Network on April 8 at 8:30 p.m. (ET).
Clay Smith/Jake Long capturing team roping crown
Team ropers Clay Smith and Jake Long capped a superb week at the RAM NCFR by winning the RAM NCFR title with a 4.8-second run in the four-team finals.
"This is great to win," Smith said. "This is a great rodeo down here, especially with as much as it pays and everything you win."
Long agreed.
"Honestly, I rode about as poor of a corner since I have been here," Long said about his team's run in the finals. "Colonel (Long's horse) did such a good job and let me set my rope down in a pretty tough spot, and Clay did a good job of keeping it moving and it worked out."
Long also won the RAM NCFR in team roping in 2007 in Pocatello, Idaho.
Meged stays hot, snares tie-down roping title
Rookie Haven Meged clocked a 7.4-second run in the final round to claim the title.
"This is just crazy," Meged said. "That was my goal to come here and win it, and I achieved that goal, which was really sweet."
Strong draws nets Brooks title
Chase Brooks posted a 91-point ride on Dakota Rodeo's Cash Deal in the semifinals and an 89.5-point ride on Mo Betta Rodeo's Sue City Sue in the four-man finals to win the saddle bronc riding and his first RAM NCFR title.
"I'd never been on her, but I'd seen her quite a bit," Brooks said. "She's an older horse. She felt really good. She was one you could really open up and just have a good time."
Smith only bull rider to make whistle
Garrett Smith was the only bull rider in the four-man finals to make the whistle, posting an 85-point ride on Painted Pony Championship Rodeo's Holly Holy.
"This is pretty awesome," Smith said. "I've been here a couple times and had a little bit of success winning a couple rounds, but never made the four man."
Texas grabs Circuit team title
In the team race, Texas came in first, winning $133,689. The Prairie Circuit was second with $110,432, followed by the Badlands $91,808 and Wilderness $81,308.
The remaining team finishers were:
Montana ($69,123), Mountain States ($60,956), California ($49,133), Columbia River ($46,164), Southeast ($43,171), Great Lakes ($30,325), Turquoise ($16,805) and First Frontier ($4,549).
Top Stock of RAM NCFR
The top stock of the 2019 RAM NCFR was as follows: Bareback horse, Hi Lo Pro Rodeo's Pretty Woman; Saddle bronc horse, Silver Spurs Rodeo's Best Hope; Bull, Barnes PRCA Rodeo's Tallahassee Red.
Valenzuela wins all-around
Miguel Valenzuela of the Mexico Circuit won the all-around title. Valenzuela competed in team roping and tie-down roping at the Silver Spurs Arena.
Courtesy of PRCA