Updated Days of '47 Qualifications for WPRA Barrel Racers
Courtesy Days of '47 Cowboy Games and Rodeo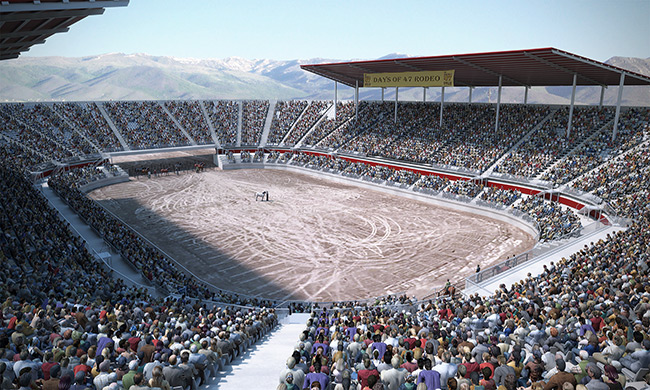 COLORADO SPRINGS, Colo. – Following the release regarding qualifications for WPRA Barrel Racers to the Days of '47 Cowboy Games and Rodeo, the WPRA Board of Directors has refined the qualification elements and they are now final.
It was originally listed, like the PRCA, that the leaders in each of the 12 circuits as of July 5 would qualify for the Komatsu Equipment Days of '47 Cowboy Games and Rodeo presented by Zions Bank in Salt Lake City, but for the barrel racers it will now in fact be the year-end winners from the final 2016 Circuit Standings.
Therefore the following have earned a spot in the $1 Million Days of '47 Cowboy Games and Rodeo:
Jana Griemsman – Badlands
Kris Gadbois – California
Amberleigh Moore – Columbia River
Wendy Chesnut – First Frontier
Jordan Moore – Great Lakes
Lisa Lockhart – Montana
Kim Schulze – Mountain States
*Emily Miller – Prairie
Lindsey Hayes-Bank – Southeastern
Tiany Schuster – Texas
Lori Todd – Turquoise
Kimmie Wall – Wilderness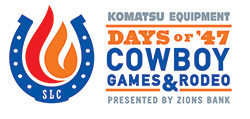 As originally released the 2017 RAM National Circuit Finals Champion would be one of the 32 WPRA Barrel Racers competing in Salt Lake City. Emily Miller captured the RNCFR barrel racing title, so reigning world champion Mary Burger, who finished second in the 2016 circuit standings to Miller, has now punched her ticket to this Gold Medal Rodeo.
The remaining 19 competitors will earn their spot by being in the top 10 of the WPRA world standings, leading the WPRA Rookie Race or being in the top 4 in the Days of '47 Trial Event Standings as of July 5. A full list of Trial Rodeos remaining are listed below. Priority is based on the Top 10, so should an individual qualify through the world standings, their position in subsequent qualifications will go to the next eligible contestant in that category.
The Final 4 qualifiers will be qualified through the WPRA Qualifying Race on July 18 at 7 p.m. at the new $16 million Days of '47 Arena at Utah State Fair Park. This qualifier will be open to any WPRA card member with earnings from the race counting toward Wilderness Circuit standings and world standings. The top 4 will earn a position in the Days of '47 Rodeo on Saturday night, July 22. Entries for the Qualifier Race will be taken through ProCom, starting on July 7 at 1 p.m. with entries closing on July 10 at 1 p.m.
For those who earn their spot in the Days of '47 outside the Qualifier Race, there will be a different entry time, so keep an eye out for the listing for the Days of '47 Cowboy Games and Rodeo on www.wpra.com to know when to enter.
For more information visit www.daysof47cowboygames.com or call the WPRA office.
Tickets are currently on sale at smithstix.com. For more information on the event visit www.daysof47cowboygames.com.
Days of '47 Cowboy Games Qualifying Trial Events
Schedule as of May 18, 2017
| | |
| --- | --- |
| Rodeo | Date |
| Franklin (TN) Rodeo | May 18-20 |
| Rowell Ranch Pro Rodeo (Hayward, CA) | May 20-21 |
| Beef Empire Days PRCA Rodeo (Garden City, KS) | May 25-27 |
| Pony Express Rodeo (Eagle Mountain, UT) | May 26-27 & 29 |
| Old Fort Days Rodeo (Fort Smith, AR) | May 29-June 3 |
| 74th Annual Santa Maria (CA) Elks Rodeo and Parade | June 1-4 |
| Fort Herriman (UT) PRCA Rodeo | June 2-3 |
| Days of the Old West Rodeo (Delta, UT) | June 8-10 |
| Gladewater (TX) Round-up Rodeo | June 8-10 |
| Cedar City (UT) PRCA Rodeo | June 9-10 |
| Sisters (OR) Rodeo | June 9-11 |
| West of the Pecos (TX) Rodeo | June 21-24 |
| Lehi (UT) Round-Up Rodeo | June 22-24 |
| Edgewood (IA) Pro Rodeo Days | June 22-24 |
| Crystal Springs Rodeo (Clear Lake, SD) | June 22-24 |
| World's Oldest Rodeo (Prescott, AZ) | June 28-July 4 |
| Mid-Western Rodeo (Manawa, WI) | June 29-July 1 |
| Oakley Rodeo and 4th of July Celebration (Oakley City, UT) | June 30-July 1, 3-4 |
| 98th Black Hills Roundup (Belle Fourche, SD) | July 1-4 |
| Annual Fourth of July Celebration & PRCA Rodeo (Window Rock, AZ) | July 2-4 |
| Home of Champions Rodeo (Red Lodge, MT) | July 2-4 |
| Killdeer Mountain Roundup PRCA Rodeo (Killdeer, ND) | July 3-4 |

Athlete Q&A sheet – Click Here
Days of '47 Cowboy Games and Rodeo format chart – Click Here

Courtesy of WPRA