Vazquez Dominates at Turquoise Circuit Finals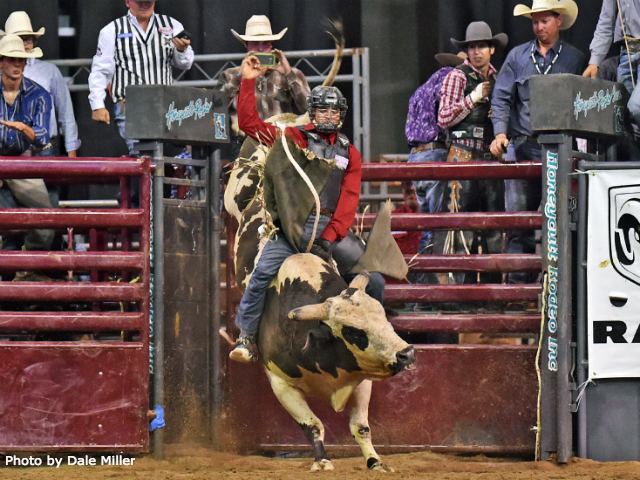 PRESCOTT VALLEY, Ariz. – Heading into the RAM Turquoise Circuit Finals, bull rider Joseph Vazquez simply wanted to cover a bull and see where the momentum carried him. Vazquez not only found what he craved, but he's still digesting the biggest win of his young rodeo career.
With a two-head score of 169.5 points, Vazquez was the only bull rider at the Turquoise Circuit Finals to qualify for two rides. With two round wins and ground money included, Vazquez was the recipient of $8,882.
"It's really exciting," said Vazquez, 28. "It's been three years coming. This third year it finally happened, so that's really cool."
No cowboy rode to the whistle in the first round of the Turquoise Circuit Finals, enabling Vazquez to take advantage of the opening. Drawing Honeycutt Rodeo's Crop Hopper in the second round, Vazquez topped the bull for a weekend-best 88 points, followed by a clinching ride of 81.5 points atop Salt River Rodeo's Rio's Jagged Edge in Saturday's final performance.
"I wanted to win some rounds," Vazquez explained. "I wanted to stay on at least one bull. That first bull I got on, I lost my rope at right about seven seconds, and I was just fired up for the rest of the weekend. In round three, everybody fell off and I was the last guy out, and I told myself I was gonna ride him just because I'd already won it.
"I went two-for-three and that's a pretty cool deal."
More than doubling his circuit total for the 2017 season at the Turquoise Circuit Finals, Vazquez says he'll be able to put some money away for his daughter, Ellie, and provide some financial security for his family.
"What this money did was kind of give me a cushion and allow me to put some money back in case something were to happen to me," he said. "If any emergency were to come up, I have some money put back and can make sure she's well taken care of. On my side of the family, we're all happy, happy, happy over here."
Vazquez's bull riding career began at 18 years-old, and according to the Alamogordo, N.M., native, his game is mostly self-taught. Now, with admittance to next year's RAM National Circuit Finals Rodeo, Vazquez hopes to see how far his natural bull riding skills can take him in Kissimmee, Fla.
"Just qualifying for the circuit finals was a big deal for me," he said. "You know how goals progress, you get somewhere and you look higher. I"m on a path.
"Pretty much the metaphor for rodeo, for me, is kind of the metaphor for life. The more you give it, the more it will give you back."
Other winners at the $179,087 rodeo were bareback rider Kyle Charley (237.5 points on three head), steer wrestler Jace Melvin (15.7 seconds on three head), team ropers Brady Payne/Junior Zambrano II (22.5 seconds on three head), saddle bronc rider Leon Fountain (237 points on three head), tie-down roper Seth Hall (28.7 seconds on three head), barrel racer Lori Todd (46.08 seconds on three runs), and steer roper Corey Ross (27.2 seconds on two head).
For more coverage of the Turquoise Circuit Finals, check out the Oct. 27 issue of the ProRodeo Sports News.
Courtesy of PRCA